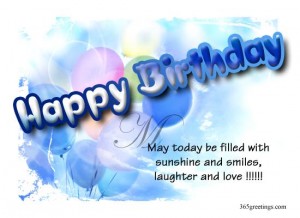 Aunts and Uncles our extended relatives and sending birthday cards on their birthday is normal. There are lot of Birthday wishes for uncle and aunt can be found below. This Aunt birthday wishes post contains happy birthday wishes for aunt. Aunts, being a special person to us, deserve heartwarming birthday messages and greetings on their birthday. These birthday messages to your aunt can make her feel loved and appreciated and send a touch of affection for them on their special day.
Now, some samples of birthday wishes to aunt are here that can be used in different purpose. It can be sent as birthday SMS wishes for your aunt. It can also be birthday card messages for your aunt. It's up to you. Use our collection of happy birthday messages for aunt at your convenience.
Birthday Greetings for Aunt
[snip msg]Happy birthday to an aunt that is a great friend.[/snip]
[snip msg]Aunty, you become more amazing as time goes by.
Here goes another year in the books where
you were always there for me like a parent without all the arguing.
Happy Birthday[/snip]
[snip msg]Happy birthday from your favorite niece/nephew.
I am your favorite, right?[/snip]
[snip msg]I feel so lucky to have a wonderful, caring aunt like you in my life.
I hope that all your birthday wishes come true.
Happy Birthday, aunt![/snip]
[snip msg]Friends come and go, but family is forever.
Thanks for always sticking by me and reminding my parents that they got into trouble to as a kid!
Happy Birthday.[/snip]
[snip msg]I hope that this year is filled with happiness and love for you aunt.
Happy Birthday, aunty![/snip]
[snip msg]Aunt, I hope that your birthday is as great as you are.[/snip]
[snip msg]Not very many people are lucky enough to have such a great aunt as you.
Have a great birthday.[/snip]
Happy Birthday to My Aunt
[snip msg]Aunt, you are so great! You have the best parts of a sister and a mom.
Have a wonderful birthday.[/snip]
[snip msg]I wanted you to know that I was thinking of you on your birthday.
I love you. Happy Birthday Aunt[/snip]
[snip msg]Aunt, you have always been there for me through thick and thin.
I will always be here trying to return the favor.
I will start with wishing you a happy birthday.[/snip]
[snip msg]You are the only person that can embarrass my parents and not get in trouble for it.
Keep it up!
Happy birthday.[/snip]
Have your own Aunt birthday messages and wishes? Share them here! Let your aunt and the world know how much you love and care for her. With your own personal birthday greetings to your aunt, she would surely be delighted.