Find a collection of birthday wishes for lover that can spread smiles on your lover. These birthday messages for lovers will surely make your someone special happy and given smile to their face. Having someone in your life who loves  and care for you is considered as blessing. So, make sure that you don't take them for granted. On their birthday, express how much they mean to you using sweet birthday wishes for lovers. For inspiration, we're sharing some of our sweetest birthday messages for lovers below.
Sweet Happy Birthday For Your Lover
"When I faced the storms of life you were always there for me to keep me company. I wish you an exciting and blessed birthday."
"Thank you for being my confidant, my partner in crime, my critic, my best friend and my lover. Wishing you the best in life and a happy birthday!"
"One of my best reasons to be thankful to the Almighty is the fact that I have you in my life. Wishing you a pleasant birthday and a life full of happiness."
"You have made me smile when feeling down, brought my day brighter when things got dark and gave me strength when I felt weak. Happiest birthday to an awesome darling. Love you lots!"
"I thought of words to describe you but all I could come up with was 'amazing', because you are an amazing lover. Happy birthday my love!"
"This is just to remind you of how special you are to me as my lover. You have had my back for years and I cherish every moment with you. Have a happy birthday my love!"
Happy Birthday Wishes For lover
When its the birthday of
the most special person in my life,
how can I let it go without
sending flowers while
you are busy in work.
A very happy birthday dear.
I wish you are bestowed
with God's most precious blessings
and every moment of your life
be joyful and splendid.
Happy Birthday Sweetheart.
No one can be
a more blessed soul on Earth
than me since the day
I met you.
Here's wishing you a sweet
and blessed happy birthday honey.
You are the one with whom
I can share my heart out
and my minutest feeling about anything.
You understand me the best.
Thanks for being such a darling
and may God shower
his best wishes on you.
Happy Birthday To My Love.

YOU MIGHT ALSO WANT TO READ:
Happy Birthday Messages for Lover
The one thing I am happy
to lose is my heart
and no one else could have been
the perfect robber than you.
Happy birthday honey.
Here's sending you
your favorite flowers and kisses
to keep you loved throughout the day.
Enjoy it to the fullest.
Happy Birthday Sweetie.
Warm hugs and sweet kisses
on your birthday,
to make your day more joyful.
I am blessed to have you in my life.
What a journey it has been
since the day we met
and fell in love.
I have never felt so lively in my life.
So wishing the sweetest person
a very happy birthday.
Sweet Birthday Wishes to Lover
**********
While you are reading this message,
just portray me wishing you
with an open heart and arms
and hugging you tight
and kissing your forehead
to be blessed forever.
Happy birthday darling.
**********
Over the years,
our seed of love has reaped
into a fully grown tree
today with each leaf
as a remembrance of
sweet moments shared together.
Happy birthday sweetheart.
**********
**********
Our bond is so deep and profound
that I have enjoyed
each and every moment spent with you.
Here's to wishing
you cheerful happy years ahead.
Happy birthday sweetie.
**********
No matter whatever life puts you through,
I will always be there if you need me.
Happy Birthday Girl.
Birthday Greetings for Lover
We may have had some bitter moments
or some very joyous memories,
but you were always the gem of my life
and I wish every happiness
and success of the world.
Happy Birthday Sweetheart.
**********
The past years have been memorable
and the coming years be worth treasuring.
I wish you a joyful happy birthday this year.
**********
The deepest of feelings m
ay be hard to say,
but I will love you forever in any way.
Happy birthday Darling.
**********
**********
Life goes on and on
and my love for you will grow forever too.
Lets celebrate your birthday
in the most beautiful way possible.
Happy Birthday Messages for Lover, Lover Birthday Wishes Messages
I would love to visit
each and every romantic place
of the world with you
as no one else could be a more perfect person
in my life than you.
Happy birthday love.
**********
**********
Every day when I can't see you
or take you in my arms,
I am a lost soul.
So lets celebrate this day together
and hope for better future times.
Happy Birthday sweetie.
**********
I wish you always stay
this loving caring and sweet
like you are.
Hope to see you soon.
Happy birthday dear.
**********
To make you feel special
on your special day,
is like a holy thing to do,
bringing smile on your charming face.
Happy Birthday dearie.
Cute Birthday Wishes for Lover
Its your special day
and you should be treated
in a special way too,
so here's sending you this lovely gift
on the birthday eve.
Happy birthday darling and stay blessed.
**********
Every wish I make,
I wish it to be fulfilled with you.
Every dream I dream,
I hope it comes true with you.
Wish you a happy
and fun filled moments every day from this day.
Happy Birthday Darling.
**********
You mean everything to me.
I love you.
Happy birthday love.
**********
**********
On this day I have planned
hourly surprises for you.
So just wait and watch
how the day turns out to be.
Stay blessed.
Stay happy.
Many many happy returns of the day.
**********
May God pour all his love
and care on you.
Wish you a very happy birthday dear.
**********
Blow the candle and make a wish,
accept this birthday gift
with a sweet kiss.
Happy birthday honey.
Best birthday wishes for Lover
Happy birthday to the one person
who has always been by my side,
be it ups and downs.
Your support has been life changing.
Happy birthday Love.
**********
May the warmth of my love
keep you comfort and cozy
when you are in despair or lonely.
Happy birthday to a joyful person
I have known for years
and lucky to have.
**********
Wish I could see how pretty
you would be looking today on your birthday.
Wish I could just hug you tight
and you may forget all world sorrows
or grief that you may have
and just enjoy the day.
Happy Birthday Love!
**********
**********
My life has been merriful and melodier
since the day you entered my life.
A very happy birthday
to the most lovable person in my life.
**********
Here's sending you a kisses filled message.
Hope you get the warmth
of my love while reading this message.
**********
I love you more than yesterday
and will love you tomorrow more than today.
Happy Birthday love!
**********
I am the happiest person
of this world
as I have got the most lovely person
in my life with me.
Wishing you memorable moments on your birthday.
**********
With you being around,
I can manage to overcome any hurdle t
hat I face or any hardships life
puts me through.
You are my strength, my love.
Happy birthday sweetheart.
Lovely Birthday Quotes for Lover, Birthday Wishes Quotes for Lover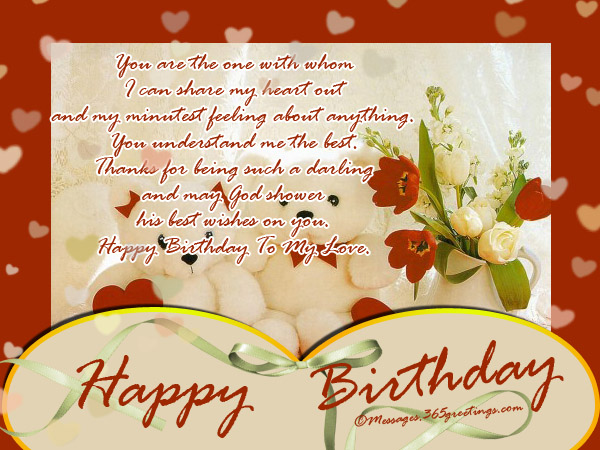 The most wonderful dream to come true
would be the one with you standing beside me
on a sunny beach with water touching
our feet and seeing you smiling.
Happy birthday sweetheart.
**********
I want to hug you tight
and wish you a kisses filled birthday.
Wish I could spend the day with you.
But anyways,
accept this gift as a token of my endless love.
**********
**********
I would celebrate this day
in the best way possible
and let the world know that its your birthday
and also that how much I love you.
A sweet birthday wish for the sweetest person.
**********
Its tough to bring a smile on a crying face.
But with you in my life,
I have never ever had such a moment
because you never let anything happen
that would make me cry.
I only cry for the love that you gave me.
With a warm heart and sweet kiss,
I wish you a very happy birthday.
Happy Birthday Wishes to my Lover
Happy birthday my love. You are my sunshine and my source of happiness and strength. You coming to my life is indeed a blessing. I love you so much!
My love for you is getting stronger everyday. Every time I look at you, I just say to myself, how lucky I am to have someone like you in my life. Happy Birthday!
Dearest, you are the most special girl for me. I wish you nothing but the best on your birthday. I'll try to fulfill all your wishes because I love you so much. Happy Birthday!
I know today on your special day, your smile will be extra beautiful. Making the day a happy one is your special skill, so I'll just be here to give you all the best wishes.
I like how you keep treating small things the biggest and best thing that's happened to you all day. I know I don't need me to tell you to make this one count as well. Wishing you a happy birthday.
Birthday Card Messages for Lover, Birthday Wishes for Love Letter
For a soul as beautiful as yours, you deserve to be given the happiest day on earth. Wish all you want and dream all you can my love. Happy birthday!
You will always be special to everyone you love as they are to you. It's the best feeling in the world to feel the love of family and friends on your special day. Happy birthday!
Not all can possess the skill to always see the good in things. This makes you a precious jewel to everyone around you. Have fun and happy birthday!
You found God first, and then you found yourself. Now you've found me. Happy birthday my dear.
I know that I may be lacking in many ways, but I promise to cherish and love you as much as I can. I love you and happy birthday!
To my greatest gift, my treasure, my happiness, HAPPY BIRTHDAY! May your birthday be as fun and awesome as you are.
I thank God for giving the best gift ever – the gift of happiness. Since I found you, everything changed. On your birthday, I want to give you all the best. May all your wishes come true. Happy Birthday, my dearest.
Hope you liked these beautiful happy birthday wishes for lovers. You can send these love-filled birthday messages on phone via SMS or whatsapp, so that you love can read these messages the moment you send them. You can also send these messages on facebook, twitter, etc so that your love can feel special everywhere they login on their special day. Feel free to explore our website for more birthday messages and wishes for everyone. We are sure, you are going to love them all!