This Birthday Wishes for Son includes special birthday messages and wishes. Here, you don't have to worry about not getting the perfect birthday messages for his birthday. Aside from birthday gift, you want to make sure that the birthday wishes for him can express your affection and care.
With the samples of beautiful Birthday Messages for Son, you will be able to let him know how much he is loved and cared for. You can also use these birthday SMS wishes for your son as birthday card messages and text messages. Make him smile and feel special on his birthday.
Note:  if you are looking for birthday wishes for daughter please visit our birthday wishes for daughter section
Birthday Messages for Son
I feel so blessed to have you as my son.
On your birthday, I would like to wish you the best.
May you be successful on your pursuit to happiness.
Happy Birthday!





You are one of the most beautiful things that ever happen to me.
For that, I thank God for giving me a wonderful child.
Happy Birthday to you, my son!
I may have scolded you many times,
I may appear strict and cold to you at times,
But keep in mind that I'm only like this because I Love you.
And I want only the best for you.
Happy Birthday, kiddo!





Everytime I look at you, I'm reminded how life can be so beautiful,
How God blessed and loved me so much.
For He gave such a wonderful and handsome child to me.
Happy Birthday!
Thank you for inspiring me to work harder each day. Happy birthday son!
Today is the big day of the person who has made me feel so blessed and lucky to have him as my child.
Happy Birthday Wishes to a Son




You trained me to be the parent that I am now. I will always be grateful to you. Let us celebrate your day!





Your birthday marks the special day in my life when I had you as my child. It has opened a special chance for me to share my life with you.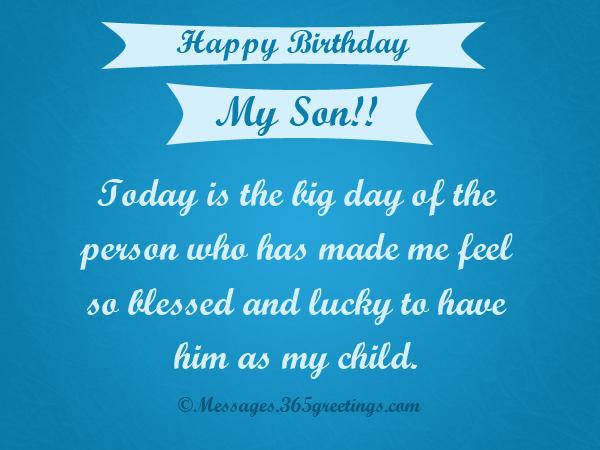 Being a parent is hard but you made it really easy for me. I am so glad that you grew up to be such a nice boy. Happy birthday!





Happy birthday! This day always reminds me of that special emotion I felt the first time I saw you on your actual birthday.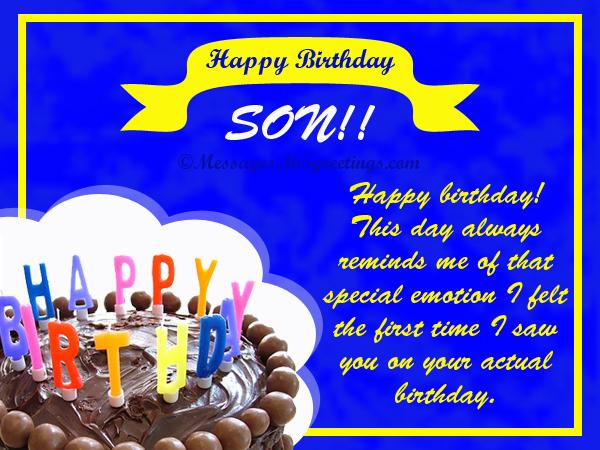 I am so happy to see you grow each day with me. Now that you are ___, I cannot help myself from feeling sad that very soon you will also start building your own family.
I may sometimes yell at you, or may always be busy to attend to your needs. But, here in my heart, I always regret being unfair to you at times. I am sorry. Your birthday reminds me that you are my life. I love you![





Our section of birthday wishes for son are open for those who want to share their own birthday greetings and messages for their son's birthday. Feel free to comment and post your own greetings below. Those birthday messages and comments will be posted on Facebook.