Birthday wishes, Christmas greetings, holiday wishes, Anniversary wishes, party invitation wordings, quotes, poems, greeting card wordings.
.
Religious Birthday Wishes
---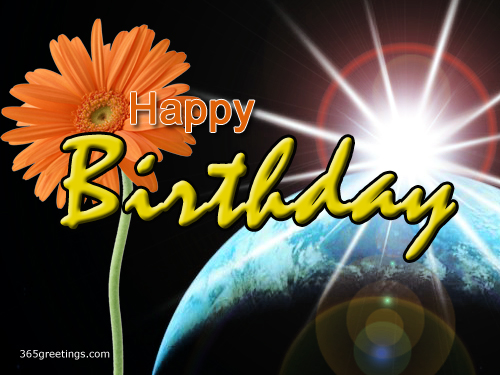 Please find religious birthday wishes that can use in a religious birthday card. Christian birthday wishes are best to give to a friend, family or relative who's celebrating their birthday having God in their hearts.
Christian birthday wishes are also one of the best birthday wishes that you can use among those numerous forms of birthday wishes. Apart form the thought that you make them happier on their special day, they are also enlightened more and intense their faith to God.
Throwing birthday parties, preparing some various foods and giving gifts are the common thing to do during this celebration. And giving those birthday presents is our way to show some love and care to the celebrant.
In addition, birthday celebration is incomplete without some birthday wishes and messages that address to the celebrant. Actually, we traditionally greet someone on their birthday. In fact, there are many forms and kinds of birthday wishes that we can use, it can be based on the recipient, their age, likes, attitude and many more. There are lists of religious birthday wishes below that you can explore and write to your birthday cards or maybe say personally.
Religious Birthday Messages, Birthday Wishes Religioues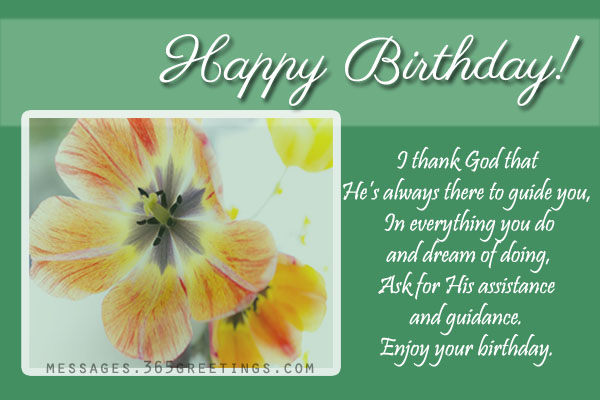 I think God truly loves me, know why?
Because he gave me a special person,
A person that changed my whole life,
And that is you my dearest best friend.
Have a blessed birthday!
May God provide you a prosperous and wealthy life,
Not only on this special day of yours but also for your everyday life and year comes.
Happy Birthday!
I wish nothing but all the best for you,
I hope your prosperous life last-longer or maybe last forever
Thank you, and very happy birthday to you!

God grants all the purest intentions and prayers.
Pray for these and all will be granted in His time.
Have a blessed birthday.
I pray and wish a good health for you.
Continuous wisdom and knowledge to guide you.
Happy Birthday.
Make a wish and God will hear you.
For you are a wonderful person and an amazing friend,
All the good things will be your life's trend.
Happy Birthday!
Here are some religious birthday wishes for friend that you can use as your greetings for them.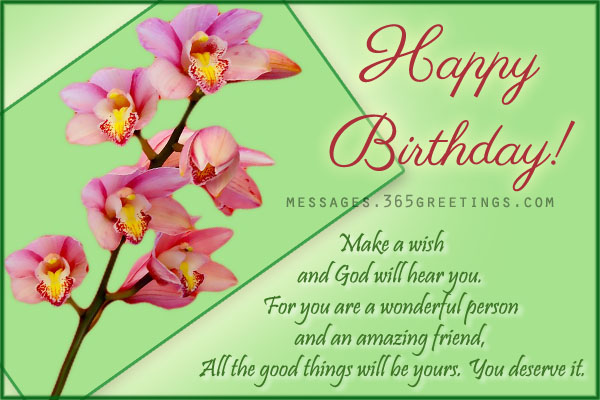 God set aside how much money you earn or how high you are right now,
But rather the faith and love in you spirit and heart.
So I hope God count many of those matter from you.
Happy Birthday!
Birthday celebration reminds us how lucky we are that we have God that gave this life to us.
I hope that you appreciate his doings and be contented of what you are right now.
Happy birthday friend!
May God bless you a wonderful day today,
Followed by a prosperous and abundant year!
Happy Birthday!
As you celebrate your birthday,
We are praying all the best for you.
Happy Birthday.

A special prayer for a special person like you.
May God bless you on your birthday and grant all the wishes you have to do.
Happy Birthday.
Happy Birthday to one special child of God.
Who never fail to surprise and inspire others.
We love you from the moon and back.
I pray that all of your dreams come true
Have a blessed birthday!
May God grant all your wishes and dreams.
May this birthday be the start of your new, better life.
Happy Birthday!
Religious Birthday Greetings, Christian Birthday Messages

Share your faith with God using some christian birthday wishes and include some words of God to your birthday wishes to someone. There are some samples of those short religious birthday quotes and sms underneath.
May God makes this special day for you be wonderful and a memorable one.
Happy Birthday!
Wishing you a blessed happy birthday,
May our almighty God bless you lots of happiness and love on this special day of yours.
Happy Birthday!
I am here hoping for you to have a blessed day!
Christian Happy Birthday Wishes
Christian birthday wishes for a friend, christian birthday wishes messages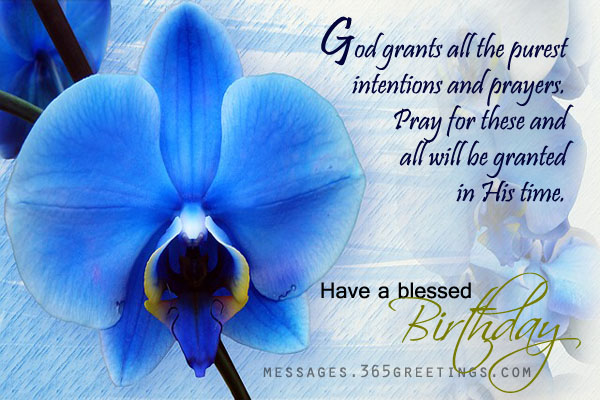 Spread the words of God to everyone on their birthdays.
You can use some sort of samples of religious birthday wishes below.
I hope that you will achieve all of your goals and dreams in life,
May God always guide and support you all the time
Happy Birthday!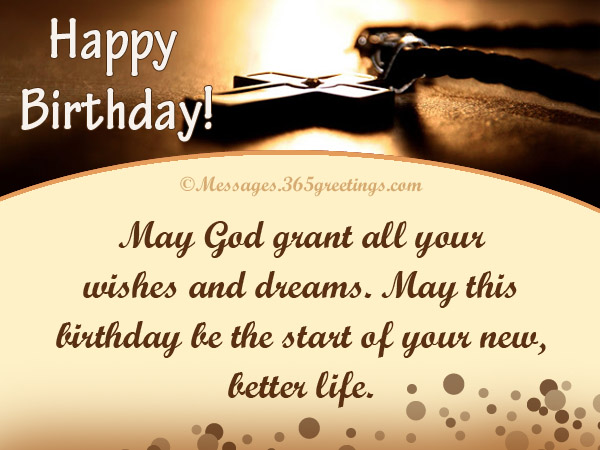 Be happy on this special day for you,
I hope that with the use of your faith with God,
He will give you more strength and power to stand up despite of all problems.
Happy Birthday!
Happy Birthday!
I hope that more blessings come to you,
May God always be with you.

God is so good to make our ways met.
A friend like you is hard to forget.
And I wouldn't even want to forget.
Happy Birthday, friend.
I thank God that He's always there to guide you,
In everything you do and dream of doing,
Ask for His assistance and guidance.
Enjoy your birthday.
By annewalker
+
| | |
| --- | --- |
| Related Articles about BIRTHDAY | |