It is a nice feeling to be inspired by the people we love. Much more, it is happier to know that we have given them inspirational Christmas messages, Christmas greetings and Christmas words that will keep them motivated. Run through this list one-by-one and choose the best Christmas message that suits your taste!
Inspirational Christmas Messages
Here is a collection of Inspirational Christmas Messages and wishes that you can send to your loved ones to make their Christmas more cheerful and inspiring.
Christmas is the festival of god's love;
So let us start a new venture on this Christmas.
God will shower his blessing on us!!
So cheer up and celebrate!
Feeling alone this Christmas? Be get up and ready
We will celebrate the Christmas with party and fun.
Merry Christmas!
Leave your past failures behind and take the Christmas as a start.
Your trust and faith in the Lord will Make you a victor.
Merry Christmas!
Christmas is the birth of our Savior.
So celebrate his birthday with excitement and cheer!
This is the season to realize our sins and ask for God's forgiveness.
You will feel His glory once you do!
Have a blessed Christmas!
Share your blessings, show people that you care. Give a helping hand, give a hug.
God will reward you for that.
Have a meaningful Christmas!
Don't waste your time. Make each day a fruitful day for God's glory.
After all, He is the source of our life. Merry Christmas!
Prayer works.
It is very simple to do yet it yields powerful results.
Merry Christmas.
Read the Bible and be inspired daily.
This is my Christmas wish for you!
Be motivated in everything that you do.
Your will is very helpful in reaching your dreams!
Merry Christmas!
Inspirational Christmas wishes
Issues are there in life to get solved
It is there to give us challenges and confidence
And God will guide you always
Celebrate Christmas Day with a New Inspiration
Have a blessed Christmas!
It is Jesus Christ's birthday once again.
To remind us that God is always with us,
So Let us celebrate the Christmas with hope in our heart,
As our Messiah will be always to guide us
Merry Christmas and Happy New Year
Family is the greatest asset a person could ever have.
Learn to share with them all the joys and blessings that we have.
Celebrate Christmas with them!
Look back and count the blessings that were given to you.
We are so busy that sometimes we fail to count and appreciate them.
Merry Christmas!
God loves us!
He sacrificed His Son so that we will be saved.
Be thankful, God is good and alive!
Have the Merriest Christmas of all!
God is fair so do not question Him whenever we have problems.
In fact, we have to be thankful because He is training us to be strong.
Merry Christmas!
Season's greetings to all the people who believed in my talents.
For those who have no appreciation, may you be given with the gift of understanding and acceptance.
Merry Christmas!
Pray, pray, and pray.
These are my greetings for you this Christmas!
You will see how God works in your life by looking around you and see the people that are deprived of a decent life. Be thankful! Merry Christmas!
Praise the Lord! Let us celebrate His birthday!
You may be interested in
 Inspirational Christmas Messages for Son




See Some inspirational Christmas messages for son. I am sure that you will like to send these Christmas wishes messages to him
I may sometimes yell at you or seem to ignore your cute stories.
But I want you to know that just having your presence makes a big difference.
I love you so much!
Merry Christmas!
* * * * * * * * * * * *
Merry Christmas!
May our love for you guide you in whatever you do!
* * * * * * * * * * * *
You will always be my baby!
Merry Christmas!
Business Christmas Wishes
For being the best client of our company, accept this simple token of appreciation.
May you continue to trust us in your future endeavors.
Merry Christmas!
Bonuses are not enough to show how much this company values your hard work.
Stay as diligent as you are.
Merry Christmas!
On this day, we will award the most important people
that make this company going stronger and more successful.
You are all entitled to have this special recognition.
Have a Merry Christmas to all!
Inspiring Christmas Greetings Christmas Card greetings
Christmas the biggest festival of the world is on the corner. You may be buying gifts, sending cards and decorating your house. Here I am posting come Christmas messages which will help you while writing your cards.
I am so thankful to be given a chance to live in this world.
I know I can do something to make people smile and feel loved.
Merry Christmas!
My life will be miserable without my family.
They are there to guide me whenever I am out of the way towards goodness.
Merry Christmas to all!
Christmas is a time for giving and sharing.
I would like to share to my happiness.
I will smile so that everybody will be inspired.
I am full of gratitude for people who has made my life meaningful.
May you continue to be a blessing to others.
Merry Christmas!
Inspirational Christmas Card Wordings for Everyone!




Give your family the best that you can give.
Do not count how many you've given.
Count the blessings that you have received.
Merry Christmas!
It is His birthday today.
Celebrate it and be happy for the arrival of our Savior!
Cleanse your words, thoughts, and actions.
This way, we can be assured that we are prepared for His coming.
Merry Christmas!
Be pure like Mary, obedient like Joseph, and humble like Jesus.
Merry Christmas!
Stars are cute little lights that keep twinkling in the sky.
Let Christ be the Star that will light our path.
Humility is the key to stay closer to God.
We are always reminded to be humble like children.
Merry Christmas!
Christmas is the best time to remember Jesus' healing power.
He will free us from our worries and pains.
Will walk with us through all the way.
Let us offer our sincere prayer to Him.
Have a Blessed Christmas!
Inspirational Christmas Greetings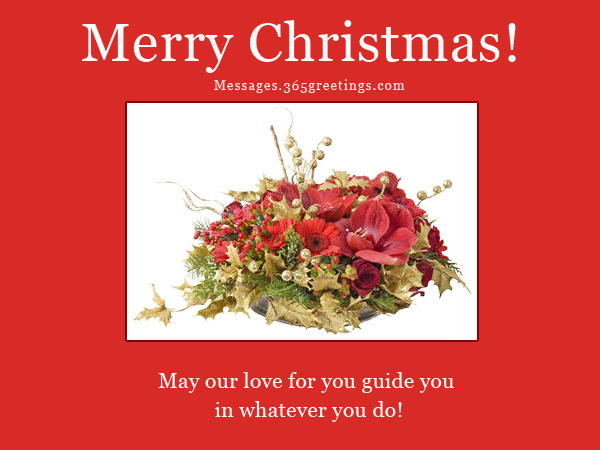 This Christmas remember to pray for those
you aren't able to celebrate this joyous occasion with
while you are counting your blessing that the Almighty has given you.
* * * * * * * * * * * *
As we celebrate this Christmas season,
let us not forget to thank baby Jesus for coming into our lives and dying for our sins.
* * * * * * * * * * * *
Just like you are cleaning your house for all the guests to come,
clean your heart so that Jesus's love can come into your heart.
Have a blessed Christmas.
* * * * * * * * * * * *
Christmas isn't about buying the most expensive clothes and toys for everyone.
Christmas is about spreading the love of Jesus to all the people you will meet.
Have a Merry Christmas!
* * * * * * * * * * * *
Christmas isn't about opening our presents.
It is about opening our hearts to Christ's love.
* * * * * * * * * * * *
There has only been one true Christmas, the rest are just anniversaries.
Inspirational Christmas Quotes and Sayings
"This Christmas, my wishes for you are endless; I wish that you have the best health, find love, delightful days, blissful year, bright future, energetic hours and everything that comes with good tidings. Merry Christmas!"
* * * * * * * * * * * *
"Christmas means HOME. So make sure that you'll celebrate this holiday season with your family and love ones. May you feel the happiness and joy this season may bring. Best wishes to you and your family."
* * * * * * * * * * * *
"Christmas season is the time of sharing. Start sharing LOVE and HOPE to your FAMILY. Eventually, the Love you have shared will also be imparted to everyone in your society. Let LOVE fill the air. Merry Christmas to you and your family!"
* * * * * * * * * * * *
"Spread Christmas cheer
For all to hear!
Lights are sparkling, decorations complete
Now we are just waiting for the family to eat"
* * * * * * * * * * * *
"Christmas is not just about material things—it is also about sentimental ones. Show your appreciation for everyone like how Jesus appreciates all of us. Have a blessed Christmas day!"
Inspiring Christmas Wordings
"Before the clock strikes 12, let us pause for a moment and offer a moment of silence as we say bid goodbye to 2014. Now, let us welcome the year 2015 with the loudest noise we can ever create and fill the air with so much fun and laughter. Merry Christmas everyone and a fun-filled New Year!"
* * * * * * * * * * * *
"My wish for you this year is that you receive all the happiness to soothe away all the tears of the past year. Merry Christmas and Happy New Year to you!"
* * * * * * * * * * * *
"May your life be filled with diamonds as the stars shine brightly on your world. Thank you for a beautiful friendship. Merry Christmas to my dear friend!"
* * * * * * * * * * * *
"I am sending you a Christmas gift wrapped with love, joy, delight, peace and fortune for the Yuletide season and many more to come. Merry Christmas!"
* * * * * * * * * * * *
"In all the merriment, I hope you do not forget that there are more important things than gifts during this Christmas. Always remember loved ones and the fact that you get to spend another Christmas with them. Enjoy the Yuletide season and spread the love! Merry Christmas!"