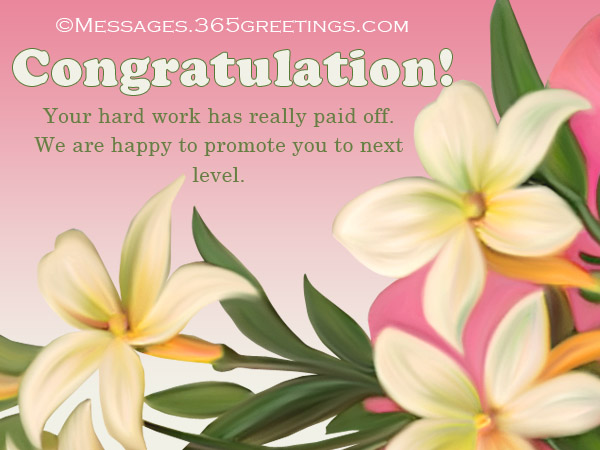 Has someone in your personal or professional network just got a job promotion? Are you searching for a perfect Congratulation Messages for Promotion to send? If you just nodded your head to yes, then you are at the correct place. Below, you are going to read the best congratulations messages and wishes for promotion. You can write these messages on greeting cards, emails, SMS etc. You can also tweet these messages and wishes on Twitter or post them on Facebook wall.
So, without wasting time just scroll down and select your favorite congratulation message and send it right away!!
Your hard work has really paid off.
We are happy to promote you to next level.
Congratulations!
There couldn't be
a better fit for promotion.
You were a star performer.
Congrats!
You will climb
the ladder of success
pretty soon with your stellar performance.
Some dream,
few try,
but very few like you
make it happen.
Congrats on achieving your goals.
Congrats on climbing
the ladder so soon.
Happy for you!!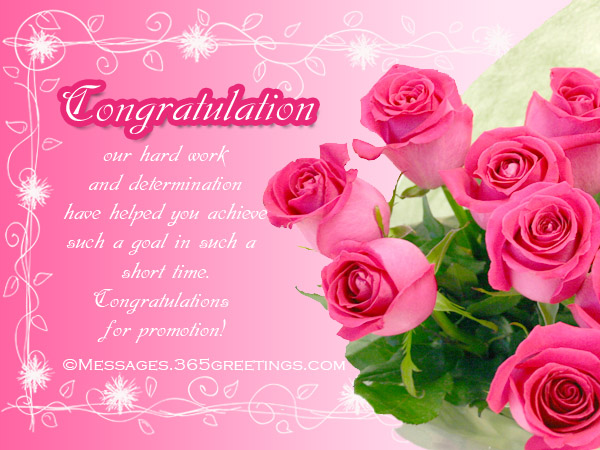 I see a bright star
shining in the future sky.
You are a jewel to this organization.
We have always
looked upon you as our problem solver.
You deserve this promotion.
Congratulations!!
I would like
to take this opportunity
to thank you
for your support to us.
You are a well deserving candidate
for this promotion.
Congrats on adding a feather in your cap.
Congrats on your promotion.
We knew you would excel.
You always do.
Your hard work
and determination
have helped you achieve
such a goal in such a short time.
Congratulations for promotion!
Keep up the good work.
Congrats on your promotion.
Proud of your achievements!
Well done.
Congratulations!!
Congrats on your
first step towards success.
You have out-shined
others with a great margin.
You are a well deserving candidate for this post.
Congratulations!
More Congratulation Messages for Promotion




Success comes to those
who are deserve it!
Congratulations for getting promoted!
For us your work
and deliverables were a remarkable ones.
You are an ideal mate for promotion.
May life shower great success
and happiness on you!!
Congrats!
The zeal and determination
in your work have really paid off.
Congrats on getting promoted.
This is all that
you worked for.
This is all that you sweat for.
The company promotes you
to next level
and that is what it is thankful for.
Congratulations!
Your dream has come true.
Congrats on your promotion.
You have created
a great place for yourself
in your future.
Congrats on the promotion.
Keep the best of you
going as in your last assignments
and you may climb the ladder very soon.
Congratulations!
We are so proud of you.
Fly high.
Congrats!
We are proud to offer you
with great new opportunities
and responsibilities now.
You have been promoted.
Congratulations!
You have a really bright future ahead
with such a great achievement.
Congratulations…
You deserve this promotion!
For us, your name
always meant one who never sees time
when there is need in the organization.
So here's wishing you
great future on your achievement.
Congrats on your promotion.
We look forward to a great leader in you.
Our star performer
has been promoted to new level.
Hoping to reach new heights in works,
as he/she embarks
upon the new career stage.
Congratulations!
The company has realized
its potential candidates
who well deserve the next career stage in their life.
Congrats on being one of them.
We are really happy
on getting the news of your promotion!
Congratulations buddy!
Son, you make us feel really proud today!
Congratulation and stay blessed!
Don't let the promotion joy
spoil your enthusiasm of
working hard…
Keep up the good work!
Congratulations!
These were the newest and unique congratulations wishes for promotion. You can send these messages to your friend, colleague, junior, senior, son, daughter, sibling or anyone close to you. These messages will surely add more joy to the happiness of their promotion!!