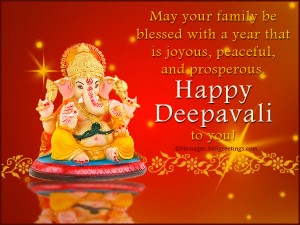 Diwali is probably one of the most festive holidays for Hindus. Also known as the festival of light, Diwali is celebrated with so much merriment and zeal. It marks the legend of God Rama and his wife Sita, returning to the kingdom after he defeated the demon king Ravana. The people in the kingdom welcomed their return by lighting their way with lamps, also called as Diyas.
Diwali is a five-day celebration which usually falls between the months of October and November. You can feel the festivities in every corner of the country during the holiday. There are overflowing sweets and delicacies, parties and family gatherings. Of course, like in any other Hindu holiday, there are prayers and worshipping as well.
As part of the celebration, people also exchange Diwali cards among friends and family. This year, if you want to send your Diwali greetings to your loved ones, you can do it the traditional or digital way. You can send these Diwali e-cards through emails or share on social media accounts. OR, you may download these printable Diwali cards and print. You may insert your own Diwali messages on them. Happy Diwali!
Diwali Greeting Cards
This Diwali, don't forget to extend your warmest greetings to your family, loved ones and friends. Send them these heartfelt and beautiful Diwali ecards. These colorful and lovely Diwali cards will surely lift their mood even more this festive occasion.
Free Diwali Cards and E-cards
Gone are those days that you have to buy your own traditional Diwali card. Now, you can just browse your choice of card and send them instantly to your recipient. There are so many free Christmas electronic cards or e-cards that you can use and share. Here are some of them:
Happy Diwali Cards
Send your warmest and best Happy Diwali greetings with these beautiful and colorful cards featuring the diyas. Diyas are known to be one of the spectacles of Diwali. Illuminate your life with the light of Diyas and wish the same to your dear ones by sending out these greeting cards.
Diwali Cards Images
Are you looking for images of Diwali cards to send? Or maybe you're searching for free printable diwali cards that you can personalize and print for this coming Diwali 2014. Well, these cards can also be used with that purpose. You can download and personalize these cards. You can also add your own messages on them if you wish.
Romantic Diwali Cards
Aside from your close friends and loved one, don't forget to greet those who are close to your hearts a warm Happy Diwali. Be it your spouse, partner in life, or boyfriend/girlfriend, make sure that you still let them feel that they are remembered on this special occasion. Be sure to send these sweet diwali cards created just for them.
Diwali Cards for Friends
Diwali Cards for Family