Diwali History and Celebration
Diwaliis here! Diwali is the greatest Festival celebrated by hindus in india and other countries. India is diversified country in all means, not only culture and languages but also behaviour and characters of people.India is having different culture,religion, people and different living style in different areas but they all stand as one India  As like true indian character diwali also carries different stories and myths by different people and locality, but celebrate in unique way. Hindus celebrate it the victory of light over darkness, whereas sikhs celebrate it as birthday or guru gobind singh and buddha's celebrate the day as Emperor Ashoka's ebrasement day to Buddhism. The main way of Diwali celebration is exchanging diwali sweets, doing Diwali Rangoli and greeting neighbours and dears with Diwali wishes for happy and prosperous new year
Diwali Greetings
Use these happy Diwali greetings to spread the spirit of Diwali festival and greet your loved ones a Happy Deepavali. We listed our all original and heartwarming diwali wishes and diwali card greetings. You may also use these Diwali sms greetings in English as Diwali quotes, diwali text messages and Diwali SMS. These Diwali Greetings can be used to add to diwali cards which you want to send to your friends and relatives through online greeting card sites which provides free diwali greetings.
Diwali Greetings, Messages and Diwali quotes
Best Diwali Greetings And Heartfelt Diwali Wishes



Millions of lamps are illuminating
to declare the victory of light
I wish you happy diwali with
endless happiness and prosperity
Happy Diwali to You
Wish you A happy diwali filled with fun and happiness
On this auspicious day of Diwali
Joy, happiness and preosperity
Come to your life, through the
light from diwali lamps
Celebrate the Festival of light
Celebrate and enjoy Diwali
Celebrate God's Victory
Happy Diwali to you
I wish you a joyful year of prosperity
Happy Diwali to you and your family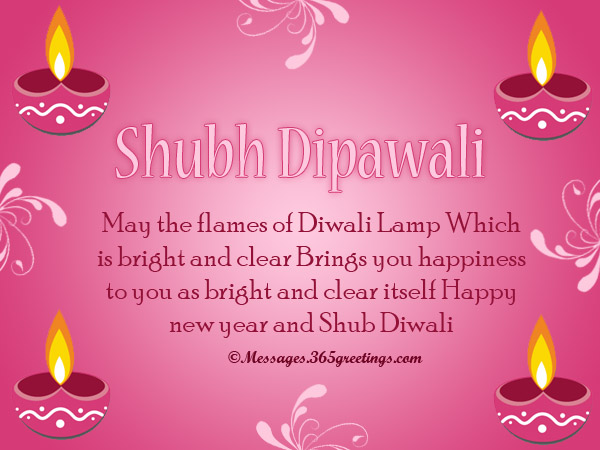 When we say Happy Diwali
We say happy for the Victory
of god over evil.
Say Happy Diwali to Dears and nears
To express you happiness for
the victory of God





Diwali is the festival to clebrate the victory of God
And that will be a great Diwali only if you
spread the spirit of Diwali to those unfortunate
Who are not able to celebrate Diwali
When you share Diwali to them
God will rejoice and bless you
Just like the courage of Lord Rama when he faced and defeated the evil, may you find your courage within you to keep striving and overcoming life's hindrances. May you soon find your happiness and success. Happy Diwali!
Today is Diwali… All of us should be jolly. Light the Diyas and rejoice. For our life will be joyous and prosperous. Happy Diwali!





Here's my greetings to spread the love and blessings of Goddess of Wealth and Beauty. May you all have a splendid and magnificent celebration of Diwali!
Have you get your firecrackers ready? Have you prepared all your Diwali Recipe? Coz I'm on my way to visit and celebrate diwali with the family. Happy Deepavali!
Happy Diwali to you and your family. Best Wishes is sent to your way!
This season of light, may you find your happiness. May all of your dreams come true and have fun! Love lots and kisses.
May the light of sparkling Diyas bring your life an everlasting hope, fulfillment, happiness and prosperity. Have a happy and blessed Diwali!





I'm sending my warmest greetings to you this Deepavali. May you and your family have a blessed and safe diwali celebration. Have fun!
Diwali is a special time to get together… To bond with family… to re-unite… May your home be filled with laughter, love and harmony this festival of light. Happy Deepavali!
A time for cheer and merriment – celebrate Diwali festival with heart filled with love and glee. Have a happy and blessed Deepavali!
In time of darkness, don't forget to pray. Just like the essence of Diwali, there will be Diyas that will enlighten your way. Have a sparkling Diwali!





May the magnificence and warmth of this holy occasion fill your heart and lie with bright cheer and happiness throughout the year. Happy Deepavali!
On this festival of light, burn all your troubles, forget all of your problems. You can deal with it later. And remember, there's Lord Rama to guide you. You will never be alone. Happy Diwali to you!
May you find the light inside of you. Let it illuminate and spread the spirit of love and mirth around. May the light Diyas enlighten you and give you a clear understanding. Have a splendid Diwali celebration!