Diwali is the biggest festival in Hinduism  It is considered as the new year for Hindus. All over India, Hindus celebrate Diwali with sparkles and firecrackers. People exchange sweets, Diwali wishes and visiting relatives. Are you thinking about sending Diwali wishes in Hindi to greet your dear and near ones a Happy Diwali?  We listed our some funny Diwali wishes and heartfelt Diwali messages for you.
Diwali Wishes in Hindi for Family and Friends
In this Section you can find lot of general Diwali wishes in Hindi for your nears and dears. Please select suitable one for your need
May this Diwali festival bring you and your family an endless love, peace and harmony.
Have a joyful and wonderful Diwali!
इस दीवाली त्यौहार आप और आपके परिवार के एक अंतहीन प्यार, शांति और सद्भाव ला सकते हैं.
एक खुशहाल और अद्भुत दीवाली!
Bond with your family this Diwali.
Fill your home with lots of fun and cheer.
May this one be the most special.
Happy Deepavali!
इस दिवाली अपने परिवार के साथ रहो .
बहुत सरे मज़े और उल्लास के साथ अपने घर को भर दो .
यह एक सबसे खास हो .
दीपावली मुबारक हो!
Happy Diwali to you and your family.
May the light of Diyas bring your home an everlasting harmony, love and peace.
आप और आपके परिवार को दीवाली मुबारक हो .
दीये की रोशनी अपने घर के एक अनन्त प्रेम, सद्भाव और शांति ला सकते हैं.





May you be blessed this Festival of Light.
May Diwali festival illuminate your path towards successful and joyous life.
Have a wonderful Deepavali!
आप इस प्रकाश के अवसर पे धन्य हो !
इस दिवाली का त्यौहार सफलता और ख़ुशी भरे जीवन की और आपका रास्ता उजागर करे .
एक अद्भुत दिवाली हो !
I wish I could be there to celebrate… to light Diyas… to eat delicious meals… to burst fireworks…
Too bad, I can't. So on my own way, I'll be celebrating this Diwali with you – thru this card (or ecard). I'm sending my heartiest Diwali wishes to you. I miss you.
काश मैं जश्न मनाने के लिए वहाँ हो सकता है …दिये जलाने… स्वादिष्ट भोजन खाने…. आतिशबाजी करने ….
बहुत बुरा है, मैं नहीं कर सकता. अपने तरीके पर तो, मैं तुम्हारे साथ इस दीवाली मना हूँ – इस कार्ड के माध्यम से (या ecard). मैं आप के लिए मेरी हार्दिक दीवाली इच्छाओं को भेज रहा हूँ. मैं तुम्हें याद आती है.
Celebrate this auspicious occasion with the heart filled with joy, love and peace.
May the beauty and light of Diyas fill your life and heart with endless delight and happiness.
Happy Deepavali to you!
इस शुभ अवसर को खुशी, प्यार और शांति से भरा दिल के साथ मनाते हैं.
सौंदर्य और दिए की रौशनी अनंत ख़ुशी आपके जीवन और दिल को भर दे !
दीपावली मुबारक हो आपको!]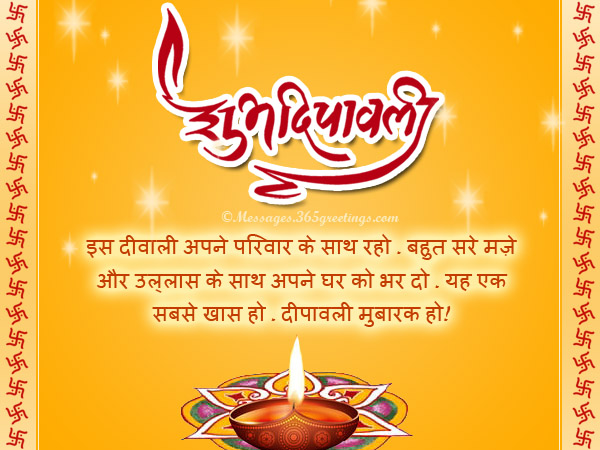 Good Health…
Successful Career…
Happy Family…
Long Life…
These are my wishes for you this Deepavali.
And I hope that all of your dreams come true.
Lots of hugs and kisses to your way.
अच्छे स्वास्थ्य के …
सफल कैरियर …
सुखी परिवार …
लंबे जीवन …
ये सभी इच्छा है मेरी आपके लिए .
और मुझे आशा है कि आपके सभी सपनों सच हो.
आपके लिए बहुत सारा Hugs और चुम्बन !
I wish that the sparkle of the lights illuminate your path and bring you happiness and joy the whole year through.
मैं कामना करता हूँ की रौशनी की चमक आपके रास्ते को उज्जवल करे ,
आपकी ख़ुशी और आनंद को पुरे साल बनाये रखे !
Hope the festival of lights shower you with blessings from the Goddess of Wealth and Beauty
And may its radiance shine through your home bestow you togetherness and prosperity.
My warm wishes to you on Diwali.
आशा करते हैं रौशनी का त्यौहार आप पर धन और सौंदर्य की देवी के आशीर्वाद का बौछार हो !
इसकी चमक आपके घर से एकजुटता और समृधि प्रदान करे !
दिवाली पर आपको मेरी शुभकामनाएं !
Diwali Card Messages  in Hindi



If you are to send a Diwali card to your loved ones this coming Diwali festival and don't know what to write on it, then this message section is for you. We listed out inspirational and hearty Diwali card messages in Hindi for you to write to your Diwali greeting card. We also include some Diwali greetings and Diwali wishes that can be send as Diwali SMS and text messages. So here goes the list…
You serve as Diyas to my life…
You brighten it
You illuminate it
You drive away fears and loneliness
For that, I thank you.
And I wish you a Happy Deepavali!
तुम मेरे जीवन में एक दिए के रूप में हो, आपने इसे रोशन किया, चमकाया, अकेलेपन और डर को दूर भगाया इसके लिए आपका धन्यवाद् ! आपको दिवाली मुबारक हो !
Wishing you a Happy Diwali.
May you and your family have a joyous and beautiful family.
आपको दिवाली की ढेर सारी बधाई ! आप और आपका परिवार एक खुशहाल और सुन्दर परिवार हो !
May your family be blessed with a year that is joyous, peaceful, and prosperous.
Happy Deepavali to you!
यह वर्ष आपका परिवार खुशी, शांतिपूर्ण और समृद्ध हो ! आपको दिवाली मुबारक हो !





That time of the year is here!
You can see people celebrate with zeal.
Town is filled with colorful ornaments,
And homes are lighted with Diyas.
Yes, it's Diwali!
Happy Diwali Festival to all!
साल का वह समय यहाँ है!
आप देख सकते हैं लोगों को उत्साह के साथ मनाते हैं.
शहर रंगीन गहनों से भरा है,
और घरों में दीये के साथ जला रहे हैं.
हाँ, यह दीवाली है!
आप सभी को दिवाली की बधाई !
Light your lamp for brighter tomorrow,
Burst those firecrackers to drive away failure and sorrow,
Make Rangolis for a colorful and vibrant life,
And hope that your year will be fun-filled and bright.
उज्जवल कल के लिए अपने दीपक जलाएं ,
विफलता और दुख को दूर करने के लिए उन पातकों को जलाएं
एक रंगीन और जीवंत जीवन के लिए रंगोली बनाएं
और आशा है कि आपके साल मज़ा भरा है और उज्जवल होगा.
May you be filled with contentment and happiness this Diwali Festival.
Have fun and enjoy!
आपका यह दिवाली ख़ुशी और संतोष से भरा हो !
मजे और आनंद लो !
It's festival of light!
And just like Diyas, I wish to have a bright and illuminating life.
Lots of love to you this Diwali!
यह प्रकाश का त्योहार है! दिये की तरह एक उज्वल और रौशन जीवन की कामना करता हूँ
आपको इस दिवाली ढेर सारा प्यार !
Best Diwali Message in Hindi
Here you can find some Best Diwali Message in Hindi to send your friends or relatives
Diwali festival – the festival of light – is widely celebrated across the country of India and other parts of the world. Lighting Diyas is one of the most popular traditions. But the holiday will not be complete without exchange Diwali greetings and Diwali cards. Send your warmest Diwali wishes using these heartwarming Diwali messages, Diwali card wishes, Diwali greetings in English and Diwali SMS. We also include Diwali text messages that you can send using your cellphones.
Best Diwali Message in Hindi
Wishing you and your family to have a joyous and prosperous Diwali!
आप और आपके परिवार के लिए एक खुशी और समृद्ध दीवाली की बधाई!
May the light of Diyas bring you joy, peace, prosperity and happiness.
Have a wonderful Diwali festival!
दीये की रोशनी आपके लिए शांति, समृद्धि और खुशी लाये .
एक अद्भुत दीवाली उत्सव मुबारक हो !
Best wishes to you this Diwali festival.
May all of your dreams come true.
आपको इस दीवाली के त्योहार के लिए शुभकामनाएं.
अपने सभी सपने सच हो !
May Diwali festival be the start of your successful and fulfilling life.
Have a happy Diwali!
इस दिवाली के उत्सव की शुरुवात आपके सफलता और सम्पूर्ण जीवन से हो !
खुशहाल दिवाली हो !
May your home be filled with…
…Love
…Joy
…Harmony
…Peace
This coming Diwali festival!
Sending lots of love to your way.
आपका घर भरा रहे …
… प्यार
… जोय
… सद्भाव
… शांति
यह आने वाले दीवाली उत्सव!
आपके रास्ते बहुत सारा प्यार भेजे !





I may be thousand miles away from you,
This Diwali, I'm sending my heartiest wishes to you and family.
May all of you have blessed Diwali celebration!
हो सकता है मैं तुमसे हजारो मील दूर हूँ ,
इस दीवाली, मैं अपने आप और परिवार के लिए हार्दिक शुभकामनाएं को भेज रहा हूँ,
आप सभी को दिवाली उत्सव धन्य कर दे !
May the light of Diyas illuminate your home and your life with endless harmony, joy, peace and abundance. Have a prosperous Diwali!
दिये की रौशनी आपको और आपके परिवार को अंतहीन सद्भाव, शांति और बहुतायत के साथ रोशन करे !
समृद्ध दीवाली हो !
Lavish meals…
Bright lamps…
Festive activities…
Colorful garlands…
These are the elements of Diwali festival.
But don't forget to give thanks to our creator.
Complete the celebration with prayers.
May you and your family have a wonderful and blessed Diwali!
भव्य भोजन …
… उज्ज्वल दीपक
… उत्सव गतिविधियों
रंगीन माला …
दीवाली उत्सव के तत्व हैं.
लकिन भगवान को धन्यवाद करना मत भूलना
प्रार्थना के साथ उत्सव को पूरा करें.
आप और आपके परिवार के एक अद्भुत और धन्य दीवाली है!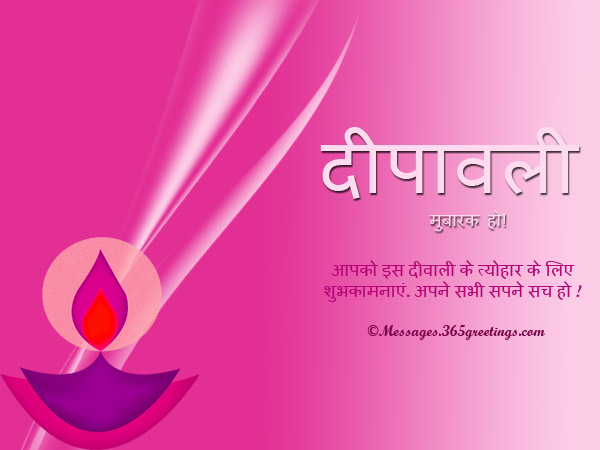 I may not be there to personally light our Diyas,
But miles away, I am sending my most heartwarming Diwali greetings.
Have a happy Diwali!
हो सकता है मैं वहां न रहूँ दिये जलने के लिये,
लकिन मीलों दूर से, मैं तुम्हे दिवाली की बधाई भेज रहा हूँ ,
दिवाली खुशहाल हो !