Heartfelt RIP messages
When our loved ones leave us forever, it is a heartbreaking moment. Though we know that they will never come back,
we wish that they were still with us. While death cannot be overcome, what we can do is wish the people who left a peaceful afterlife.However, we are sometimes so shaken by the sad events that it is hard to gather up our voice and say what we feel.
Here are some rest in peace messages that will help you to express your love and respect:
RIP messages for friends and relatives
You have been our greatest source of inspiration and courage.
Deep in our hearts we will always keep your image.
God has now a precious and loving friend, the one we have lost.
Your company will even regale angels of death and make them smile.
Why is it that you have to go, why is life so cruel?
I wish you could stay with us forever.
There is nothing that is invincible for a soul as spirited as you…
yet you bowed down to death to honour God and his will. Rest in peace.
Here lies a man who never rested till he did a good deed every day.
His kind and sweet memories will with us always stay.
There are some who rule this land and think themselves to be kings.
You ruled the hearts of people around you and will do so in the paradise too.
Something which we cannot control is called fate, before it bows the poor and the great.
Today it may have snatched you from us, but for you we shall still wait.
As we lay you to rest, we know that you have gone to a better world,
and pray that you may get peace, love and greatness there. May angels watch over you!
The body is but an outer covering for the soul.
The reality is the soul which never dies, but just changes form.
So, we know that in some way, you will always be there around us.
Roses are red, skies are blue, you can leave us, but we will not forget you.
RIP messages for spouse, lover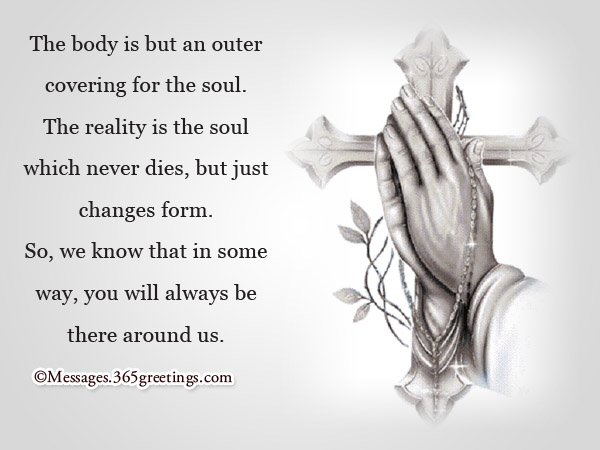 As you go away, along with you goes a part of me…but I am happy that now you are free.
If there is any place between heaven and earth where I can meet you, do lead me to that place…
or sometimes come in my dreams to show me the path of life.
Without you by my side, I will never be complete; alas, with death I could not compete.
But you will always be my better half; your memories will always be fresh and sweet.
I shall not shed tears, since you hated to see my cry.
But to God I shall ask how could he, and why.
You have all your duties fulfilled, in your heart there was no guilt.
So you shall forever stay at ease and in the heavens above, rest in peace.
You spread happiness for all the years when you were here on this mortal land.
Now it is God's turn to give you all the happiness in return as you go holding his hand.
On the sands of time, you have left your footprints with glory.
Everyone will know your name and shall recall your story.
RIP messages for teachers, mentors




Could I not, for one moment, see your sweet smile again?
How will I live and bear this excruciating pain?
Answer me as you leave my dearest…forever my tears shall rain.
We fought and made up many times…each time you came back to me.
But this time I feel, no matter how much I try, you will never be back in my arms again.
I know that you have left the earth, and my heart is heavy with pain.
But I also know that we shall be united one day in heavens above. So wait for me my dearest.
It is hard to believe that you are not here amongst us.
Your youth and liveliness will be missed as much your undying support for friends.
You took the hurt and the sorrows away wherever you went.
Today, as you leave, you are taking a piece of our lives along with you.
Life will never be complete without you.
It is true that God also needs good people to manage his work in heaven.
Otherwise why would He have called you all of a sudden?
He must have known that you are such a great person and can handle any situation.
Rest in peace.
May His Soul Rest In Peace message




You always kept your promises…never ever broke them.
You promised that you will be always be there for me.
So I trust that you are watching me from somewhere above,
and will guide me whenever I am lost.
Nowadays, I watch the night sky with hope to see you somewhere.
They say that good people, when they die, turn into stars.
I know you are twinkling brightly with all your might,
and that I will find you someday. Love you always.
You taught me everything I can remember, gave me a meaningful life.
Now, that you are gone, I will live with your ideals and never let you down.
We shall rejoice for you, as you are in a better place, a place you always dreamt of.
But we shall also mourn for those whom you have left behind. Rest in peace.
I'm sure my prayers will be answered often now,
as you are so close to God and will tell him all I say to you.
Ask God to give us strength to live without you.
All that you have created will always remind us of your genius…
we will try to follow your footsteps and your principles.
With honour and respect you shall rest.
Loss cannot be expressed in words, it can only be felt.
So I shall remember you in silence.
I bid adieu to you today.
What an exit you made…silently, all of a sudden, without giving life a chance to trouble you with pain or remorse.
Your final act shall always be remembered. Rest in peace with the angels above.