Sending your sweetest rakhi messages and rakhi wishes is the perfect way to reach out to your siblings. With our collection of inspirational rakhi messages and rakhi SMS messages, you will be able to express your care and affection towards your brothers and sisters. So what are you waiting for? Pick from these sweet rakhi messages and send right away.
Happy Rakhi Messages for Sister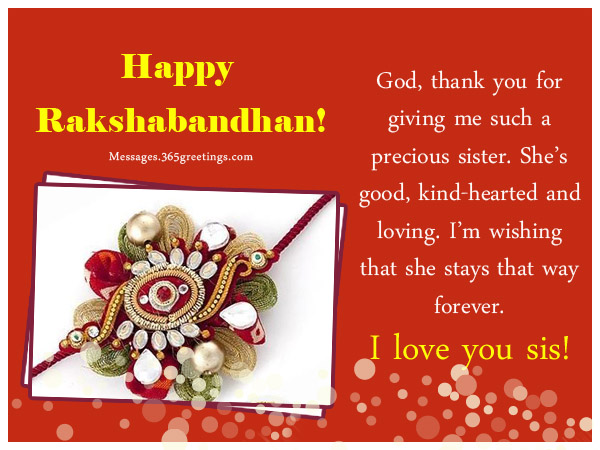 Dear sis, I may not be always there to protect you just like before, Just remember that you can rely on me whenever you need. I may be far but I'll always look up on to you. Missing you this Raksha Bandhan.
Sister is one of the most wonderful gifts that God gave to me. Thank you for being my sister. Best Wishes for you, Sis!
Thanks, sis! For the care, For the affection For the understanding. No words can ever express how lucky I am to have you. I Love you and Happy Rakhi!
I wish that our sweet bond will remain forever. Sending my warmest Rakhi greetings to you way.
[snip msg]For the most wonderful, exceptional, brave and caring sister, Happy Rakhi to you. Thanks for making my life easier and happier. I love you, sis![/snip]
[snip msg]Sis, I may not show this very often, but I do love and care for you. You're one of the most important persons in my life. If there are times that you feel frustrated about me, I apologize. This Rakhi, I hope I can make it up to you. I Love you![/snip]
[snip msg]God, thank you for giving me such a precious sister. She's good, kind-hearted and loving. I'm wishing that she stays that way forever. I love you sis![/snip]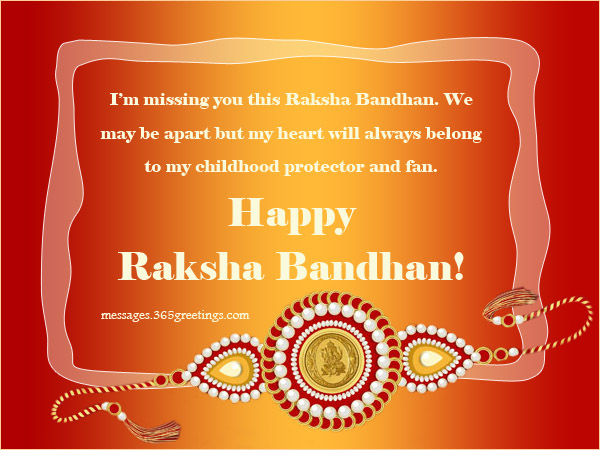 [snip msg]We have fun, We play, We cry, We fight, Those memories I will forever cherish. Happy Rakhi to you, sis![/snip]
[snip msg]Miles apart, I'm sending my love to you, Sis. Take care and don't forget that you have a brother/sister that loves you all the way. Happy Raksha Bandhan[/snip]
Happy Rakhi Messages for Brother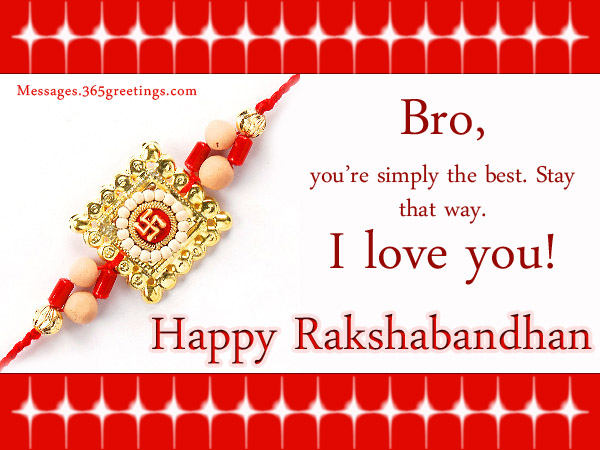 Make the bonds stronger with these Raksha Bandhan wishes and rakhi messages for brothers and sisters. These happy rakhi wishes will let your siblings know how much you love them. Choose the best rakhi greetings from this collection of messages for rakhi that includes happy rakhi wishes, rakhi text messages and rakhi quotes and sayings.
Dear brother, I feel so lucky to have a wonderful and handsome brother like you. Though this Raksha bandhan, I feel blue. Coz we're thousand miles apart and can't celebrate this day with you. Nevertheless, I love you!
Dear bro, I'm wishing that the bond between us will get stronger and stronger. May all of your dreams come true. Thank you and I love you!
Happy rakhi to the most kind-hearted and loving brother in the whole wide world. I Love you!
For being a loving brother, thank you. For being an avid fan of mine, thank you.
For being such a strong protector, thank you. No words can ever express how much I appreciate you. Happy Rakhi!
[snip msg]For the most handsome, intelligent, humorous and best brother in the whole wide world, Happy Rakhi![/snip]
[snip msg]Bro, you're simply the best. Stay that way. I love you![/snip]
[snip msg]There are times that we're having misunderstandings, We fought, we cried… But let me make those up to you, and thank you for your everlasting affection for me. Happy Rakhi![/snip]
[snip msg]I'm missing you this Raksha Bandhan. We may be apart but my heart will always belong to my childhood protector and fan. Happy Raksha Bandhan![/snip]