A collection of birthday wishes, Christmas greetings, holiday wishes, Anniversary wishes, party invitation wordings, quotes, poems, greeting card wordings, SMS and text messages greetings
Valentines Day Messages for Boyfriend and Husband
---
Excited to celebrate Valentine's Day with your man? Well, this is the best time to pamper him with love and affection. You can surprise him with a special Valentines gift that you prepare for the whole year. You can either bake him a cake or cookies. You can also spend the day with him in a romantic place (or maybe somewhere you guys can be alone). Or, make a Valentines day card and write what you feel for him. Include your appreciation, love and affection for him in your letter.
Now, if you don't have any clue to what to write in a Valentines day card, you need not to worry. Here are some sample Valentines messages and greetings for boyfriend you can use to tickle his emotions. I even categorized the message samples depending on your recipient – be it your boyfriend, husband, friend or dad…You can partner these romantic Valentines messages to your gifts and treats.
Valentines Day Messages for Him
Happy Valentines Day Greetings to the Man of Your Life
My heart wouldn't be whole if haven't found you.
I feel so lucky to have you. I love you.
Happy Valentine's Day!
Just the thought of you makes my heart beat so fast,
makes me breathe so hard, and I perspire a lot!
You really are the one.
I love you!
I feel so lucky that you chose to love me.
I will always be thankful.
Happy Heart's day honey!
Looking at you tickles every inch of me.
I cannot wait to have you near me.
I love you! Happy Valentine's Day my love!
Loving you is one of my dreams come true.
You are the knight that swept me off my feet!
I love you so much!
I always feel special whenever I am with you.
So secured every time I am wrapped by your arms.
So loved whenever your lips touches mine.
I love you so much!
You are the only person that keeps me warm when I feel cold.
You comforted me when I am worried.
Lifts me up when I am down.
You are not just my love.
You are also my best friend who never gets tired to listen to me.
You are a companion, my best friend and my one true love.
Happy Valentine's day!
Valentines Day Messages for Boyfriend
Valentines Wishes Greetings for your Boyfriend
A sweetheart, a friend you can hang out with, someone who knows you and understands you, someone who cherish you, protect you and most specially LOVES you – he is your boyfriend. Pamper this special person with a romantic Valentines day treats. Send a love note filled with sweetness and love nothings. Here are some samples of Valentines greetings and messages for your boyfriend.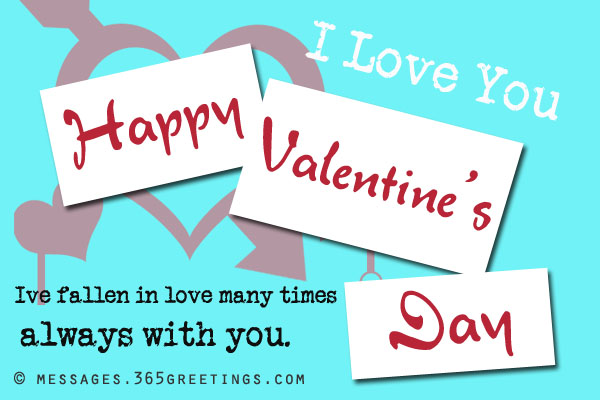 Before I sleep at night, I always pray that you'll be my husband.
I cannot imagine myself to be with a man other than you.
Happy Valentine's Day!
Why is it that time flies so fast when we are together?
Is there any way that we can stop the clock from ticking
So that I can hold you here in my arms longer?
I love you because you deserve to be loved.
I love you because you are the man that I feel so comfortable with.
Most of all, I love you because you showed me the true meaning of love
and the real feeling of how it is to be loved.
Happy Hearts Day my love!
I will never get tired of loving you.
You are one of the blessings that I value the most.
Happy Valentine's Day!
You are one of the very best thing that ever happen to me
I feel so lucky to have you as my man.
Happy Valentine's day!
You accepted me for who I am.
You never demand me to change.
You allowed me to be the person that I am
and not the person that you want me to be.
Your love did wonders.
You may not know it, but I am me because of you.
I love you!
Valentines Day Messages for Husband
Valentines Day Quotes and Wishes for your One Only Husband
Partner in life, a best friend, a lover, a husband, those are roles that our husbands play for us – wives. Make their roles be well-paid, not by money, but with affection and love, this Valentine's Day. Give him the best treats. Surprise him the romantic way. How about writing a love letter? Or personalizing a Valentine's day gift together with a card filled with words of love?
Misunderstandings that come our way might be due to my childish behavior.
I am sorry for my shortcomings.
I am so happy that you accept me for who I am,
and for always trying hard to bring out the best in me.
I want to grow old with you.
I love you!
Honey, you are the man for me.
You always make me feel a woman.
Happy Valentine's Day!
On this day when lovers are more intimate than usual,
I want to shower you all the love and care that I can share.
Happy Valentine's Day!
I am overflowing with emotions every time I see you.
Listening to you is like music to my ears.
I am so glad that you are my partner.
Let us celebrate this day together!
You are my superhero.
I always see you as someone who is willing to stand by me
When something bad comes my way.
I am blessed that you are the man that I chose to be with.
You fill the empty spot of my life so perfectly.
Feeling complete, I know I have more love to share.
Happy Heart's Day!
I want to have you here in my arms,
want to kiss you and be one with you.
I love you!
Happy Valentine's Day!
Valentines Day Messages for Dad
Happy Valentines Day to the Best Dad in the World
Who says Valentines day is just for lovers? It can also be a perfect timing to express your affection to the first man you love for all of your life – your dad. Show him some love and affection by giving him a Valentine's Day cards with some of the best Valentines day greetings and wishes for your one and only daddy.
Dad, since I have no special man yet,
I want you to be my Valentine
For you are the very first man I love
Happy Valentine's Day, Dad!
Dad, thank you for everything.
You are the best dad in the world.
I am so happy to be your daughter.
Happy Valentine's Day!
You acted like a kid and play with me
You acted like my friend when I needed one
You acted the best parent when you need to be dad
Thanks for acting those roles for me
Happy Valentine's Day!
Dad, every moment I spent with you is priceless
You are so cool, handsome and kind.
It's really enjoyable to be with you.
Thanks for everything.
Happy Valentine's Day, dad!
By annewalker
+
| | |
| --- | --- |
| Related Articles about Valentine's Day | |