Birthday wishes, Christmas greetings, holiday wishes, Anniversary wishes, party invitation wordings, quotes, poems, greeting card wordings.
. br>
Flirty Messages Words and Flirty Saying
---
Flirty messages article contains messages which can be sent in order to flirt your girlfriend or boyfriend. If you want a help in finding best flirty messages, you have reached the right place. Flirting and getting flirted are done with proper flirt messages. Below you can find such messages.
[snip msg]
I am so lucky and gifted to live with an angel,
Wanna meet the angel of my life?
Stand before the mirror to know who it is,
Yes baby it is you; you are my cute little angle!
[/snip]
[snip msg]
Is there anyone who has seen stars in close contact?
I am seeing it in your eyes my dear,
You are so beautiful!
[/snip]
[snip msg]
I have heard people saying God is a wonderful creator,
Now I am seeing it in real with you,
How creative he is in creating you,
With all the beauties in one place,
I always admire your beauty!
[/snip]
[snip msg]
If God ask me to select one among two of good fortune or you,
I would definitely select YOU,
YOU are my big fortune my honey!
[/snip]
[snip msg]
Love is the most beautiful thing in the world,
Love with such an angelic girl like you adds more beauty to love!
[/snip]
[snip msg]
Honey you are such a dashing beauty,
You are incomparable to any beauty in this world,
I found the real meaning of the word beauty with you,
No added beauty is needed for a beauty like you!
[/snip]
[snip msg]
Beauty and the Beast,
Yes I am the beauty and you are the Beast!
[/snip]
[snip msg]
You are cre…
You are a bea…
You are such an abs…
Ok let me finish the sentences I can't keep the secret any more,
You are creaky, you are a beast, and you are such an absolute freak.
[/snip]
[snip msg]
Honey, it is very rainy outside,
Don't try to go out today,
Stay in home and enjoy the day please,
If you go out in the rain then I have take a big risk,
Yes the rain will take away your make up,
I don't want to take the risk of seeing you without make up!
[/snip]
[snip msg]
Lovely days,
Happy heart,
Romantic dreams,
Blessed life,
All become possible for me only after I met you in my life!
[/snip]
[snip msg]
Meeting someone special in our life happens once in a life time,
It happened to me too,
I met you as a special person for my life,
I wish you to stay with me forever and ever!
[/snip]
[snip msg]
Even if I am provided with the greatest award I would not have felt happy,
Your smile and hugs are the greatest awards in this world!
[/snip]
[snip msg]
East or west, right or wrong, this or that, better or best,
I take no choices in my life,
I always want to stick on to you,
YOU are my only choice!
[/snip]
[snip msg]
I am so crazy on you my dear,
I am going mad on you,
I cannot think of my life without you,
You are my God gift to make my life fulfilled with happiness!
[/snip]
[snip msg]
I thought of quitting sweets,
Because I have you in my life!
[/snip]
Flirty Messages for Her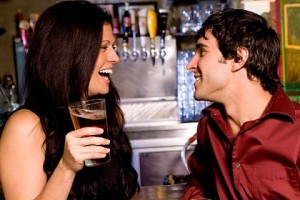 Are you searching for flirty messages for her? In this list of flirty messages, you can surely find the right words to say to your lady love to capture her heart Make her heart skip a beat with these cute flirty text messages to send to a girl. Sharing these flirty messages for girl in social media networking is very much welcome and appreciated.
[snip msg]If your beauty is a force, it must be a nuclear force! The radiation has already spread all over! [/snip]
[snip msg]I wonder why did the miners dug deep in the mountains to find gold, when there is someone in here whose luster is brighter than gold. [/snip]
[snip msg]I need no diamond ring; I got someone in here more precious than it. [/snip]
[snip msg]Miss, can I ask you something? Did it hurt you when you fell from heaven? [/snip]
[snip msg]Did you see my mind? I lose it upon seeing you. [/snip]
[snip msg]I think I'm going crazy…. Crazy in love with you.
[snip msg]Feel free to fall for me. I'll be very happy to catch you. [/snip]
[snip msg]You're like a star that brightens my darkest night… You're like a dream come true. [/snip]
[snip msg]Every time I look at your beautiful face, it makes me feel so lucky as God sent me an angel from above. [/snip]
[snip msg]Hey, wait. Let me get a sun block lotion. I'm afraid I get burn when I am with you coz you're so hot! [/snip]
[snip msg]Hey, I think you should get insurance. Coz you got that killer smile. [/snip]
[snip msg]I wish I could arrange the alphabet so I can put U and I together. [/snip]
[snip msg]Are you lice? Coz you keep running in my head! [/snip]
[snip msg]You are some kind of a drug. Coz you're so addicting! [/snip]
[snip msg]Can I get your surname? So I can replace it with mine? [/snip]
[snip msg]Are you a dictionary? Coz you give meaning to my life[/snip]
Flirty Messages for Him
Express your interest with these flirty messages for him. This collection of messages includes flirty text messages to send to a guy to convey what you feel towards a certain guy. You can send these funny flirty messages to your husband, boyfriend, special guy or crush. Feel free to include your own messages on it.
[snip msg]With that perfection scattered fairly all over your well-shaped body, I literally drop my panty! [/snip]
[snip msg]I bet you're tired running on my mind all day. Because of fatigue, you lose your balance and fell into my heart. [/snip]
[snip msg]I thank God for giving me inspiration in the form of a gorgeous man like you! [/snip]
[snip msg]Even if I didn't see you, my day is still all about you. You're in my mind all day. [/snip]
[snip msg]Your memories must be great conquerors, for they invade the wholeness of my brain! [/snip]
[snip msg]I just can't eat. Coz when you're around, I feel like I'm already full. [/snip]
[snip msg]Now I know why my fingers have gap between them. That's for your fingers to fill with. [/snip]
[snip msg]I'm so lucky! Imagine? I've got the most handsome and hottest man in town. Who would not be proud? [/snip]
[snip msg]They say things that are too good to be true are not true. But please tell me this is true. Coz being with you feels really so good. [/snip]
[snip msg]I don't have to win in a lottery because being with you gives me million-worth happiness. [/snip]
[snip msg]Congratulations for captivating this precious heart! Your award will be spending a lifetime with me. [/snip]
[snip msg]What else are your wishes aside from having me as your girlfriend? [/snip]
[snip msg]When I look into your eyes, it feels like the world stops revolving and it's just you and me in this earth. [/snip]
[snip msg]If this is just the dream, I don't want to wake up anymore. As this is the best dreams I've ever had. [/snip]
[snip msg]They say all people have their match on this world. I'm lucky coz I've found mine. [/snip]
By annewalker
+
| | |
| --- | --- |
| Related Articles about Flirty | |