Love SMS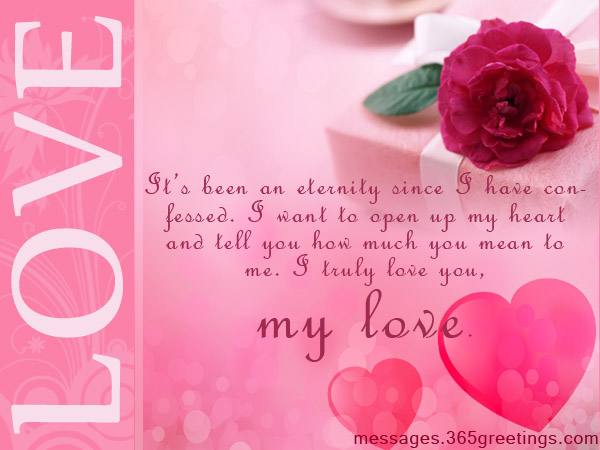 No one has been able to define love. It is a feeling which has many shades and forms. True love always has to be selfless and given from the heart. Though nowadays, the word love is most often used in terms of young lovers, who woo each other and make sweet promises; it can be felt towards any person or relation. A mother's love for her child, a student's love for a mentor, or even the love for God are different forms of love. Whatever be the shade, love needs to be expressed. 'I love you' are the three words that are uttered by millions of people every day. Yet, there are some special occasions when you want your loved ones to feel how special they are. Here are some beautiful messages, through which you can express your love.
I love you sms
It's been an eternity since I have confessed. I want to open up my heart and tell you how much you mean to me. I truly love you, my love.
My life is empty, lonesome and meaningless. Your love can make it complete. Will you be my love for life?
You may or may not accept it, the world may not change at all; but, if I don't say this to you today, I will regret it for my entire life. I love you sweetheart.
I am a bird with one wing, trying to soar high. Will you be my other wing and help me touch the sky? Love you dearly.
You may wish for the stars. All I can give you is my love; love that is pure and true, everlasting and selfless. Hold my hand and take my love.
I trust you with my life. I will give you all I have in this world, every breath that I own and every moment that I spend…if only you will give me your heart to keep…forever!
Your beauty can turn angels green, your charm such as I have never seen. Give me your lovely hand to hold and be my queen.
Since the day you came to me, I have wanted nothing else. Be with me forever sweetheart.
All the riches of the world are nothing when compared to your love, my dearest. Thanks for being there in my life.
Your warm touch can melt ice, stars shine in your eyes; when you kiss me softly sweetheart my heart touches the skies.
You have changed the way I see the world…the winds whisper loving songs, stars shine brighter and flowers bloom in hues. My darling, thanks for loving me.
You are the sweetest flower of spring, the melody that birds sing…a poem written from the heart, the brightest night star.
I pray that you meet me in my dreams. Without you the world seems empty, 'coz you are the reason for my being.
I thought an angel has been sent from the heavens above to guide and caress me. I later realised that it was your hand holding mine with love.
Love is just there in your heart, you cannot make it happen. It is not true if it does not come naturally.
When you fall in love, you actually rise above people who cannot experience this divine feeling.
If you are afraid of being hurt, dread unrequited affection, then your heart is weak, and love is not your cup of tea.
If you are in love with your best friend, do not lose your friendship for love.
I have loved you all my life, without knowing your shape or form. Now, as I leave this world, I am ready to meet you my Lord.
The most potent three words that man ever uttered was "I love you".
When you told me that you love me, my life as I knew it changed, and I knew that it would be never the same again.
I know that my reality is better than my dreams. So, I stay away from sleep.
Could I have wanted anything more in my life? Your love has given me all that I could wish for.
Your embrace, I know, will protect me from the world. In your arms, I feel happiness, peace and eternal love.
Hold me like you will never leave me, miss me when I not there. When you meet me, kiss me with passion…that is all I want my dear.
Whatever you do or say, I will continue to love you from the depth of my heart. Nothing is more precious than you, nothing can keep us apart.
The way you wipe my tears, the way you remove my fears; the way you carry me through life's hurdles, it is natural that my love for you should grow forever.
Your sweet smile says that all my dreams will be fulfilled, and the promises are bonded with kisses so gentle.
I need you because I love you and cannot imagine my life without you.
I see you in every face, think of you when I close my eyes, miss you when I am alone and long to be with you every moment. Is it love?
Every moment i spend with you is special, I cherish the life that you have given me. I will pray for this life again and again…so that I can love you.
There is no conceit or complication in the way I love you, I simply love you; 'coz I do not know of any other way to love.
It is not just my mind that is attracted to your words; my heart has fallen also fallen prey to you. Indeed, my soul turns towards you with all the love I can feel.
You came; you smiled at me and conquered my heart. Now I have no other option than to love you all my life.
I love you without knowing when the seed of love was sown…just as I know that there is no end to my love.
When in love, accept not just the qualities of a person, but also the flaws. Love them not for being perfect, but for their imperfections.
Love is the light that can make all negative thoughts and feelings disappear.
A victory that is attained by love is much more precious and stable than one that is achieved by force.
Often it is said that love makes you weak; it makes your heart vulnerable, so that someone can break it. But living with a broken heart is better than having never loved.
I could afraid of expressing my love to you; now that you are with me, I am afraid of losing you.
Like a dying man needs air to breathe, a thirsty man needs water to drink, a sleeping baby needs silence and a man in despair needs mercy; so I need you my love.
Why I love you, since when, is still a puzzle to me. But I care not for the reasons, because I am satisfied with the result.
When I come to you, I feel like I have come home. I am at peace with myself and I do not need to search for any other destination.
There is nothing I want to say more often than 'I love you, sweetheart'. There is nothing I want to do anything more strongly than to hold you close to my heart.
It is true that you have given me a new life. I existed before, breathing and walking, but I am living now with exhilaration.
If you look for a perfect place, time or person to fall in love, you may be left alone your entire life. Love just happens and you have to accept it as it is.
The earth and everything therein, will one day turn to dust. The only truth that will remain is that I love you, and will do so till eternity.
The only thing that is beyond any reasoning is the love in my heart that grows with every passing moment. I cannot control it, nor want it to stop.