Very often, you find that your friends, special someone or your family have to go on trips without you. And you start to miss them quickly enough. Here are a few missing you messages you can use to express this sentiment. Use these I miss you messages to express how much you miss them. You can also post and send these messages as missing you sms and missing you facebook status.
I Miss You Messages
Feels like all the colors I've drained from my world.
Come back soon.
I miss you so!
You packed my heart in your suitcase.
Come back soon to make me whole again.
I've been missing you. 🙁
The worst thing about missing you,
Is knowing I once was with you.
I've only done one thing today: missing you.
Come back soon.
I wish you were here with me.
Coz I miss you so.





Thoughts of you plague my mind, day and night.
It hurts when I see you in my dreams.
Come back and I will be all right.
I'll make you my queen.
The world always seems empty,
When you're not here next to me.
They say absence makes the heart fonder.
They never tell you how much it hurt.





I didn't want to say good bye then.
Still don't want to now.
Missing you already.
I Miss You Text Messages




These missing you sms messages and missing you text messages can be sent to your loved ones or special someone who are away from you via your cellphone. Browse our collection of I miss you messages and pick the best messages that describe how you feel. You can also post these missing you messages to their facebook and twitter account so you can let the world know how much you miss him / her.
I miss You SMS Messages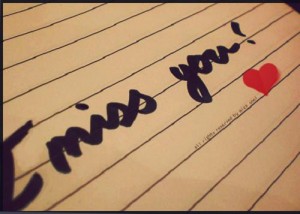 I'm missing all of you
The sound of your laughter
The feel of
If only you truly knew…
Knock, Knock…
Just want to let you know that someone's missing you.
It's ME!
Sending this SMS for you to know that you've been missed by me.
Hope you come back soon.
I miss you!
Each time you go away,
the whole world feels empty.
I Miss you, dear!
Even if I can't see you,
I'm still thinking of you,
and missing you every day.
Whether near or far away,
The world is cold and grey
When you're not here with me.





Alert!
Someone's missing you.
And wishing to you to come back soon!
You've received a message:
You are MISSED.
You went away and you brought my heart with you.
Just want you to know that I'm missing you.