Wife the best part of a person's life. No one should fail to greet and send romantic messages for wife, for his lovable, caring and romantic wife. All these romantic messages for wife can be used along with a birthday gift for wife or along with birthday cards.



You make my love melt at you, when your eyes gaze at me I become addicted at you my sweet heart. I love you so much my dear!
You changed my world from the day you entered into my life. The change is not simple and subtle, it's a change brought color to my life and made a meaning for the same. Words cannot describe how much you mean and important to me!
Remember I am here for you always to lessen your worries, take care of you, shower love and affection on you. I am always by your side and keep you smiling.
I survive with your love and care. My days will not be so energetic and enthusiastic without seeing your smile, be my side and mould me my dear!





You are my angel and I would like to see your smile always to boost up my day. I cannot imagine a day without you and without your smile. I like to be in the shadow of your love and affection forever. Thank you so much for being my wonderful wife. Love you so much my darling!
My success is all depends upon your presence with me; yes it is only possible only because of you. No one can replace your place in loving and caring me so much.
I am here expressing my thanks and love to my wonderful wife in this world. You made me the happiest man in the world. You deserve the thanks my dear.
You have all the magical power in you, which is driving me onto the way of success. Success is mine now when I have you with me.
Sweet Messages for Wife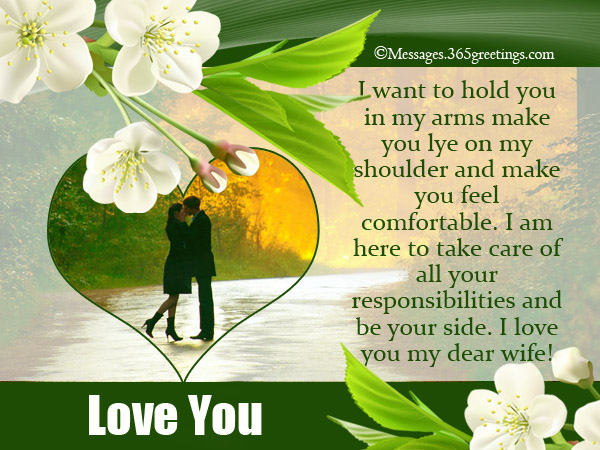 I want to hold you in my arms make you lye on my shoulder and make you feel comfortable. I am here to take care of all your responsibilities and be your side. I love you my dear wife!
Your touch is like a petal touching the air, your smile is like a shine on the star, and your love is like a sweet entering into our throat. I feel the purity in your heart my dear! I love you so much!
I won't tell my love on you is deeper than ocean, tallest than mountain, pure than milk but I can tell you only one thing about my love – my love on you is true my dear.
Even when I am away from you from morning till night, my thoughts are with you. You made me an addict towards you. I am focused on you to be with you all the time. I love you my sweet heart!
I want you to be mine and want you to be with me even in my dreams. Nothing will come between us to separate us. We have entered into a bond of marriage not just for living the days but to live and die together at the end day of our life.





The safest place for you is my heart. Come and stay there forever. Even when we get kids and grow older through days, my love on you will never find its way to grow older or diminish.
I still remember the first day when I met you, the way you smiled at me as a stranger, the smile made me fall at your feet. Days have passed by and we have become husband and wife now. You mean so much to me my darling! I love you so much!