Insightful quotes from religious figures, spiritual teachers, plain motivators, and individuals can recharge the soul and help people overcome different trials they encounter on a daily basis. In case you do not realize, people deal with three basic problems, relationship, health, and the greatest of them all and the root of evil according to many people, money.
Reading or studying quotes is a good way to keep an open mind on many things especially about life many facets, unlike reading a book. With quotes, you can experience a short burst of satisfaction and discover things you have never thought possible. In a way, quotes are the best way to get your sentiments and thoughts across without being too forward.
Spiritual Quotes on Life
"A single day is enough to make us a little larger or, another time, a little smaller."
-Paul Klee
"Man has two great spiritual needs. One is for forgiveness. the other is for goodness."
-Billy Graham
"Be Impeccable With Your Word
Speak with integrity. Say only what you mean. Avoid using the word to speak against yourself or to gossip about others. Use the power of your word in the direction of truth and love."
– Martin Luther King, Jr.
"Try to find pleasure in the speed that you're not used to. Changing the way you do routine things allows a new person to grow inside of you. But when all is said and done, you're the one who must decide how you handle it."
– Paulo Coelho
"Make your own Bible. Select and collect all the words and sentences that in all your readings have been to you like the blast of a trumpet."
– Ralph Waldo Emerson
"The moment God is figured out with nice neat lines and definitions, we are no longer dealing with God."
– Rob Bell
"How hurtful it can be to deny one's true self and live a life of lies just to appease others."
-June Ahern
"The resting place of the mind is the heart. The only thing the mind hears all day is clanging bells, noise, and argument, and all it wants is quietude. The only place the mind will ever find peace is inside the silence of the heart. That's where you need to go."
– Elizabeth Gilbert, Eat, Pray, Love
"Greatness is more than potential. It is the execution of that potential. Beyond the raw talent. You need the appropriate training. You need the discipline. You need the inspiration. You need the drive."
-Eric A. Burns
"Keep your face towards the light of the sunshine, and you cannot see the shadows."
-Helen Keller
"The possession of knowledge does not kill the sense of wonder and mystery. There is always more mystery."
-Anais Nin
"Nature has been for me, for as long as I remember, a source of solace, inspiration, adventure, and delight; a home, a teacher, a companion."
-Lorraine Anderson
"We should be taught not to wait for inspiration to start a thing. Action always generates inspiration. Inspiration seldom generates action."
-Frank Tibolt
"You can't wait for inspiration. You have to go after it with a club."
-Jack London
"You create your own universe as you go along."
-Winston Churchill
"No act of kindness, no matter how small, is ever wasted."
-Aesop
"You must be the change you wish to see in the world."
-Mahatma Gandhi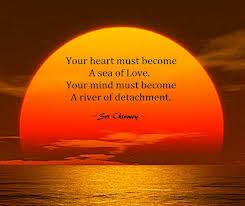 "Love is misunderstood to be an emotion; actually, it is a state of awareness, how we see ourselves and how we see our relationships with others."
-David R. Hawkins
"Circumstance does not make the man; it reveals him to himself."
-James Allen
"We can all be certain that we got where we are by our own decisions
to expand in love or withdraw from it."
-Thaddeus Golas
"There is only one time when it is essential to awaken. That time is now."
-Buddha
"No woman wants to be in submission to a man who isn't in submission to God!"
-T.D. Jakes
"When we realize that life is taking us nowhere, charity begins to have meaning."
-P.D. Ouspensky
"Spiritual enlightenment must come little by little, otherwise it will overwhelm."
-Idries Shah
"When you change the way you look at things, the things you look at begin to change."
-Wayne Dyer
Spiritual Wisdom Quotes
"God made the world for the delight of human beings– if we could see His goodness everywhere, His concern for us, His awareness of our needs: the phone call we've waited for, the ride we are offered, the letter in the mail, just the little things He does for us throughout the day. As we remember and notice His love for us, we just begin to fall in love with Him because He is so busy with us — you just can't resist Him. I believe there's no such thing as luck in life, it's God's love, it's His."
-Mother Teresa, A Simple Path: Mother Teresa
"Knock, And He'll open the door
Vanish, And He'll make you shine like the sun
Fall, And He'll raise you to the heavens
Become nothing, And He'll turn you into everything."
-Rumi
"What has he found who has lost God?
And what has he lost who has found God?"
-Ibn 'Ata' Allah Al-Iskandari
"I once listened to an Indian on television say that God was in the wind and the water, and I wondered at how beautiful that was because it meant you could swim in Him or have Him brush your face in a breeze."
– Donald Miller
"To the soul that knows its own divinity, all else must gravitate"
-Ernest Holmes
"Heaven on Earth is a spiritual choice you must make, not a place you must find."
-Wayne Dyer
"It's all about soul. It's all about knowing what someone is feeling."
-Billy Joel
"Lord, make me an instrument of thy peace.
Where there is hatred, let me sow love,
Where there is injury, pardon;
Where there is doubt, faith;
Where there is despair, hope;
Where there is darkness, light;
And where there is sadness, joy.
O Divine Master, grant that I may not so much seek
to be consoled as to console,
to be understood as to understand,
to be loved, as to love.
For it is in giving that we receive,
It is in pardoning that we are pardoned,
and it is in dying that we are born to eternal life."
– St. Francis of Assisi
Famous Spiritual Quotes
"The greatest disease in the West today is not TB or leprosy; it is being unwanted, unloved, and uncared for. We can cure physical diseases with medicine, but the only cure for loneliness, despair, and hopelessness is love. There are many in the world who are dying for a piece of bread but there are many more dying for a little love. The poverty in the West is a different kind of poverty — it is not only a poverty of loneliness but also of spirituality. There's a hunger for love, as there is a hunger for God."
-Mother Teresa, A Simple Path: Mother Teresa



"Science is not only compatible with spirituality; it is a profound source of spirituality."
-Carl Sagan
You can safely assume you've created God in your own image when it turns out that God hates all the same people you do."
-Anne Lamott
"I believe in God, but not as one thing, not as an old man in the sky. I believe that what people call God is something in all of us. I believe that what Jesus, Mohammed, Buddha, and all the rest said was right. It's just that the translations have gone wrong."
-John Lennon
My religion consists of a humble admiration of the illimitable superior spirit who reveals himself in the slight details we are able to perceive with our frail and feeble mind."
-Albert Einstein
"One of the most spiritual things you can do is embrace your humanity. Connect with those around you today. Say "i love you", "i'm sorry", "i appreciate you", "i'm proud of you"…whatever you're feeling. Send random texts, write a cute note, embrace your truth and share it…cause a smile today for someone else…and give plenty of hugs."
– Steve Maraboli, Life, the Truth, and Being Free
"Inspiration may be a form of superconsciousness, or perhaps of subconsciousness. I wouldn't know. But I am sure it is the antithesis of self- consciousness."
-Aaron Copland
"The spiritual journey is the unlearning of fear and the acceptance of love."
-Marianne Williamson
Crying is one of the highest devotional songs. One who knows crying, knows spiritual practice. If you can cry with a pure heart, nothing else compares to such a prayer. Crying includes all the principles of Yoga."
-Kripalvanandji
"When you judge another, you do not define them, you define yourself."
-Wayne Dyer
"We are not human beings having a spiritual experience. We are spiritual beings having a human experience."
– Pierre Teilhard de Chardin