Birthday wishes, Christmas greetings, holiday wishes, Anniversary wishes, party invitation wordings, quotes, poems, greeting card wordings.
.
Anniversary Messages For Wife
---
Looking for anniversary messages for wife after buying the best wedding anniversary gift for your wife. Complete the package with an anniversary card with romantic anniversary message on it. Here are some heartwarming anniversary messages for wife that will surely sweep her off her feet and make her love you more. These wedding anniversary wishes for wife are best given with a personalized and romantic marriage anniversary gift.
By telling her how much you appreciate her will make the day of your union extra special. It's good to remind her how grateful and thankful you are having her as your wife. So, don't be shy. Express your feelings and thoughts. With the help of these selected wife anniversary messages and wording, you can surely win her heart again.
Wedding Anniversary Message for Wife
Happy Anniversary Messages to Wife, Anniversary Message to Wife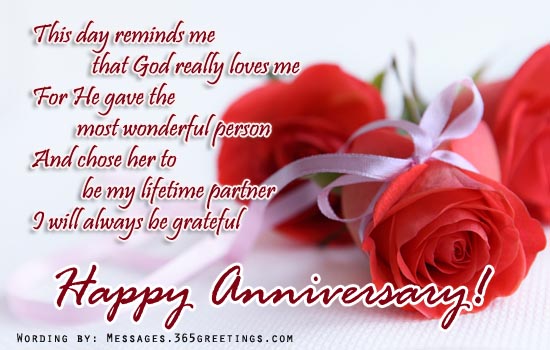 I feel so lucky to have a wonderful woman
A woman that made my life complete
A woman that makes my day by the time I woke up
Til I get home from work
I Love you so much!
Happy Anniversary, dear!
* * * * * * * * * * *
This day reminds me that God really loves me
For He gave the most wonderful person
And chose her to be my lifetime partner
I will always be grateful
Happy Anniversary to you, sweetheart!
* * * * * * * * * * *
Our anniversary reminds me
That there is someone who
Loves me, Support me,
Understands me, Caress me
Take care of me, Stand by me
364 days in a year!
How lucky can I get?
Another 365 days is coming up!
Brace yourself, wifey!
Happy Anniversary!
* * * * * * * * * * *
There is a lady I know that is so…
Caring, loving, beautiful, affectionate,
Understanding, romantic and tender
That lady is my wife, and I feel so lucky!
Happy Anniversary, wifey!
* * * * * * * * * * *
No one can ever replace you
From the morning I wake up
Til I lay my head beside you
The comfort and love that I feel when I am with you
Those are irreplaceable
I love you and Happy Anniversary!
Anniversary Wishes to Wife
Anniversary card messages for wife, anniversary messages to wife
I am so glad to have you in my life.
You are my spouse, lover, partner,and best friend!
Happy Anniversary!
* * * * * * * * * * *
No one makes me as happy as you ever year!
Happy anniversary.
* * * * * * * * * * *
Thank you for putting up with all my faults
and celebrating all my good qualities.
I love you!
Happy Anniversary!
* * * * * * * * * * *
It doesn't seem fair that we only get to
celebrate one day for all the other 364 days
You are stuck with me.
Happy Anniversary, darling!
* * * * * * * * * * *
I thought I got the better end of
the deal and every year it
just keeps getting better
* * * * * * * * * * *
It has been an honor to be your husband for all these years.
I am so glad we get to celebrate the start of a new year together.
* * * * * * * * * * *
You are so generous with your love time, energy, and forgiveness!
Thank you for another amazing year of marriage.
* * * * * * * * * * *
Having you in my life has made me a better person!
Happy anniversary!
Wife Anniversary Messages
Happy anniversary greetings, wedding anniversary greetings messages
I love growing old with you!
You are my rock and best friend.
I thank you for always being there for me.
Happy anniversary.
* * * * * * * * * * *
Words can't express just how special you are to me.
Our love will last forever.
Happy Wedding Anniversary!
* * * * * * * * * * *
I think that I am constantly doing stupid things
because I know that I can always count on you.
Happy anniversary.
* * * * * * * * * * *
Happy Anniversary to the most amazing girl
I've ever known in my life
You will always be special in my heart.
I love you so much!
* * * * * * * * * * *
Time just flies when you are having fun
And I can't believe that another year has passed us by.
Thanks for making my life happier.
* * * * * * * * * * *
Being with you is the best thing that has ever happened to me.
I can't imagine my life without you by my side!
Happy anniversary!
Wedding Anniversary Quotes for Wife
Happy anniversary to my wife quotes, anniversary greetings for wife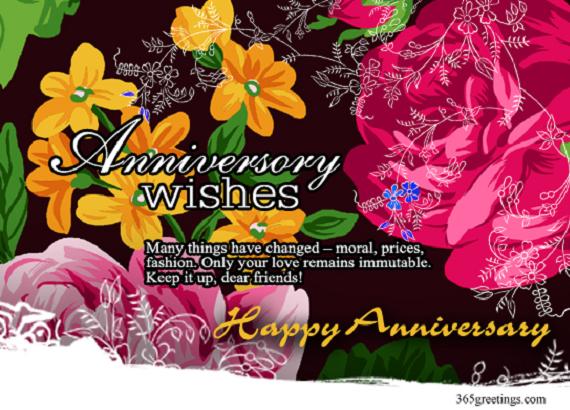 Happy anniversary dear.
I just want to take the time to thank you
for all the great memories of the past year
And let you know that I am looking forward to making so many new ones.
* * * * * * * * * * *
Another year is nothing compared to
knowing that we will have so many more together!
Happy Anniversary!
* * * * * * * * * * *
I feel blessed everyday, having you as my wife
Thank you for the care and love you're always giving me
I wish to celebrate more anniversaries with you.
I love you, my dear. Happy Anniversary!
* * * * * * * * * * *
It's been a year since we shared our wedding vows
And declared our lifetime commitment with each other
On our anniversary, I wish to celebrate more days
And wedding anniversaries with you.
Happy Anniversary!
* * * * * * * * * * *
The day we vow to share a lifetime with each other
Is the happiest day of my life.
I will always cherish and treasure the moments
I love you so much, my dear wife!
* * * * * * * * * * *
Today is our day
Let's celebrate together
For we are given another year
to cherish and love each other
I love you, wifey! Happy Anniversary!
* * * * * * * * * * *
Understanding, caring and loving
My best friends and greatest inspiration
Thank you for being such a wonderful wife
I am a proud and lucky husband
Happy Wedding Anniversary!
Romantic Anniversary Messages for Wife
Husband to wife anniversary messages, happy anniversary messages to my wife
Your devotion, love and patience
Has always been my inspiration
You are the reason why I feel so alive
You just made my life complete
I promise to love you forever.
Happy Anniversary!
* * * * * * * * * * *
Many years have passed
But our love will never grow old
I will always cherish you in my heart
Thanks for sharing a wonderful love with me
Happy Anniversary
* * * * * * * * * * *
Nothing can ever beat
The wonders of your love
You makes my day so bright
Knowing you're mine makes me feel so alive
Happy Anniversary, my dear wife!
* * * * * * * * * * *
We have gone through difficult times
I know that I am not a perfect husband
But you keep on loving and believing me
For that, I will always be grateful
In return, I will keep loving you.
Happy Wedding Anniversary, my wife!
* * * * * * * * * * *
Your love make me feel so blessed
I am so thankful to almighty God
For giving me such a wonderful gift of life – YOU.
Happy Anniversary, my dear.
I will always cherish you in my heart!
* * * * * * * * * * *
Before we became husband and wife
We were best friends
That must be the reason why we have a lot of fun
May we continue to be best friends forever
Happy Anniversary!
Best Anniversary Gifts for Wife
Thinking about what to give to your wife on anniversary day can be tough as there are a lot of options available. Here are some points to consider when choosing the best wedding anniversary gift:
Keep it sweet and romantic
Make sure that the gift is something your wife can use and enjoy.
Consider giving her a personalized wedding anniversary gift.
Be creative and think out of the box. Don't just settle for traditional anniversary gifts.
Make it memorable and something to treasure. You can't just go for any materialistic gifts. You can make it sentimental, something you haven't given or done for her before.
Wedding Gift Anniversary Ideas for Wife
Aside from a happy anniversary card, you must be looking for some anniversary gift for her. Actually, you don't have to hassle so much as the most romantic anniversary messages for my wife can be enough for them. But if you still wish to find the best best anniversary gift for wife
Jewelries
Flowers with Sweet Notes
A treat on her dream vacation
New Dress
Sexy Lingerie
Chocolate gift Basket
Gift Certificate on her favorite Spa Center
Beauty Items, A New Make-up Kit
Watch
New Bag
Gadgets and Accessories
Shoes
Romantic Candlelit Dinner
By annewalker
+
| | |
| --- | --- |
| Related Articles about Wedding Anniversary Messages | |