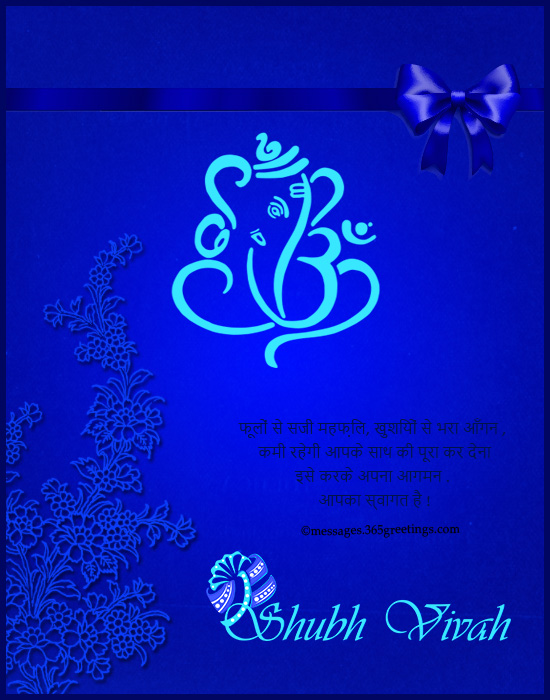 Looking for wedding card matter in Hindi. Then you can consider these wedding card matters in Hindi. Just click on the email button and you can send these Hind wedding card matter to your friend. All wedding card matters are in hindi font so you can just cut and paste to your wedding card.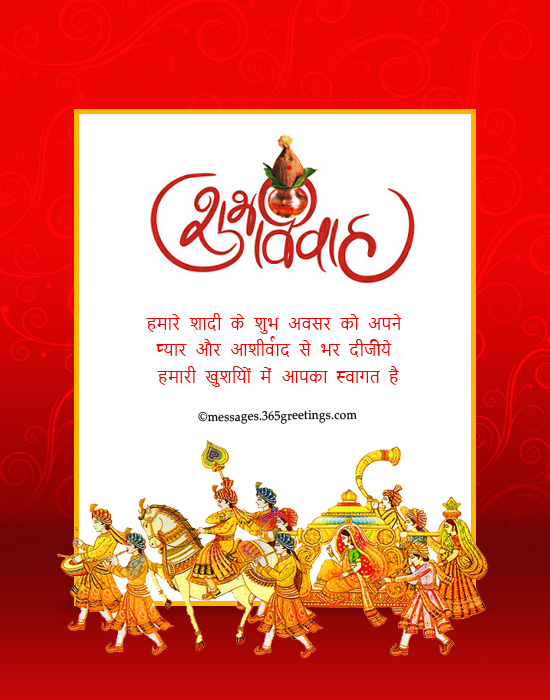 Our wedding occasion Fill with your love and blessings.
Welcome to our happiness!
हमारे शादी के शुभ अवसर को अपने प्यार और आशीर्वाद से भर दीजिये .
हमारी खुशियों में आपका स्वागत है !
Married life is a beautiful day,
We want to share it with you.
Please join us and covered with happiness!
शादी जिंदगी का एक खूबसूरत दिन होता है ,
हम इसे आपके साथ बाँटना चाहते है .
हमारा साथ दें और खुशियों में शामिल हो !
Seasons of the series are needed, the flowers remained aroma.
New life is happiness. Welcome to our happiness.
बधाइयों का सिलसिला जरी रहे , फूलों की खुसबु बनी रही.
नए जीवन की खुशियाँ है. हमारी खुशियों में आपका स्वागत है .
Wedding Card Matter in Hindi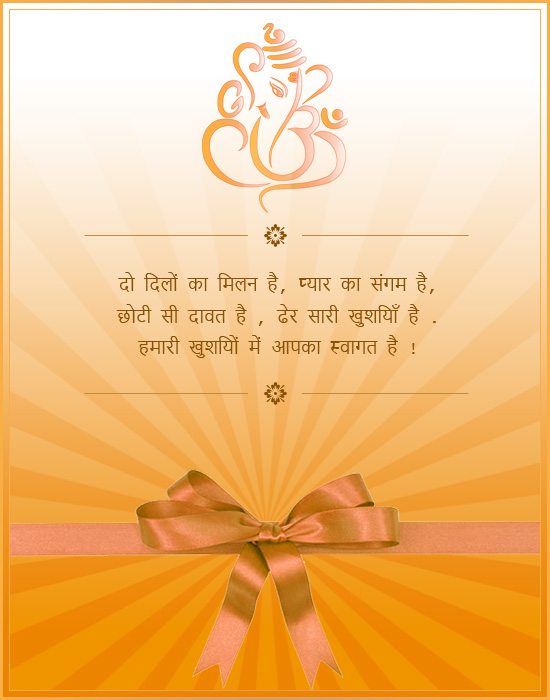 The union of two hearts, the union of love,
Is a small dinner party, have lots of happines.
Welcome to our happiness!
दो दिलों का मिलन है, प्यार का संगम है,
छोटी सी दावत है , ढेर सारी खुशियाँ है .
हमारी खुशियों में आपका स्वागत है !
We have you covered in the joys of marriage is my pleasure, is warmly welcome. Please come!
शादी की खुशियों में आपका सामिल होना हमारी खुसनशीबी है , दिल से आपका स्वागत करते है . जरुर आना
!
Bond of two hearts,give to The sacred bond of love and bless her;
And covered in happiness. Welcome!
Wedding Matter In Hindi
send wedding matter in hindi is a lovely thought, we also expect it and wanted to help you to write in hindi quickly. wedding more important day of life, make it more crucial with SMS. we make it easy task for you.

दो दिलों का बंधन है, इस पवित्र बंधन को अपना प्यार और आशीर्वाद दें ,
और खुशियों में सामिल हो. स्वागत है आपका !
occasion adorned with flowers, patio full of happiness,
To meet with you and it will decrease your arrival.
Welcome!
फूलों से सजी महफ़िल, खुशियों से भरा आँगन ,
कमी रहेगी आपके साथ की पूरा कर देना इसे करके अपना आगमन .
आपका स्वागत है !
The pair are always happy with the blessing of God, be witness to you this sacred bond.
We warmly welcome you!
भगवन के आशीर्वाद के साथ ये जोड़ी हमेशा खुश रहे , इस पवित्र बंधन के आप साखी बनो.
हम आपका दिल से स्वागत करते हैं !