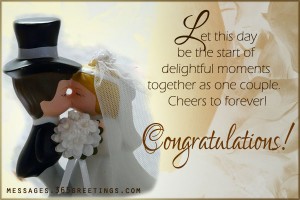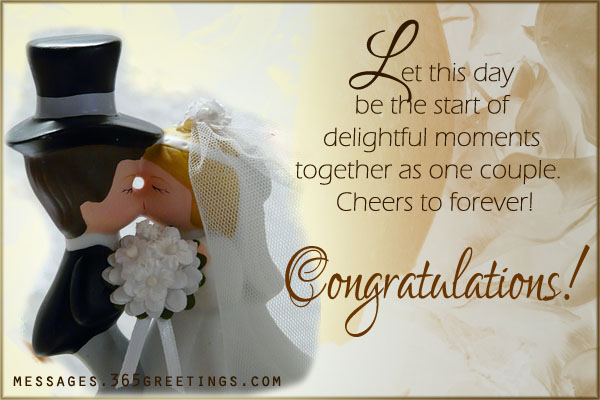 A wedding card with heartfelt wedding card messages is probably one of the greatest and most precious gifts you could ever give to a newlywed couple. A wedding gift that contains words and quotes that wishing them to have a happy and successful marriage, who would refuse it? Your newlywed friends or family would surely love and appreciate the care and thoughts included to your wedding wishes.
However, most people don't have the ability to know what to write in a wedding card. Some may even have wedding card message ideas on mind but they simply can't put them into words. For those who have no time formulating their own wedding wishes for a card, here are some examples of wedding messages that you may use. Feel free to write these messages to your wedding card.
YOU MIGHT ALSO WANT TO READ:
Best Wedding Card Messages
What to Write in a Wedding Card
As we hear the wedding bells ring,
May God bless your marriage and keep you happy always.
Best wishes!
Congratulations for both exchanging your vows.
May God give you strength and wisdom
To make your marriage work until the end of time.
God bless your family!
May your home be surrounded with love, joy and peace.
Enjoy walking your journey together as husband and wife.
Congratulations!
May your journey together
Be fruitful and be filled with wonderful moments.
Congratulations on your wedding day!
Congratulations!
May you share precious moments together.
You're such a lovely couple!
Congratulations on your wedding day!
Your journey starts here.
Enjoy your sweet rides!
Congratulations!
Start working to have as many kids as you can!
Make every day a wedding day for you.
Keep excited! Congratulations!
Love is a two-way process.
Give, share, and do not expect to receive anything in return.
Love unselfishly. Best wishes.
Wedding Card Wishes
Wedding wishes for a card, sample wedding card messages
Let this day be the start
Of delightful moments together as one couple.
Cheers to forever!
Congratulations!
Wishing you all the best for your married life!
May your home be filled with blessings and prosperity.
Congratulations.
May the bond of your love be strengthened in all circumstances.
Keep the faith, love and trust with one another.
Happy Wedding Day!
I pray that you'll be stronger in your union.
Have a sweet taste of eternity together.
Congratulations.
You look marvelous as a couple.
May you be blessed with many children in the next days to come.
Congratulations!
Love that doesn't fade
Trust that can't be broken
Faith that keeps getting stronger each day.
These I wish for the newest married couple in town.
Congratulations!
Wedding Card Messages for Friends
May the path to forever
Be filled with love and happiness
I wish you all the best on your wedding.
Congratulations!
Celebrate this day!
You will finally wear that ring on your finger.
Congratulations!
Best wishes to the most beautiful couple.
Be happy today!
Wedding bells are ringing, the angels are singing.
Is it true that both of you will start clinging?
Happy Wedding Day!
Let your "Yes" mean yes not only in words
But most of all in your mind and soul.
Best wishes!
Wedding Card Messages from Parents
Marriage is a lifetime commitment of love.
Be your partner's lover all through our life.
Congratulations.
Each day must be a day to grow more in love.
Express your love all the time of your life!
"I love you", "Thank you", and "Sorry"
Are the most important words that must be present in your new life as couple.
Keep this on your mind always!
Congrats!
There are no hard times for couples who are happy at heart!
Congratulations!
This is the day that you dreamed for so long.
Make it meaningful by stating you vow the most loving way as you can.
Time is the most important element.
Make the most out of it throughout your life
together as husband and wife!
Hold on to that love that binds you.
Stay happily in love with each other.
Best wishes!
Funny Wedding Card Messages
Marriage has no guarantees.
If that's what you're looking for,
Go live with a car battery.
– Erma Bombeck
Wishing you to have a great marriage!
I hope he stays the way he is when he's still your boyfriend.
Good luck!
Be sure to pick the most expensive wedding ring
So that you can pawn it when a need arises.
Happy Wedding!
Love is blind, but marriage restores its sight.
~ George Lichtenberg
Marriage is all about give and take.
You'd better give it to her or she'll take it away.
A successful man is one who makes more money than his wife can spend.
A successful woman is one who can find such a man.
Religious Wedding Card Messages
Christian Wedding Card Messages, wedding messages christian
God joined you together as one.
Let Him be the center of your married life.
Be blessed always! Best wishes!
Marriage is a proof of love.
It declares how much you love each other
That you chose to spend your life with your partner.
Stay in your marriage forever!
Nobody is happier than both you today.
Today is yours so celebrate and enjoy!
Best wishes!
Wedding is only for a day,
But marriage is for a lifetime.
Cheers for the newlyweds!
Congratulations!
May the God guide you throughout your marriage life
Have a blessed and joyful family!
Congratulations!
Islamic Wedding Card Messages
May Allah bring all the prosperity to newly married couple.
All the best to you!
Congratulations
May Allah shower his choicest blessings
to the newly married couple.
Best wishes!
With the blessings of Allah,
May your marriage be filled with love and happiness
May your family continue to love each other
Best wishes on your wedding day!
Wedding Card Quotes
Quotes for a wedding card, bible quotes for wedding card
My heart to you is given:
Oh, do give yours to me;
We'll lock them up together,
And throw away the key.
~ Frederick Saunders
Now join your hands,
And with your hands your hearts.
~ William Shakespeare
To keep your marriage brimming,
With love in the wedding cup,
Whenever you're wrong, admit it;
Whenever you're right, shut up.
~ Ogden Nash
If two stand shoulder to shoulder against the gods,
Happy together, the gods themselves are helpless
Against them while they stand so.
~ Maxwell Anderson
We have the greatest pre-nuptial agreement in the world.
It's called love.
~ Gene Perret
Love is a symbol of eternity.
It wipes out all sense of time,
Destroying all memory of a beginning and all fear of an end.
~Author Unknown