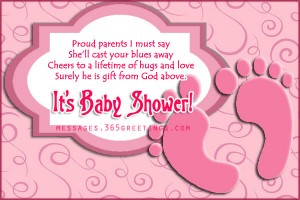 Baby shower is a time to congratulate the new parents and rejoice with them for the arrival of their baby. Friends and relatives are there not just bring gifts for the baby but to be thankful for this enormous blessing that God has outpoured to the couple. If you would like to express this joy that you want to share with them, the short baby shower poems poems below will definitely help you out.
Baby shower poems sent as a wish on the day of baby shower will best way to honor the mother and her family. Baby shower celebrated in the family of the mother who is expecting her baby to be born. Poems will have to be like describing the shower and welcoming the new comer. So, feel free to take your pick. We present you some short and sweet baby shower poems for you to send it to the mother-to-be.
Baby Shower Poems for Boys
Expecting a baby boy soon? It's indeed a wonderful gift from God – soon to have a baby son. It's a glorious moment for both mom and dad. Throwing a baby shower might be the best way to announce the arrival of the new boy member of the family and to celebrate the gift from God. Here's a sweet and cute baby shower poems that can express the joy and happiness to have a new baby.
Joy Made Complete
The fangs of labor is finally gone
We now hear the cry of your little son
We welcome him with revelry
As we hold him tenderly.
Proud parents I must say
He'll cast your blues away
Cheers to a lifetime of hugs and love
Surely he is gift from God above.
These giggles I couldn't control
As I hold in my arms this innocent soul
We've waited too long for this baby to meet
Now the joy of your family has been made complete.
Baby Shower Poems for Girls
You will be having a baby girl and you want to let your friends and family know about it? Throw a baby shower! Let them welcome the arrival of your cute little new member of the family. And I'd like to share to you an inspiration for having a baby girl. Here's a sweet baby shower poem for you to read.
This Baby
This baby holds the sweetest smile
Her giggles brings joy deep inside
Tiny hands and tiny feet
We altogether waited for a baby to meet.
This bundle of joy sleeps quietly
What a precious treasure rests placidly
This baby so cute and small
Will grow so lovely for sure
This baby we amiably adore
Felicity is sweetly outpoured
This baby with a physique so mild
Has brought us tons of delight
Baby Shower Wishing Well Poems
Now, if you are one of the guests invited to a baby shower party and you wish to express your best wishes to them in a more traditional way, why don't you try writing a best wishes baby shower poem? If you don't know where to start and you need some inspiration, we're here to help. Here, I wrote a sample of baby shower wishing well poem.
This day
This day we meet this sweet angel
Feels like we're riding on a carousel
These gifts we brought for him(her) to enjoy
Clothes, diapers, mittens and toys.
Best wishes to send your way
And blessings in fervent array
This day that we rejoice in laughter
May your family live happily ever after.
To the new parents who sweetly share
The love of this little angel
May your little baby make you smile each day
More giggles and blessings to you we pray.
Baby Shower Thank You Poems
Having a new baby is something to be thankful for – for God most importantly, for family who are there at your side always, and for friends who are there to support and give cheer. Express your appreciation and gratitude with this baby shower thank you poem. 
Thank You
For God, giving us our precious baby,
For family, sharing the happiness and glee
For our child, so gentle and sweet
For all the well-wishers, giving us endless mirth
Baby Shower Poems for Invitations
So you finally decided to throw a baby shower party? Well the next move you will probably take is creating an invitation to let your friends and guests know about your party. In every invitation, wording is important. If you wish to be a little more creative with your baby shower invitations, how about using poems as wording? No need to be a poet to come up with the best baby shower poems for invitations. Here are some examples of poems for baby shower invitations that you can use.
Let's join our hands
In inviting the baby of (Mother's name)(Father's name)
Let's join ourselves
In welcoming the cute little baby!
– – – – – – – – – – – – – – – – – – – –
Gift of life is known when you are a child,
Gift of living is known when you have a child!
That's why we are to invite
Come and enjoy for the baby shower of our child
– – – – – – – – – – – – – – – – – – – –
Boy or a girl,
You or me,
We celebrate the baby!
– – – – – – – – – – – – – – – – – – – –
We welcome you all,
To the party hall,
For the baby shower,
Give us your honor.
– – – – – – – – – – – – – – – – – – – –
Sweet little cute baby,
Expected in our family,
Let's we celebrate it happily!
– – – – – – – – – – – – – – – – – – – –
It is all fun and joy!
Come and join the baby shower party!
– – – – – – – – – – – – – – – – – – – –
Twinkle, Twinkle little star!
We are going to welcome a start!
– – – – – – – – – – – – – – – – – – – –
Blue or pink,
Prince or princess,
We are with happiness,
Join us for a baby shower drink!
Expecting for a little daffodil!
To sleep on the cradle!
Feel proud to be a mother!
Let's we all get together!
Special Baby Shower Poems
Having a baby is something so wonderful and magical. This moment has to be so special, hence it deserves a special piece of work. Here are some samples of special baby shower poems to share to you.
Tiny Gift
Tiny hands, little toes
A heavenly bliss to you is bestowed
Gentle smiles and tender cries
Surely brightens up your sky.
Placid eyes, feeble feet
An angel amiably sleeps
Small fingers, pointy nose
A tiny gift God has endowed
That tiny baby you hold so dear
Will bring you joys in all the years
That tiny gift that makes you grin
Is a miracle sent from heaven
Teensy- weensy
Teensy-weensy toothless smiles
This baby wears so divine
Teensy-weensy hands and feet
Are God's blissful treat.
Teensy-weensy flimsy toes
I brought this angel little shoes
Teensy-weensy fingers too
I brought some mittens that are new.
This teensy-weensy baby so dear
Will grow so fast in the coming years
This teensy-weensy angel to you bestowed
Is a big time gift heaven has endowed.
I hope that you liked these sweet baby shower poems that I shared to you. Please note that they are not written for any specific recipient. They will just serve as your inspiration in creating you own poem. but if you happen to like these baby shower poems and find it useful for any of your needs, feel free to use them with the credit in our website. 
Also, if you happen to get inspired and you were able to create your own poem and feel like sharing, feel free to share your own artwork. We will be very happy to feature your very own baby shower poems here. Finally, enjoy and congratulations!