It is a dream of every girl to have a magical wedding. When that moment comes, she can't help but feel so excited and beautiful. Here are some suggestions on how to come up with an invitation to celebrate a bridal shower party. Feel free to use these samples of bridal shower invitation wording and share to your friend on facebook, twitter, gplus, and others.
Image Credit :etsy.com
She will soon tie the knot. But before it happens, let us gather and give her some words to bring with her on how to make a lasting married life. You can bring you if you like, some gifts to fill her kitchen. See you!
A bridal shower is set to make the bride enjoy her being single even for the last time. Make her more excited to live a life with the man she chose to love.
Our baby is now a lady and very soon will get marry. Let us help her with some tips to be happier from day one of their marriage up to eternity.
Let us shower the bride with lots of flowers and surprises! Let her feel even for the last time the excitement of being single because a few days from now, she will walk down the aisle and give her life to her groom.
Let us join the bridal shower for her.
Make her feel special because she really is.
Now that she will be a wife, let us make her feel ready and more excited.
Come and join us as we shower our friend with some tips to have a happy marriage.
Let these guide her as she learns her own lessons along the way.
Come with us as we shower our bride with wishes of happiness.
Bring along with you some things that she can put in their nest.
See you!
She needs us to make her feel ready for her big day.
Let us all together make her more eager to give her hand to the man she truly loves.
Shorten the time of waiting and make her more excited to wear her bridal gown.
Bridal Shower Invitations Wording
Send bridal shower invitations with the wordings picked from us. We are keenly interested to help you in finding the apt wordings for bridal shower invitations. Bridal shower invitations wordings is an article to give you the beautiful and wonderful wordings for the bridal shower invitations. Bridal showers are the best and fun time to gift the bride which makes her blush for the upcoming occasion of her marriage. Below you can find bridal shower invitations wording use it to invite your relatives and friends for the bridal shower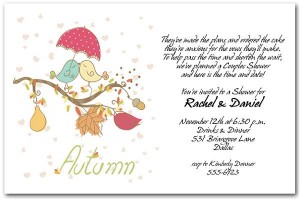 Name: —————————'s big day is almost going to happen!
Let's all shower her with love and cheers!
Please join us and bless ————————– on the day of bridal shower.
Join for the lunch on ——————— at ——————————–
Let's shower ———————————– with lot of cheers
and fun to make her face blush with shyness expecting her marriage!
Please mark the day in your calendar and don't forget to make your presence on the occasion,
yes the day is going to come soon – the bridal shower day
for ———————————- on ————————- at ——————————————
Join us for the special hour and special day of bridal shower
for ————————— on ——————– at —————————————————
Please join us in showering the bride ——————————– with love and best wished on the bridal shower party on ————————— at ——————————————–
Let's quickly wish ————————————- before she becomes Mrs. —————————– Let's shower her with love and cheer.
All are invited to join us in the shower honoring occasion.
You presence is highly expected with your kith and kin on the day of bridal shower for
Name: ——————————– which will be held on —————————— at ————————————–
The honor of your noble presence is requested on the showering day for the bride ———————————- on ————————————- at —————————————–
You are invited to join the showering party,
join us and make the day a pleasant one for the bride —————————————– on ——————————-
A stunning future definitely begins with a bridal showering!
Please join us at a Bridal Shower celebrating ———————————– on ————————- at ————————————————————- Kindly make your presence promptly!
Bride Name: ———————————- Groom Name: ———————————- Both the bride and groom going to join together and start a new life. It's the happiest moment to blush the bride with shyness, so let's join on showering day!
Wedding Shower Invitation Wording
So you want to throw a wedding shower party for the bride? Then you must be preparing a perfect bridal shower invitation that will serve as your guest's guide to the party. You should also come up with the appropriate wedding shower invitation wording to let your guests know about the details of the party. Here are some wedding shower invitation wording ideas that you can use.
Very soon, she will get marry, so let us join her in keeping the long wait short.
We'll give her a shower party that she will definitely enjoy.
Bring some naughty gifts if you can, so that she and her husband to be will surely enjoy their day!
She will soon walk down the aisle with her most beautiful gown. But before she does, let us shower her with so much love. Give her all that she needs to make her fully equipped as she count the days one by one until she becomes a wife of her husband.
From Ms. to Mrs. What a nice feeling it is! She decided to finally end her single days to be with the man she loves. Before she removes herself from the list of single ladies, let us give her blessings that she will treasure on her married life.
Be happy for her because she will marry soon. She seems to be not prepared so let us gather and help her out so that she will perfectly say "I do".
Shh, shh, shh. This is a secret invitation that the bride should not know. We will give her a shower before she says "I do". Tickle her mind with fantasies for her honeymoon and some wonderful stories of how the world will become after marriage.
Time flies so fast but still she can't wait until they finally tie the knot. Make her feel busy with the bridal shower party we prepared for her. Join the fun!
Lingerie, soft pillows, sexy undies. All these you can bring on the celebration of the bridal party. Make her be tickled with some fantasies for her honeymoon!