A collection of birthday wishes, Christmas greetings, holiday wishes, Anniversary wishes, party invitation wordings, quotes, poems, greeting card wordings, SMS and text messages greetings
Happy Birthday Wishes Messages and Happy Birthday Greetings
---
Are you looking for birthday greetings and Birthday wishes for a birthday card, then here is the place to find suitable birthday messages for you card. We all wait for Birthdays every year, and it comes every year to remind us what we achieved last year and what has to be achieved in the time left. We like to celebrate birthday And we want this day to be happy and joyfull. When this event comes, throwing birthday parties, outing with family or friend and other activities are the common way to celebrate it.
Not only that we all attend countless birthday parties of our friends and relatives. Since birthday celebration is important to us, we want to spend this day with happiness and we want to feel special during this day. As a friend or a family of the celebrant, we want t contribute some happiness to them on their special day. You can give them some simple birthday gifts together with your warm birthday wishes.
Happy Birthday Wishes Happy Birthday Messages
If you are looking for birthday wishes and wordings for your birthday cards and gift tags, you can explore and consider some of the collection of happy birthday wishes underneath. Hope you like it!
Hi dear,
Enjoy your Birthday and have fun
Happy Birthday To You
I am sure this card will convey
My heartwarming birthday messages to you
Happy Birthday Dear
Celebrate the Birthday with a  party
Filled with fun, dance and happiness
and Make the day memorable.
Happy Birthday to you
Birthdays are coming every year
It is the time to celebrate and dance
Happy Birthday to you
May this birthday brings you ,
happiness prosperity and joy.
Wishing you a birthday that is filled with fun and party.
Happy Birthday to you!!
Everlasting happiness and fun
Mind blowing luck and prosperity
Everyday of Joy and fun
That is my Birthday Wishes to you
Happy Birthday Dear
Birthday are mile stones in our life where,
We have to look back to find out past failures and Success
Birthday are Mile stones in our life where,
we have to look ahead to find challenges ahead
Hope this birthday will give you confidence and courage
To face the challenges ahead.
Happy Birthday to you
You are the star of the day,
Enjoy the Day with Fun and Dance.
Happy Birthday to You
A birthday party with dance and fun ,
will remember for ever in our mind.
That is what my birthday wishes to you.
Happy Birthday to you!!
I am so happy to write this birthday card ,
AS I am exited that your birthday is there.
Enjoy the birthday and make memorable.
Happy Birthday to you!!
Happy birthday wishes message Happy Birthday Wishes Text
Are you not happy with the above messages. Do not worry I have written more messages below. These 10 birthday messages are came from heart and I am sure you will like it. Or you can rewrite it by changing the words and phrases to make it unique.
Birthdays are like milestones in our life
It make us to think what we achieved in past
And What we are planning to achieve in future
May this birthday brings you luck and Courage
to full fill all your dreams
Happy birthday
You are star in my mind not because of
You are celebrating the Birthday
But what you achieved in your life,
And the Principles Carried by you
May this Birthday gives you Happiness
Fun and Joy!! Happy Birthday
Birthdays will give us Fresh Hope,
For a better future
Birthdays will give us a fresh start,
For all our new endeavours!!
Birthdays give us new confidence
To face all the challenges ahead.
Wishing you a birthday that Give you.
Hope, Confidence on all your new endeavours!!
You are a special person to me ,
And your birthday is a special day for me.
So let us make it more special by fun and party.
Happy Birthday to you!!
Birthdays are the days where we should celebrate ,
For the happy days we enjoyed and for happy days to come.
I wish you a birthday filled with party and fun.
Happy Birthday to you!!
Have a birthday party with Dance and dine ,
I wish you a a memorable Birthday.
Happy Birthday to you!!
You are a special person to me and ,
Your Birthday is memorable and is a special day to me.
Wishing you everlasting fun and Joy.
Happy Birthday to you!!
I cannot think of any nice messages to greet you on your birthday.
All I have reserved were clichés, and a simple statement:
I LOVE YOU. And that's not a cliché.
Three hundred sixty-five days
and God did not give you this one special day of the year to spend entirely at work.
Have yourself a favor.
This day is a precious gift.
You are lucky for another year celebrated.
Oh, can I revise? You are not lucky.
You are blessed.
Happy birthday wishes for a friend Happy birthday wishes for best friend
Tired of the usual birthday greetings and birthday wishes? Well, check this out for some tips on how to greet a loved one and make him smile on his special day! Here are some cute birthday messages, birthday card wordings, birthday sayings and birthday wordings.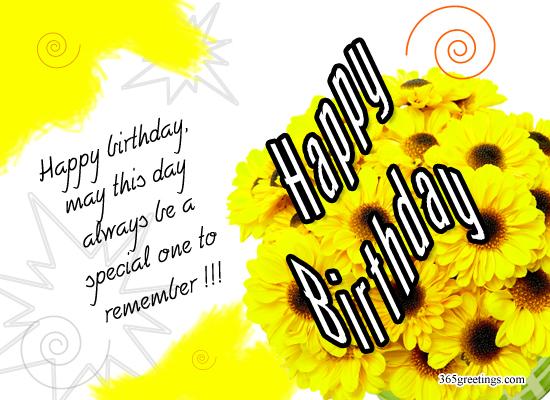 I do not need a Facebook birthday reminder
to remember your most special day of the year.
I just simply know it by heart. Happy Birthday, my friend!
As I write this birthday wishes to you
The warmness of our friendship rejoices me
again and again.
Happy Birthday my friend
My blessings are always with you
And when you celebrate the Birthday
I feel more happier and excited
Happy Birthday My dear friend
You are my true friend and Companion
Make your Birthday Celebration memorable
Happy Birthday My Dear friend
You are a true asset for me and
When you celebrate another birthday
I remember How lucky I am to have
A great friend like you
Happy Birthday to My best friend
They say "best friend"
But I say they should see our friendship
to understand what is a best friend
Happy Birthday My dear
Friendships are the true bond
and each birthday is making it more strong
Happy birthday my dear friend
Funny happy birthday wishes
Are you looking for Funny happy birthday wishes to send some one who is very humorous and love to read funny messages. Then have a look below. There is a collection of funn happy birthday messages below, just cut and paste in your message
Happy birthday to the new wrinkle on your face.
You're getting near to death! Happy birthday!
Welcome to another set of gray hairs on your head.
You're too old to celebrate this day.
Happy birthday anyways.
Today is the special day of someone whose age cannot be found on the pages of a calendar.
Happy birthday!
Enjoy your cake because next year
you're too old to have one.
You aged again. Do you want me to buy you a rocking chair?
Each birthday means exercising extra care.
You know why? Having another year makes bones brittle.
Don't forget to take your vitamins.
Old people need a lot of it.
Here is the application form for Senior Citizen I.D.
Happy birthday!
I am glad that starting today,
you will enjoy all the special treatments for an old man.
Celebrate!
Do not forget me.
You might have memory gap due to your old age.
Happy birthday anyways!
I now understand why you smell that way.
People your age are afraid of water.
Today is the day to stretch out your muscles
Old people like you are prone to arthritis.
So better be careful!
I will still love you no matter how old you become.
Happy birthday!
I wish to see you on your birthday suit (that is being naked,
just like a new born baby).
Let's celebrate your day!
Yippee! Another birthday for you!
I am getting near to enjoying the benefits of your insurance plan!
Today is you birthday,
tomorrow might be your death.
So let us celebrate as if it is your last!
There is no problem in getting old
if you have settled your life plan early.
Happy birthday!
Congratulations! You reached the top spot among
my friends who have celebrated their birthdays the most.
It is your birthday! Celebrate!
Wisdom belongs to people who reached your age.
Happy Birthday Wishes for Brother, Birthday Wishes for Sister
Since our brother/sister are the people we have shared from our childhood times, we have many experiences and memorable memories with them. So, treat him/her special on their birthday and greet them by some happy birthday wishes. You can use the samples of happy birthday wishes underneath.

I am very thankful that I have wonderful sister like you to be part of my life.
Happy Birthday!
Happy birthday sis!
I hope that you will enjoy this whole day and maybe forever.
I wish a great and wonderful birthday to my special brother.
I hope that you feel nothing other than happiness.
Happy Birthday!
Be happy on this special day for you, brother.
I hope that more birthdays to come on you.
Thanks to all and a warm happy birthday from me for you!
Am very thankful that you are my brother,
I hope that you feel it too,
Just always remember, I am very proud of you
Have a Happy Birthday bro!
One of the reasons why I treasure our family is that someone like you is part of it.
Happy birthday, dear sister!
May your special day be overflowed with happiness and love, as well as to the rest of your life.
I hope that you fulfill all of your dreams in life, because you deserve it,
I am wishing you a wonderful and memorable birthday for you this year.
Have a nice special day for you my dear sibling!
It seems like yesterday you were just a little kid fascinated by all the little things.
Now, you fascinate me. You are such an inspiring person to see.
Each year, you grow into a marvelous person.
I hope you have more beautiful changes in you to come.
You still have many, many, many birthdays to celebrate.
Happy birthday little bro!
Happy Birthday Wishes for Father, Birthday Wishes for Mother
Greeting our parents on their birthday can be a simple but special gift to hem, especially if those wordings expressing your gratitude and appreciation for them, for the thing s that they done to you. So, here are some happy birthday wishes for them hat you can use as your writings in birthday cards or maybe say personally-which is the best way.
Every child's dream is to have a kind and understanding father,
That's why I am lucky to have you.
Happy birthday Dad!
Best happy birthday wishes Happy Birthday Greetings
Birthday is considered as the most treasured day among other affair in one's life. Everybody waits for their turn to celebrate their respective birthdays, regardless of age. During this day, our family and friends are the one who contributing some things that make us happier on that celebration. They give us birthday gifts, numerous birthday wishes and many more. These presents, even the simplest one can be a trigger to our smile and be thankful for what we have right now.
Birthday celebration happens only once a year, so treat it to be special every year. Pick those gifts that are simple but special for the recipient and at the same time those birthday wordings that you are going to use as your greeting for them. Here is the collection of birthday wishes that you can use as your birthday greetings to make their celebration more special and memorable.
I wish a special birthday for a special person like you.
Happy Birthday!
I hope this day be a wonderful and a happy day for you!
Have a fantastic birthday to you and be happy always!
I wish the most memorable and happiest birthday for you among other celebration that you've experienced before.
Have an awesome birthday celebration!
I just want to say thank you and good luck to the new chapter of your life.
Happy Birthday!
Happy birthday! May you always have the energy and love for life.
Enjoy your youth and always display a smile on your face, even through the worst of times.
I hope your birthday become brighter and brighter every year and now.
Happy birthday!
For the best and special person ever,
I wish nothing but the best!
May you have an amazing today and that you have more birthdays to come!
May God always be with you and provide those valuable things in mans life – love, joy, happiness, and a healthy living.
Happy Birthday!
Happy Birthday Wishes Messages and Happy Birthday Greetings

,
By annewalker
by
| | |
| --- | --- |
| Related Articles about BIRTHDAY | |
br>
Do not waste your time.
Spam Comments will be thrashed
br> br>
Do not waste your time.
Spam Comments will be thrashed
br>