Do you want to include some of inspirational birthday wishes to your gift tags or maybe on your birthday cards? Yes, you can give them the most expensive birthday gift and a fancy flower bouquet, but a nice, heartwarming birthday wishes will make it even more special and something to treasure for the rest of their life. Make their big day a day to remember with these inspirational birthday messages.
Inspirational Birthday Messages
Here are some of inspirational birthday wishes messages that you can address in advance. Maybe a days or two days before the exact birthday. You can consider their age to choose the best for them.
They say that the early bird catches the worm.
I'm going to be an early bird this time
And greet you before your special day.
Advance Happy Birthday!
Be stronger and be more confident on facing problems on your life.
I wish nothing but the best in life for you and
That you continue to receive love and blessings.
Advance happy birthday!
May this greeting excite you for your special day,
And that may you realize
How colorful the world is with you in it.
Be happy! Happy Birthday!
I wish you good health, good friends, and a good life ahead.
I hope that you will achieve all your goals
And dreams and more blessing to come.
Happy Birthday!
I have inherited all these traits from you:
Beauty
Kindness
And Intelligence.
How am I supposed to say thank you to
A wonderful person like you!
Happy Birthday!
Set aside all the regrets and pain you've receive,
Good luck to your new chapter in life.
Enjoy your birthday!
Usually, a birthday is the day for the celebrant to recount all the things that they are grateful for and I know you have a lot of reasons to be grateful for in life. Me? I actually just have one—YOU. Happy birthday, my dearest best friend! Here's to more birthdays ahead.
You know what, this day is always marked in my calendar—not because it's your birthday—but because I am so thankful that on this day of every year, a very important person in my life is blessed with another year to live. Happy birthday!
Inspirational Happy Birthday Wishes
In this section, you are going to explore the beautiful and Inspirational birthday wishes messages. You can send these messages over Internet or phone to wish your friends, family or co-workers.
In this day, we wish that you may have more time
To inspire other people, gain more friends,
More tons of wisdom,
And a bucket of hope and happiness.
Wishing you a very happy natal day!
Soar higher and reach for the stars above.
You are one special person that should never be forgotten.
May your birthday bring more hope and love,
May it be a new start of marvelous career journey and tremendous success.
That age of yours may not look like a special milestone to celebrate,
Because you are not actually young and not actually old,
But whichever day is an ideal day to be the special person like you are now.
I wish that you have a great birthday for a special person.
Being an almost old age can be a difficult
As you realize that you are getting older and your time is limited.
Instead of getting dejected,
Use this as new chapter to start doing good things in life and to others.
Happy Birthday!
Always think that all of those things are important
to a person in facing your entire life,
Remember that we are here to give all those things you've needed.
Happy birthday and I wish more birthdays to come to you!



This is a special day for you not only for your birthday
But also it marks the great journey that you've accomplish until now.
I hope that you will achieve more of your goals and dreams.
God luck and happy birthday to you!
YOU MIGHT ALSO WANT TO READ:
Inspirational Birthday Wishes for a Friend
Greet your friends by those inspirational birthday messages on their birthdays. In that way, you can contribute some happiness that they feel on that day as well as it can help them be more inspired for the next chapter of their life.
Thank you for being a great teacher
In academic, in life, in love and in everything.
Happy Birthday!
You're always there to lift me up when I'm down;
You're always there to make me feel good about myself.
A big hug to the birthday celebrant!
You have inspired many people.
Everything about you will always be remembered
And a lot of us are celebrating for your birthday.
We all wish you the best.
A new day clasps a promise of joy and agreement in life.
It's a new chance to start a new life excursion,
A new day to rejoice life.
We are celebrating your birthday
And you've always been a good role model to all of us.
Happy birthday.
Set aside the number of years you've lived.
Instead, realized the things you've been surpass
Until you reach this stage of your life.
Happy birthday friend!
To achieve all your goals in life,
You must fight and try giving your best,
But I think you already give your finest,
That's why you are here suffering for good.
Congratulations and happy birthday my friend!
On this special day for you,
provide time to enjoy all the gifts that you received to God,
The love you've receive to all people around you,
And the supports that you get in times of failure.
All the Best for you on your birthday!
Inspirational Happy Birthday Greetings
Encourage your brother or sister on their birthdays by the use of some of inspiring birthday wishes. It can also help this to strengthen your relationship as siblings.
In life, we will always meet new people.
But you'll always my eye's apple.
Happy birthday!
Never lose that smile of yours,
Never lose that wisdom and confident of yours
Because I need that force.
Happy Birthday my Superhero!
This is finest time to rest for a while
And look for the things around you,
Realize how lucky you are that
You still reach this time of your life,
May God's graces be with you.
Happy Birthday!
Instead of asking God for the gift
You want this birthday of yours like you do every time,
Try to close your eyes for a while and back to your past,
In addition, think all the gifts that he already given to you,
Even if you are not asking.
So, be contented and always believe in God.
Happy Birthday Bro!
Don't think that you are alone in times of failure,
Always remember that I'm always be with you whenever you need me,
Because the love that I offer to you is deserve for you!
Happy Birthday my beloved sister!
Pledge to yourself that you still do your best for better accomplishments,
God bless you always and May God always be with you.
Happy Birthday my beloved sibling!
Inspirational birthday wishes for a friend
Here are some samples of friend's birthday greetings and wishes that can also be used as birthday card messages.
It is your Birthday and Celebrate it with fun
Move forward with fresh confidence and courage
You are special person who can win the world
Happy Birthday To You
Birthdays are for a new start for a fresh beginning
Start new endeavours with new goals
You can do it as you are a special person
Happy Birthday To You
For the best person ever, I wish nothing but the best!
May you have an amazing today and
That you have more birthdays to come!
My life was fine without you.
But then I met you, and my life became the best it can ever be.
Happy birthday, my dear best friend!
I wish nothing short of the best in life for you on this day.
To one of my favorite people in the world,
I wish you more gifts to open, more cakes to eat,
More candles to blow, and of course,
More birthdays to come.
Have a good one! Happy birthday!
Each morning, when I wake up, I feel so thankful for life.
But this day, I woke up feeling particularly more blessed
Because I know that my best friend is given another birthday
To celebrate and another year to grow our friendship more.
Happy birthday!




Inspirational birthday messages
You've thought of the best birthday gift ideas for your best friend but you don't have the best birthday message to go along with it? Here are some ideas about birthday wishes for a best friend for you.
Roses are red. Violets are blue.
Your birthday without my greeting would be taboo.
So here I am, with a poem so lame–just for my best friend,
who's with me 'til the end.
Happy birthday!
We've been best friends since forever and
I'm running out of birthday greetings for you.
So what more can I say but just a simple Happy birthday?
I wish you a wonderful day today and of course, the coming days as well.
Another year older but never really wiser.
Here's to more wild days and crazy adventures, my best friend.
Happy birthday!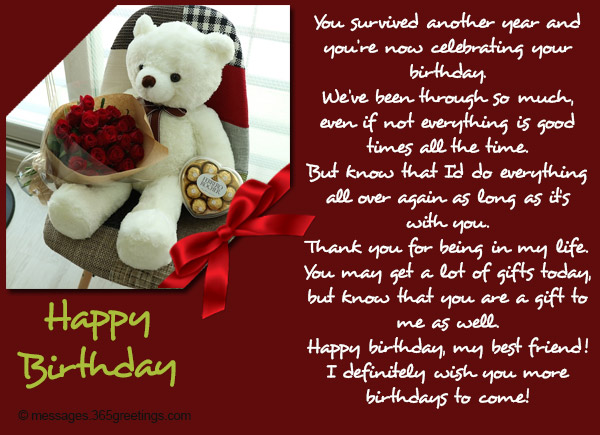 You survived another year and you're now celebrating your birthday.
We've been through so much, even if not everything is good times all the time.
But know that I'd do everything all over again as long as it's with you.
Thank you for being in my life.
You may get a lot of gifts today, but know that you are a gift to me as well.
Happy birthday, my best friend!
I definitely wish you more birthdays to come!
To my best friend: I know you wish the best for me,
but will you stop celebrating your birthday?
It makes me feel old! Just kidding.
Have a happy birthday today and
I wish you more birthdays to celebrate in the coming days of your life.
Inspirational Birthday Greetings
Every morning is a gift that is why it is called "present". May this day bring you more blessings. Have a happy birthday!
A nice person like you deserves only the best. I wish that you continue to enjoy everything that makes you happy.
Thank you for treating me as a friend. May your kind heart be gifted with whatever it is that you wish for on your birthday! Happy Birthday!
God is good to people who gives meaning to other people's lives. He will be the One to reward you with your good deeds. Happy birthday to the most wonderful person I've known.
Life may seem so down lately but remember that there is always a reason to celebrate this day. You are blessed with a life that is worth living!
Today, I wish that all of your dreams may come true. Pray, and God will direct your path towards success. Happy Birthday!
Count your blessings day by day and you will realize that it is more than the years of your life. So, celebrate your day!
On your birthday, you are blessed with another year to be thankful for. Pause and you will realize how many friends you have, how many tears you've overcome, and how many ways God has worked wonderfully in your life.
Happy birthday to the person who has been a blessing to his friends and family. May you be showered more with love, peace, and happiness.
Birthday inspirational messages, Birthday wishes inspirational
inspirational happy birthday wishes inspirational happy birthday messages
You have worked so hard to become the person that you are now. On your birthday I wish that you will be rewarded with good health and success.
God is good because He gave you to us. You are a blessing to all of us. Happy birthday!
Be happy! Today is the day that you are sent to this world and be a blessing to the people around you! Continue to be our inspiration.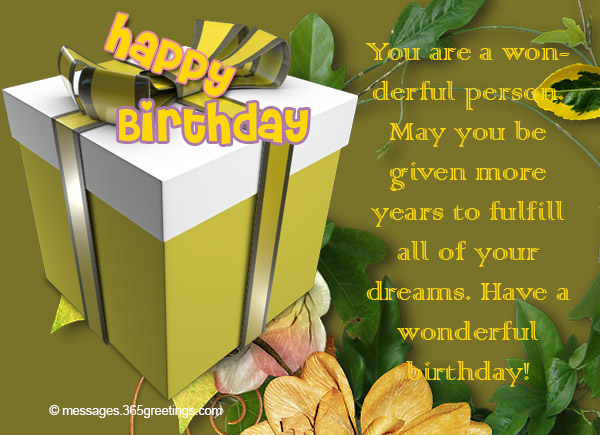 You are a wonderful person. May you be given more years to fulfill all of your dreams. Have a wonderful birthday!
Life may not always be smooth but remember that we are all here to give you the support that you need. Besides, you have given your life to us that is why we will not regret sharing our own to you. Happy birthday!
May you be rewarded with all the joys that life has to offer. A kindhearted person deserves to be happy always! Celebrate! Have a great birthday!
Do not calculate the cake
But the sweetness they give each year in your life,
Do not calculate the years
But your existence in life matters,
Wishing you a great birthday celebration tonight.
Inspirational Birthday Greetings For Someone
I can't imagine my life without the person celebrating his/her birthday today.
So you better keep on celebrating your birthday every year!
Have a happy birthday and definitely wish you more birthdays to come.
Happy birthday!
I wish you all the happiness in the world,
Because believe me, out of all the people on earth,
You deserve it.
I'm so thankful for that one screaming baby
who was born on this day some years ago
because that baby grew up to be
one of the best and most awesome people on this earth!
Happy birthday and have an awesome time on your special day.
Stay the same. No more, no less.
Because nothing can make me love you less.
Happy Birthday!
Words are not enough to express how glad I am that you are celebrating another year of your life. I wish that you are happy on this day because you make me happy just by being my friend. Don't you ever change—unless it's for the better! Happy, happy birthday! More to come!