Christmas Party Invitation Wording
Christmas signifies a new beginning and for some it takes one whole year to prepare for the holiday. The occasion is more than just your regular gatherings and family affairs. It is a celebration that signifies the new beginning of life and the past events that happened on the whole year. This makes the celebration even warmer. Christmas is also a perfect time to rekindle the bond within the family.
This year, be sure to celebrate the holiday with your family and friends. Throw a party filled with music, dance and fun. And if you're not sure what to write in your Christmas party invitations, fret not. Here are some of the Christmas invitation wording samples that you may edit and use. Feel free to fill the necessary details with your own Christmas invitation wordings.
Christmas Invitation Templates
Christmas Invitation Wording Samples
Chocolate pudding and yummy sweets,
Roasted turkey and some drinks,
Want to have some?
Then you have to come!
Party with us!CHRISTMAS CELEBRATIONDecember 24th , Wednesday
7:00 PM – 10:00 PM
Brook Shield Drive
256 Mandalay Avenue
San Jose, California

RSVP
Christmas Invitation Wording Sample
Christmas Party Invitation Wording
Fa la la la la la la la la
Come here with your own Christmas Carol
as we will rock your world on ourCHRISTMAS CAROL PARTYon
DATE
TIME
VENUE

HOST / RSVP
Christmas Dinner Invitation Wording
Merry Christmas to you!
We will be having a
CHRISTMAS DINNERWednesday, December 24th
7:00 PM to 9:00 PM
Holiday Inn Residence
234 San Jose Avenue, CaliforniaWe will be happy to see you there.
Margarita and Shawn
Christmas Party Invitation Template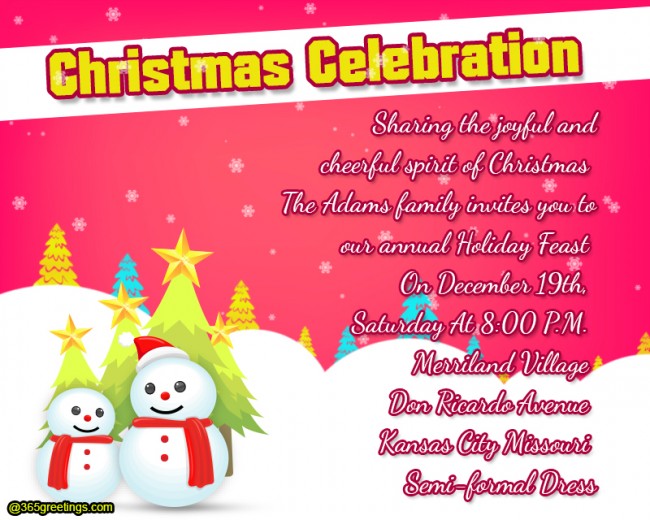 Funny Christmas Party Invitation Wording
Silent Night or Holy Night.
This will be impossible
because we will make this night
a loud and sinful one!
Let us party until we drop!DATE
TIME
VENUERSVP
Christmas Party Invitation Sample
Office Christmas Party Invitation Wording
YOU ARE INVITED
this special time of year,
to celebrate with us
and spread some holiday cheer.SNYDLE COMPANY
Christmas CelebrationSaturday, the 15th of December
Two thousand forteen
Seven o'clock in the eveningThe Mandara Hotel
54687 T. Clydel Avenue
San Jose California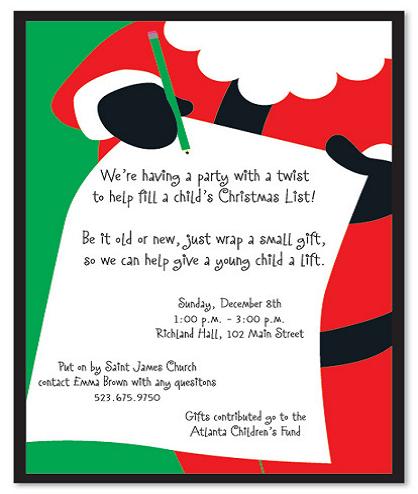 Christmas Lunch Invitation Wording
It wouldn't be Christmaswithout you celebrating with us!Please join us for Lunch
on Friday, December 20th
at 11:45 a.m.
14 Mandalay Avenue
Westport, VirginaLea and Michael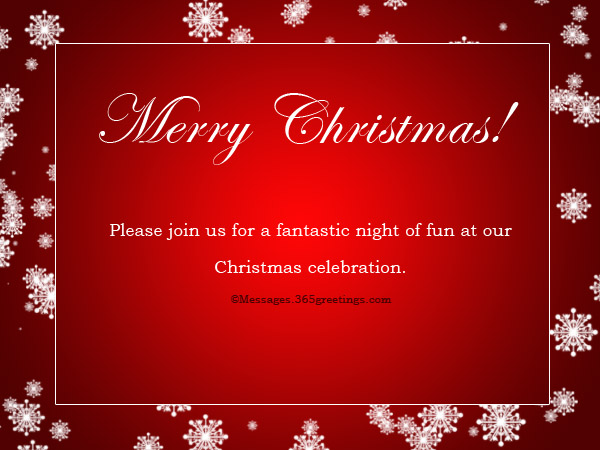 Company Christmas Party Invitation Wording
Church bells ringing,
Mistletoe swinging,
Mince pies, chocolates and mulled wine,
Now we know it must be Christmas time.You are cordially invited
to Snydle Corporation's
Annual Holiday Party
Saturday, December 17, 2014
7 p.m. to 10 p.m.
Mandalay Hotel
1234 North Side Avenue
New York City, New YorkSemi-formal Attire
Corporate Christmas Party Invitation Wording
SNYDLE CORPORATION
Cordially invites you
To join them at aHOLIDAY DINNER PARTYFriday, the twentieth of December
at 6 o'clock in the evening
Brass Garden Hotel
3454 Wisconsin Drive
San Jose, California

Enjoy cocktails, dinner and music
Formal Attire
Christmas Open House Invitation Wording
Please come and join us
We're hosting aHOLIDAY OPEN HOUSEFriday, December 17th
At 6:00 in the evening
2348 Cassandra View Avenue
Kansas City Missouri

Regrets? 857-8957
Christmas Party Invitation Wording Ideas
Christmas wishes to one and all
It's time to have a ball!
The party season is in full swing,
As long as I'm with you I feel like a King!
Please join us in ourCHRISTMAS PARTYTuesday, December 16th
2 o'clock in the afternoon
Scott's Residence
234 Parkside Ville
Kansas City, Missouri
Christmas Eve Invitation Wording
It's the most wonderful time of the year.
Join us for a celebration of Christmas cheer!
Please join us for a night of fun at ourCHRISTMAS EVE CELEBRATIONFriday, December 24th
7:00 in the evening
The Madison's Residence
9867 26th Street
Kansas City, Missouri

Jane and Clyde Madison
Christmas Potluck Invitation Wording
It's a Christmas party full of cheer.
Let's celebrate with the ones we hold dear.
Be our guest in ourAnnual Christmas Potluck
on Saturday, December 18, 2014
at 7 o'clock in the evening
The Blue Meadows Residences
123 Maiden Hill StreetRSVP 596-8347
Family Christmas Invitation Wording
Sharing the spirit of holiday cheer…
Our family would like to celebrate
the Christmas with you.
Please come and join us!DATE:
TIME:
VENUE:HOST / RSVP:
Christmas Cocktail Party Invitation Wording
Christmas is here!
Come from far and near!
Let us share in our merriment and cheer.Cocktails and AppetizersFriday, December 17th
7:00 p.m to 10:00 p.m.
4567 Cambridge Avenue
Rexford, New York

Regrets only?
(666)-348-3457

The Scotts
Employee Christmas Party Invitation Wording
Celebrate the Season
We request your presence for
Christmas celebration full of friends and drinks!
Please come and party with usHOLIDAY EXTRAVAGANZASaturday, December 15th
6 p.m. – 9 p.m.
Blue Hale Hotel
3458 Green Meadows Lane
San Jose, California

Snydle Publishing Company
Christmas Drinks Invitation Wording
YOU'RE INVITEDJoin us for joy, laughter, and cheer.
We are having a holiday party
to celebrate Christmas coming near.
Come and let's party!Cocktails and Appetizers
Thursday, December 14th
7:00 p.m. to 10:00 p.mHaley & Clyde Walker
Northwest Garden Hill
San Jose, California
RSVP 598-9576