A collection of birthday wishes, Christmas greetings, holiday wishes, Anniversary wishes, party invitation wordings, quotes, poems, greeting card wordings, SMS and text messages greetings
Christmas Party Invitation Wording
---
Christmas Celebration
Christmas is the most popular festival in world. Christmas party is celebrated by millions of people across nations and continent. Christmas marks the birth of Jesus, the most influential person ever lived in this world. His life changed the way mankind thinks and live. Millions of people do research about his life.People for generations sacrificed their life for spreading his teaching and faith in the world. Time started revolving about him, as before Christ(BC) and Anne Domino(AD means After Jesus). People devoted one day in every week to listen his teaching and seek blessing From him. So let us celebrate Christmas with fun and party. A Christmas party which will stay in our memory for years. A party filled music, dance and fun. Invite your Relative and Friends with these selected christmas party invitations.
image: freelancewriting
Collection of Christmas Invitation Messages and Christmas Party Invitation Wording
Christmas invitation wording? Here is a list of Christmas party wordings for your Christmas Eve party invitations. You can also use these Christmas invitation wordings as your Christmas message for Christmas cards invitations and Christmas e-vites for your guests and friends. Feel free to post to your friend's Facebook, Twitter or Gplus profiles.
image:  myexpression.com
Let's toast to the Christmas spirit!
Join us for a holiday celebration.
Join us for a Christmas party full of cheer.
Let's celebrate with the ones we hold dear.
Join us for joy, laughter, and cheer.
We are having a holiday party to celebrate Christmas coming near.
Come and let's party!
Joy to the world!
The Lord has come!
Join us for a festive celebration.
You're Invited to our Christmas Party!
Let's have a party, we have a good reason.
Its Christmas time and we are celebrating the season.
Merry Christmas, from my family to yours.
Join us for a Christmas party to celebrate the season.
Office Christmas Party Invitation Wording
It's beginning to look a lot like Christmas!
Come and Join us for a holiday celebration.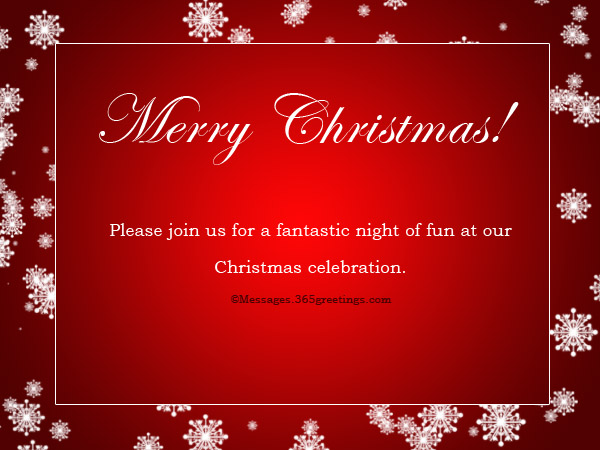 It's the most wonderful time of the year.
Join us for a celebration of Christmas cheer!
It's time to celebrate the season!
Join us for a Christmas party!
Rejoice in the season!
Please join us for a Christmas celebration!
Christmas is here! Come from far and near!
Let us share in our merriment and cheer.
Christmas comes only once a year, so please join us for some Christmas cheer!
Christmas Party Invitation Wording Ideas
Wording for Christmas Party Invitations, Christmas party invitation wording samples
Christmas is one of the most joyous and festive holiday in a year. Celebrate this cheerful holiday with special people in your life. Invite them in a Christmas party or Christmas get-together. Send out Christmas party invitations and use these samples of Christmas invitation wording and Christmas party invitation wording ideas.
Buy card with Image: Kayce bramble
It's a Christmas party so please come and be merry with us.
We request your presence for Christmas celebration full of friends and drinks!
Naughty or nice, you are invited to our Christmas party!
We're having a Christmas party.
Please will you come to deck the halls with us!
The decorations are hung by the chimney with care with hopes that you will come to our Christmas celebration.
It wouldn't be Christmas without you celebrating with us!
Please come to or Christmas party!
You are invited this special time of year, to celebrate with us and spread some holiday cheer.
It's that time of year for good friends and good cheer. Please join us for our Christmas celebration.
Please join us for a fantastic night of fun at our Christmas celebration.
We will have a Christmas get-together this ____.
Please come and party with us!
Merry Christmas!
Let's party and have fun.
Come and join us!
Funny Wording for Christmas Invitations
Christmas always means party! This joyous time of the year must be spent with so much cheer and enjoyment. But we all know it is very hard to find words for christmas messages and Christmas invitations. Here we are providing some funny Christmas Invitation Wording.


Invite your friends in a party that they will not miss because of these funny Christmas invitation wording that you can try to use in inviting them. Feel free to use these funny wording for Christmas party invitation to your facebook and twitter invites. We are sure that these christmas party invitation wording will be liked by you and your friends
Come and join the fun. Be sure to attend and
you will definitely look like Santa Claus
when we're done! Let us party this Christmas!
Be here on our party and you will
definitely get a nose as red as Rudolph's
when you become drunk afterwards!
Our family cordially invites you on the 25th of December.
We will have a party and be sure to come early.
You are in charge of the decorations.
Come and visit me! I was caught stealing Santa Claus' gifts!
Let us party behind bars! Merry Christmas
We prepared a gathering to celebrate Christmas. We want to have you here. We are badly in need of a dishwasher. Ho! Ho! Ho!
Red, green and gold will surround us all!
We will party all day and will make Santa Claus drunk!
You may be nice or naughty, happy or sad.
Either way, I have no choice
but to invite you on our Christmas Party!
You are invited to join the fun and
all the merry making that we have prepared for our Christmas Party!
Just make sure you will bring a gift for me
or else you will not be allowed to join!
Please come!
Funny Wordings for Christmas Invitation For Facebook
Want to make your Christmas party invitation funny and humorous? Then use these samples of funny wording for Christmas invitations. These Christmas invitation wording would surely put smile to your guest's face upon receiving their invites. Feel free to share these Christmas invitation wording ideas to your social media sites like Gplus, Facebook and Twitter.

Santa will come to join us on our party.
He said he will wear his sexiest attire.
So come and do not miss the fun!
I will send Rudolph and the rest of the reindeers to pick you up on the day of our Christmas Party! Just make sure you have your own sleigh. See you!
Santa Claus cannot deliver the gifts this Christmas.
I have stolen his reindeers and sleigh.
Let us party and wait for him no more.
We will wait for you!
Silent Night or Holy Night.
This will be impossible because we will make this night a loud and sinful one!
Let us party until we drop!
Christmas is fun when you are here!
Fa la lalalalalalala.
Come here with your own Christmas Carol as we will rock your world on our party!
Santa got drunk so no gifts were prepared this Christmas.
He said he would rather send out cash for those who will attend on our Christmas Party.
Unfortunately, you are not invited…Just kidding!
Join us!
Kids, grown-ups, and even those who are kids again!
All of you are invited to be here on our Christmas Party!
Get out and let Santa wonder why no one is at home.
Let us party!
Let's rock the Christmas night!
Come and join the party!
Invitation Wording for Christmas Electronic Invites
There are some instances that you may have to send your christmas party invitation the electronic way e.i emails, ecards and such. There are now some online services that do this kind of inviting. Now, here are some of the invitation messages that you can use:


We have not seen you for a long time,
It would be a wonderful Christmas if you'll come
Join and let's have some fun!
Merry Christmas to you!
We will be having a
Christmas Dinner
We will be happy to see you there.
Sharing the spirit of holiday cheer
Our family would like to celebrate the Christmas with you,
Please come and join us!

Reserve your (date of the party)
Spend the evening with us
Your presence is a must
Chocolate pudding and yummy sweets,
Roasted turkey and some drinks,
Want to have some?
Then you have to come!
Party with us!
By annewalker
+
| | |
| --- | --- |
| Related Articles about Christmas | |