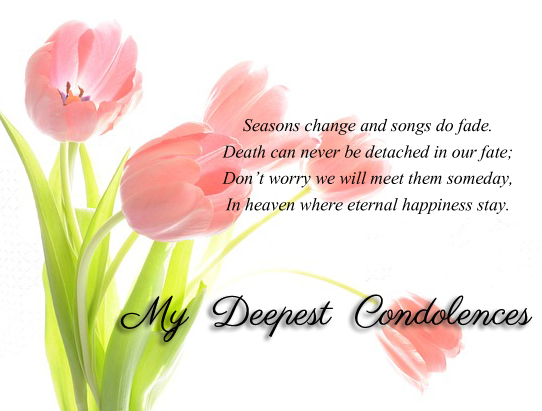 Looking for condolences messages.Sending your deepest condolences to a friend or loved ones is one way to convey your sympathy for their loss. Condolence messages may not be enough to ease the pain that one feels in their heart but it can help at least alleviate the heart ache. Messages of condolences for the loss of someone close their heart also let them know that you're there for their loss, at the time of their grieving.
We know that there is no perfect word to express the feeling of a grieving heart, but we've come up of some sympathy messages that will help convey your condolences. Comfort the grieving friend with these encouraging and heartfelt wordings of sympathy  Here are some samples of condolences messages that you may want to include in a card, email or text messages.
Condolence Messages Samples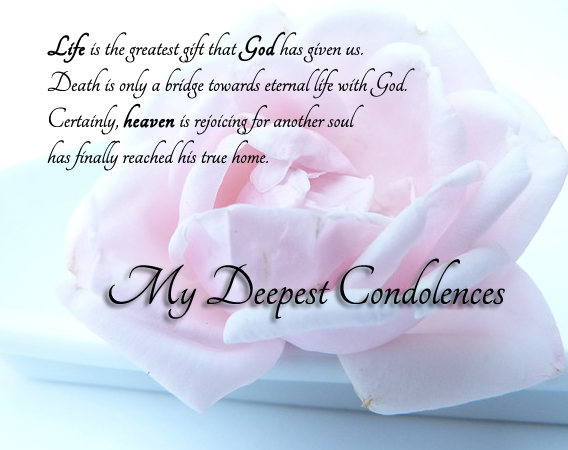 It's quite hard to say words that can ease the pain of the grieving heart. It's not easy to come up with the right wording to say how sorry you are for your friend, loved one or someone special as they lost the one dear to them. Hence, you may want to use these condolence message samples.
Seasons change and songs do fade.
Death can never be detached in our fate;
Don't worry we will meet them someday,
In heaven where eternal happiness stay.
Cheer up! You're not alone. I'm with you.
My heart is saddened to hear such a loss of someone so dear.
I could barely imagine how difficult it is for you to carry such burden.
My deepest condolences.
Life is the greatest gift that God has given us.
Death is only a bridge towards eternal life with God.
Certainly, heaven is rejoicing for another soul has finally reached his true home.
My deepest sympathy to you and your family.
In this time of bereft, I want to share my deepest sympathy to you and your family.
May God continue to comfort and give you strength to carry on such a loss.
Please let me know if there's anything that I can be of help in this difficult time.
Condolence Messages on Death of Mother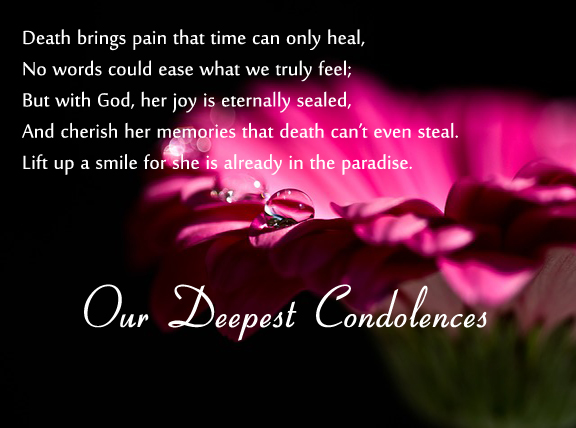 Condolence messages for the loss of a mother is never easy to come up with. Mother is someone irreplaceable, someone so special and it's never easy to lose someone like her. At time of their loss, comfort them with words of sympathy for their mother's death. Here are some condolences messages on the death of a mother.
We know we won't see her tomorrow,
In the shadows of the night we let her go,
In God's loving arms is the place where she'll be,
She now sees the glimpse of eternity.
And somehow, someday we will be reunited with her.
She brought you into this world
And took care of you for the rest of her life.
I know how hard it is to lose a mother like her.
But take courage, she is definitely happier
To her new home right now in God's loving arms.
Condolences…
How could I totally express how sorry I am
to know the passing of someone so dear.
I know it's never easy to bear that pain and I feel for you.
My prayers are with you always.
And as you overcome this grief, I know you will be stronger.
Condolences my friend.
Be strong and believe that
there's still a brighter tomorrow for you
just as envisioned by your mom.
Go and fulfill that vision she had for you
and make her proud as she looks down from heaven.
My condolences.
The death of your mother is irreplaceable,
I know it is very painful to your family,
I wish you to get peace and may your mind get relaxed,
Deeply in condolence in your loss!
Condolence Messages on Death of Father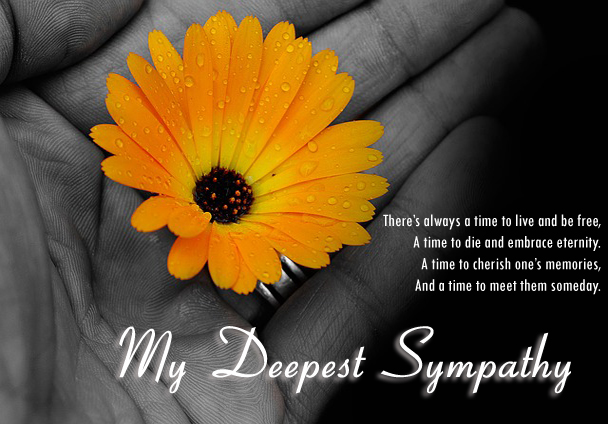 Just like our mom, father is someone so dear to our hearts. Losing our father is like loosing a part of us. It's hard, it's painful, it's difficult to bear. Having a heavy heart on the loss, comfort the grieving party with some heartfelt sympathy words and express your deepest condolences. Here are some of the examples of messages of condolences for the loss of a father.
Heartfelt sympathies to you for losing your father.
I know this pain is too heavy for you to handle
but I know you can cope up with it.
My deepest condolences.
(Name of the deceased) has left a ton of great memories to all of us.
How in the world could we forget such a loving soul?
My heart is shattered to see him gone.
But that is just temporary.
Sooner or later, we will see him in heaven.
That's the sweetest hope we can bear right now.
May his soul rest in peace.
My heart weeps in agony when I heard such a great loss.
Truly his memoirs will be carved deep in our hearts.
We express our heartfelt sympathies to you and your family.
My heartfelt condolence to you for the loss of your father,
I hope you will be fine when days pass by,
I know no one can replace your father's place,
Try to grow courage in yourself.
Sorry to hear about the loss of your father,
We your friends will be beside you to support you,
Let your father's soul rest in peace and bless you and your family,
My deep condolences!
We can only pray to God and be in your side,
The loss is very heavy to incur,
Try to relax yourself and forget things,
Cheer up my dear friend!
We send our deepest condolences for bearing such a loss.
Your father has walked a life of faith and integrity
that has blessed us in countless ways.
Do not be troubled for he is now in heaven
where death and sorrow could never take a peek.
He is in the safest arms of our God Almighty.
We are deeply sorry to hear the loss of your father.
We know he is one of the best dads in town.
We, your friends, would like to stand by your side in this time of bereavement..
Condolences to you and to your whole family
Short Condolences Messages



Be strong always and draw your strength from the Lord.
My deepest condolences.
Death is an inevitable thing in anyone's life,
Please try to overcome this grief,
I hope days will heal you from this,
My deepest condolences to you!
I am very much depressed hearing your loss,
May God be with you to come out of it!
It is clearly understood how your feel would be,
I will be with you in your side to make you comfortable,
Let me help you to overcome this sorrow,
Deep condolences to you!
We know it's very difficult to bear such a loss.
Nevertheless, we are with you in prayers and in thoughts.
Our deepest sympathy.
Be Strong, we're here for you.
You will never be alone.
My deepest condolences.
We know how hard to lose someone so dear to are hearts.
We're here for you in your loss.
My condolences
May God grant you perfect peace
that drives away all sorrows and fears.
And in the days to come, we will surely meet him again
where death can no longer tear us apart.
My deepest sympathy for your loss.
It's a tough road that you are undertaking right now.
But we want to let you know that you are not alone in this ride.
We are with you always and may God continue
To shower his grace and comfort to you and your family.
Deepest Condolence Messages
Eternity is but a death away.
We see hope in the morning light
Where His love shines like the dawn.
Heaven is the best place where
He should rest so worry no more.
May God grant you perfect peace
that drives away all sorrows and fears.
And in the days to come, we will surely meet him again
where death can no longer tear us apart.
I know how you loved your (name of the deceased),
How you kept him inside your heart,
It is a very sad thing to watch you without your (name of the deceased),,
I hope your mind will get peace as days goes on.
My deepest condolences for your loss,
May you find courage to overcome this!
Heartfelt condolences to you,
The sudden death of your mother is unbearable,
Let her soul rest in peace,
Let your mind find courage to handle this sorrow.
We very well know it is very difficult to bear this loss,
Please try to take things easy as days by,
My deep condolences to you!
I know this note of encouragement
is never enough to wipe your tears
and sorrows away in this time of grieving.
We just want to let you know
that our deepest sympathies
are with you and your family.
There's always a time to live and be free,
A time to die and embrace eternity.
A time to cherish one's memories,
And a time to meet them someday.
Be strong. There's a brighter tomorrow ahead.
Condolences..
How can we forget the joy and sweet memories that she brought us.
She was our little angel.
But from this day onwards,
she will be with the angels in heaven
to be reunited to our Almighty God.
I know she still wears her sweetest smiles there.
Condolences.
The memories of our dear brother are indelible in our hearts.
Truly he is an epitome of strength and pillar in your home.
Now he is passing this to you.
May God's grace continue to enlighten your way and give you strength always.
Please remember that I'm always at your side.
My deepest condolences.
Condolence Card Messages
In the night of death, a bright beam shines for the heavens
Is welcoming another soul towards his eternal home.
Heaven is free of pain and sorrows that we know.
That is the best place of eternal abode with our Maker.
Don't worry for he is such in good hands.
May his soul rest in perfect peace.
I know it's always easier said than done
to cast away the pain inside your heart.
It's difficult to accept and bear such a painful loss.
I've been there and I know exactly how hard it is to cope up.
I know you'll be stronger and increase your faith in God above.
My deepest sympathy to you and your family.
May your heart find peace and comfort in these trying times.
I'm just letting you know
that our prayers and thoughts are with you always.
Bear in mind that this too shall pass.
Be stronger in the Lord.
Condolences.
Death brings pain that time can only heal,
No words could ease what we truly feel;
But with God, her joy is eternally sealed,
And cherish her memories that death can't even steal.
Lift up a smile for she is already in the paradise.
Death is inevitable for all of us whether how young or old we may be.
But death is the only means that we could embrace God's arms in eternity.
Draw your strength from God above
and cope this up with an increased faith.
Condolences my friend.
We can no longer rewind the past
but we can always await the future with hope.
We share our deepest concerns
to reminisce his memories while he was still living with us.
We would like to encourage you
even with this simple note and
tell you that we will always be by your side.
Deepest condolences to you.