Durga Puja, one of the most important festivals in India, is celebrated with full enthusiasm and fervor. We are presenting some Durga  puja messages for you. People celebrate this holiday to commemorate the victory of goodness against evil. Aside from preparing certain recipes and observing different customs, exchanging of durga puja greeting cards is one of the traditional ways of celebrating Durga puja. Now, if you are to send a Durga puja wishes and don't know what to write on it, you may use this list of Durga puja messages and Durga puja quotes. These can also be used as Durga puja SMS, durga puja card messages and Durga puja text messages.
Durga Puja Messages for Cards
This Durga Puja, I'm sending my warmest greetings to you and to your family.
May all of you have a blessed celebration of Durga Puja Festival!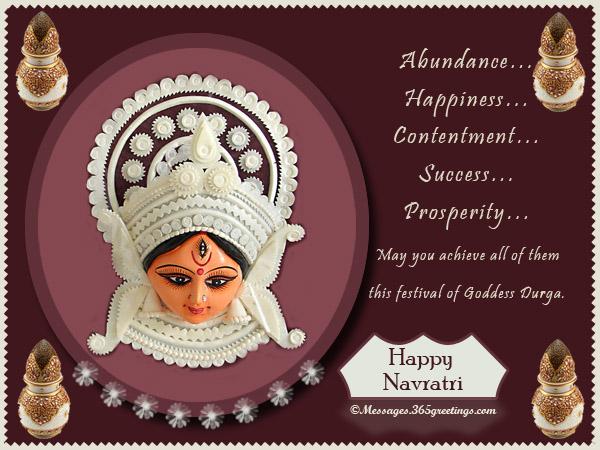 I'm wishing you happiness, joy and peace of mind this auspicious day of Durga Puja.
May all of your dreams come true and wishing you all the best.
Happy Durga Puja to you and to your family and friends.
May Maa Durga bless you with joy, peace and prosperity.
May you be blessed with happiness, prosperity and abudance by Goddess Durga.
Have a happy and wonderful Durga Puja!





I may be away, but I would like you to know that I remember you and family this auspicious day of Goddess Durga. May all of you be blessed with good health and happy life. Happy Durga Puja!
Abundance…
Happiness…
Contentment…
Success…
Prosperity…
May you achieve all of them this festival of Goddess Durga.
May the festival of Goddess Durga bring you fun, happiness, abundance and prosperity.
Sending my warmest wishes to your way. Love lots!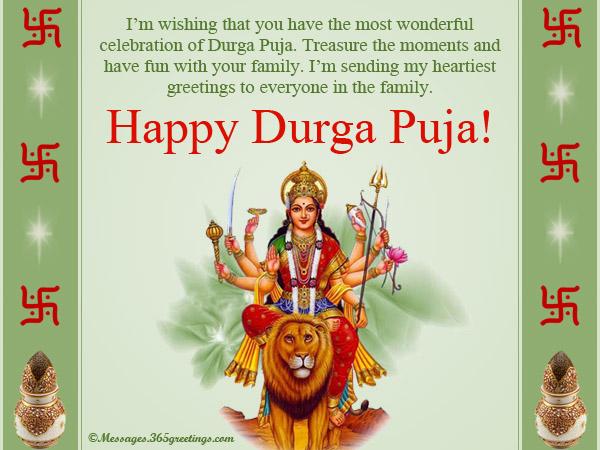 I'm wishing that you have the most wonderful celebration of Durga Puja.
Treasure the moments and have fun with your family.
I'm sending my heartiest greetings to everyone in the family.
Happy Durga Puja!
May Maa Durga guide you on your path and help you in time of need.
Have a blessed and prosperous Durga Puja!