Valentines Day is the most-awaited day for lovers. They wait for 364 days to express their love and value to them. Valentine is a person who you feel most beautiful or someone whose presence gives you happiness and love. So theoretically, your valentine may not be your girlfriend, boyfriend, wife or husband. It can be your best friend, family member and those people who give you immense happiness and love. But since most of the time, it is your lover or partner who gives you so much happiness. This makes the Valentine's Day transformed into lover's day. Valentine's Day became the day when you can express how much you love them and how beautiful they are in your eyes.
Valentine's Day is also called as Heart's Day. It started from the martyrdom of Saint Valentine of Rome. As we know, Saints are not allowed to have romance. But, Saint Valentine has immense love to people who had contact with him. He has shown many miracles with the help of Jesus. He also used to give parchment heart cutouts to Greek soldiers to show the love and affection of Jesus. This makes the heart the most popular symbol of Valentine's Day
Valentines Day Messages and Valentines Day Wishes
Now, Valentines Day is just around the corner. It's time to get ready and visit your valentine or someone special. But some Valentines gifts and card. Write some good and romantic Valentines messages that will make your lovers blush. If you are not good with words, I hope that the following Valentines messages samples will help you.
You are my Valentine,
The love of my life,
The only one who makes me smile
With just a look in the eye.
Happy Valentine's Day, my love!
Do not be afraid to love, my dear,
My feeling for you is crystal clear.
No need to fear because I will be here
To give you love and cheer.
Happy Valentine's Day!
I will always be here for you,
You are the reason in everything I do.
I will never ever let you go,
My love for you will continue to grow.





Today is Valentines Day
I feel so blessed to have you as my Valentine
Happy Valentine's Day, my love!
You my lover and Valentine
I will be always with you dear
Happy Valentines Day
They say it is Valentines Day,
But I am sure to know what is valentine
They must see you.
You are my valentine and I am lucky
Happy Valentines Day
You give me the inspiration,
You love me for no reason.
You are my Valentine
You are the fulfillment of my mission,
That is to love a beautiful creation.
Happy Valentines Day
Happy Valentine's Day Greetings, Valentines Wishes Greetings
You care for me,
Stand by me,
Make me happy
It makes me think I'm lucky.
Now, my baby
Let me return the favor—
Be my Valentine maybe?
I wrote your name in the sand, but the waves washed it away,
then I wrote it in the sky, but the wind blew it away.
So I wrote it in my heart and that's where it will stay.
You give me so much joy,
Every moment with you I truly enjoy.
Because you are my Valentine
Our love overflows
I wish we'll continue to glow!
Happy valentines Day
Love when shared becomes more special.
Do not be sad if sometimes you get hurt.
It is only a way for you to know the real meaning of love.
Happy Valentine's Day!
Your presence give me Joy;
Your look gives me pleasure
You are my valentine
May our love flourish forever
With the spirit of Valentine
Happy Valentines Day
To you belongs my love
You are the only one that I want to have.
Smile and you will make me glad,
You are the best gift that I ever had!
I love you so much!
Valentines Day Card Messages, Happy Valentines Day Messages
Make your Valentine greeting more personal by creating your own Valentines card with words that will touch the heart of your love. It is nice to fill it with your own romantic Valentines day wording. But, if you find it a little hard, you may try to make use of the following Valentine greetings and Valentine wishes. You may play with these valentine card messages, valentine SMS messages and romantic valentine messages too by adding your own ideas.
With you I learned
That love is great
So do not forget
The moments we shared!
We have been through a lot,
And never did we part.
The love we had from the start,
Continue to linger in our heart!
Let us always remember
The love that binds us together.
May we stay forever
In love with each other.
With you I became a person that is full of life.
With your love I found all the reasons to survive
I do not know what magic you did,
But without you I will not be complete.
On Valentine's Day I want to greet,
Everyone that I will meet.
So that on this special event,
I know I have a lot of love to share.
I will love you always,
Give you all the happiness.
With God as our guide,
Things will go just right.
You are my all,
Always there whenever I fall.
You lift me up when I am down,
Cheers me up when I am sad.
You are the one that I love.
As many as the bees living in the beehive,
As sweet as the honey they give.
As fresh as the flowers in the garden,
And as gentle as the children.
That is how you mean to me.
Happy Valentine's Day!
Valentines Day Messages for Her
Valentines Messages for Girlfriend, Valentines Day Greetings for Wife




Honey, thank you for saying "I do".
You are my greatest asset.
I love you!
I will never get tired of saying how much I love you!
You have taken care of me and have given all the love that you can give.
Thank you very much! Happy Valentine's Day wifey!
You never cease to surprise me every day with your charm.
Your smile brightens up my day.
You are the one that keeps me feeling young and loved.
Happy Valentine's Day!
I don't know what I did to make a beautiful woman like you
fall in love with a guy like me.
I am so happy that I chose to love a woman who looks beyond
what the eyes can see.
Happy Valentine's to you!
You are still as beautiful and sexy as you are the first time I saw you.
I cannot help to fall in love with you more and more each day.
I love you so much honey!
I see your face in every person that crosses my path.
Is this because you are always in my mind?
I always feel the warmth of your loving hugs and tender kisses even if you are away.
These make me too long for you more and more each passing day.
I love the way you make me feel.
It is so special and I cannot find the right words to explain it.
I guess this is really love.
We feel it and no need to explain why.
Your smile brightens up my day.
Holding your hands show that I own you.
Having you beside me is a real treasure.
You are mine and I will love you with all my heart.
Just the thought of you makes me excited.
Imagine what more can I feel if we are together.
Every moment with you is valuable to me.
It is a precious gem that I will forever keep.
You are beautifully wrapped with all the characteristics that I love.
You are specially delivered to me by God.
Your value is one of a kind.
You are my love and forever you'll be in my heart.
You make each day special because of your love.
Your kind heart radiates from inside out.
You inspire me to love you more and more.
Thank you for the love that keeps us strong.
You accepted me for who I am.
You never demand me to change.
You allowed me to be the person that I am and not the person that you want me to be.
Your love did wonders.
You may not know it, but I am me because of you.
I love you!
You are the only person that keeps me warm when I feel cold.
You comforted me when I am worried. Lifts me up when I am down.
You are not just my love.
You are also my best friend who never gets tired to listen to me.
You are a companion, my best friend and my one true love.
Cute Valentines Day Greetings, Romantic Valentines Day Greetings
My day will not be complete without thinking of you.
My heart beats so fast whenever I do.
Did I ever tell you how much I love you?
I can't I because words are not enough to say it.
Love, love, and love.
I am sorry but that is the only feeling left in my heart for you!
I love you!
I haven't worn a smile for the longest time I remember.
But when I started loving you, things changed.
This magical smile can't go off my face.
I think I need to see a doctor.
My heart beats so fast and it beats even more when we are together.
I love you!
Like a monkey, you kept on hanging in my heart.
Like these cute little pups, you are always eager to see me.
Like my pillow, I love to hug you.
You are everything to me.
You are my baby.
I will take care and cuddle you gently.
You deserve to be treated like one.
Happy Valentine's Day!
I am in love with you!
Can we make it official?
How would you know that I care if I will not let you feel?
How would you know that I love you if I will not tell you?
I wish God will give me the guts to do so.
Is it okay if I invite you to grow old with me?
If I haven't told you that you are a good person, well I you are.
If haven't told you that I love you, I do.
I do not look like a supermodel.
But when I am with you, I feel as if I am the most beautiful girl ever!
My arms are stronger because of you.
My hands grip tight because of you.
My life is special because of you.
I love you!
So slowly you came yet you grabbed my heart so fast!
Today, I am so proud to announce that this man is mine.
I have fallen madly in love with him.
Valentines Day Quotes and Sayings
Valentines Day Wishes Quotes, Valentines Quotes Messages
Valentine's Day is one of the perfect time to let your partners and significant others how you feel about them. Make them feel special and remembered this Valentine's Day. Here are some Valentine's Day quotes and Valentine's Day sayings that you can put on your love cards and ecards.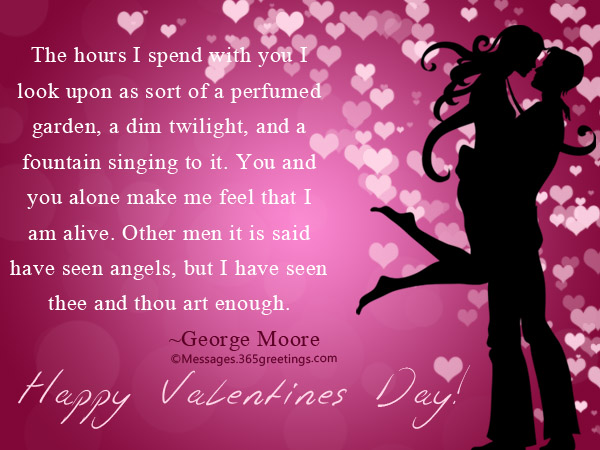 Love is an irresistible desire to be irresistibly desired.
~Robert Frost
Love is a canvas furnished by Nature and embroidered by imagination.
~Voltaire
I love you like crazy, baby
'Cuz I'd go crazy without you.
~Pixie Foudre
Love is the silent saying and saying of a single name.
~Mignon McLaughlin
True love stories never have endings.
~Richard Bach
Gravitation is not responsible for people falling in love.
~Albert Einstein
For you see, each day I love you more
Today more than yesterday and less than tomorrow.
~Rosemonde Gerard
Love – a wildly misunderstood although highly desirable malfunction of the heart which weakens the brain, causes eyes to sparkle, cheeks to glow, blood pressure to rise and the lips to pucker.
~Anonymous
Love is a smoke made with the fume of sighs.
~William Shakespeare
The hours I spend with you I look upon as sort of a perfumed garden, a dim twilight, and a fountain singing to it. You and you alone make me feel that I am alive. Other men it is said have seen angels, but I have seen thee and thou art enough.
~George Moore
Valentines Day Messages for Dad
Happy Valentines Day to the Best Dad in the World
Who says Valentines day is just for lovers? It can also be a perfect timing to express your affection to the first man you love for all of your life – your dad. Show him some love and affection by giving him a Valentine's Day cards with some of the best Valentines day greetings and wishes for your one and only daddy.
Dad, since I have no special man yet,
I want you to be my Valentine
For you are the very first man I love
Happy Valentine's Day, Dad!
Dad, thank you for everything.
You are the best dad in the world.
I am so happy to be your daughter.
Happy Valentine's Day!
You acted like a kid and play with me
You acted like my friend when I needed one
You acted the best parent when you need to be dad
Thanks for acting those roles for me
Happy Valentine's Day!
Dad, every moment I spent with you is priceless
You are so cool, handsome and kind.
It's really enjoyable to be with you.
Thanks for everything.
Happy Valentine's Day, dad!