A morning started with a wish from our loved ones will be so good to feel. Send these romantic good morning messages convey your love, affection and care along with your wish to start a day. Your recipient will feel thought of as soon as they get your sweetest good morning wishes. Who wouldn't want to start a day with romance and smile? A smile everyday is probably the greatest and most romantic gift you could give to your special someone.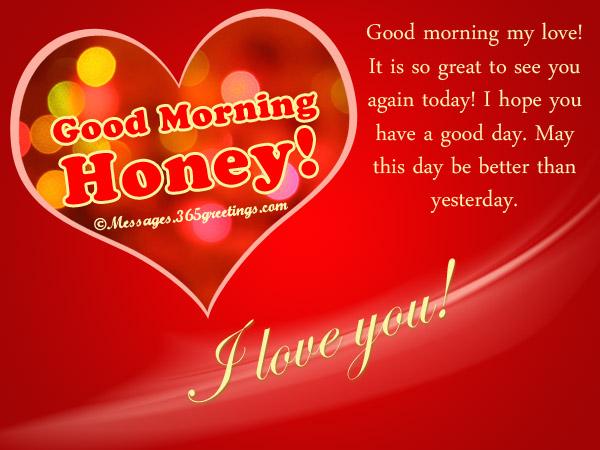 It is Easy to Cry when You're in Pain ,
Easy to laugh when you're Happy
But when one can Cry in Joy and Laugh in pain
Shows the Real Inner Power !
may God Give You that Strength ,
Good Morning!
The Sun Lights Up The Day,
but you Light up My Life
Good Morning Sweetheart !
When You read this Message
remember You have been In my Thoughts All Night Long
If I was there in your thoughts too
Smile and send me a Good Morning Kiss too. .
Good Morning!
Every New Day
Every New Morning
Makes Me Fall in Love With you again My love
Good Morning and
Have a Nice Day Ahead.!
Each day is a miracle of God.
Waking up is a blessing made more special with you.
Morning is a gift that we should be excited to open.
Start with a smile and everything good will follow.
Loving you is like a new day.
It is fresh and true.
Good morning, sweetheart!
Romantic Good morning Messages for your love

May this lovely morning brings a new fragrance of romance in your life and fills your heart with love. Good morning!!
May the sun shines more brightly for you today, may the flowers smell sweeter for you, may this day be your day in every way dear! Good morning……….
My morning does not start without sending you a message of my love and best wishes for you, so wish you very very Good Morning dearest!!!!!
My message shows that I think only of you as soon as I get up on early morning, so here is my wish – Good morning with all my love for you, and only you…………….
As sun smiles on you today, your luck may smile too today…. Good morning and walk forward to your lucky day!!
Move on with this new day and let this new light show you the fresh direction of your life……… Good morning for a new start!!!!!
A morning means one more day given by God to work and do good to his creations…….. So wish another Good morning for a meaningful day!!!!!
A Good morning wish for giving you a heavenly feeling on this sweet morning, that enables you to live every moment of life happily, so that no sorrow can ever touch your heart!!!!!!!!!
Confidence shows the way towards all success, so start the day with fresh confidence in yourself………. Good morning for a more confident day!!!!!!
Sweet Good morning Messages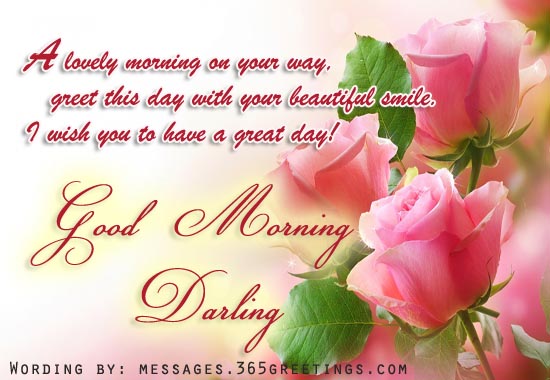 Share this card in facebook
Hugs and kisses on your way,
Waking you up to start your day!
Good morning, darling!
What do you want in the morning?
Chocolate drink or coffee?
Pan cake and milk tea?
Or just simply HOT ME?
Good morning!
Smile can make a day complete
Hug can make a day better.
So I'm sending my smiles and hugs to your way.
For you to have a complete and better day!
Good morning!
God is good,
Every day He gives me a gift that is simply irreplaceable
To have another morning and let my dear ones know that I love them with all of my heart.
You're included sweetheart.
Good morning!
Sharing smiles with someone you love is a great way to start a day.
Have an awesome morning, dear!
Handsome and kind boyfriend,
Happy life and successful career,
What more can I ask for?
Have a great day, sweetheart!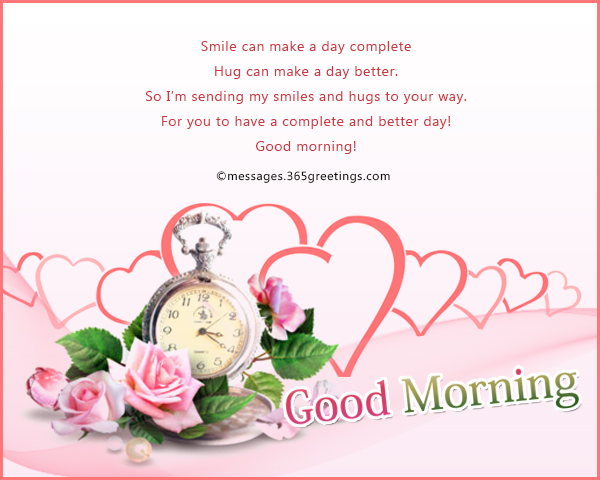 Hey sleepyhead,
Time to wake up
Time to brush your teeth
Sip some coffee
And eat some bread.
So I can give you my morning kiss!
I can't sip a coffee with you
I can't have breakfast with you,
But by heart I am with you,
And I am always thinking about you.
Good morning, baby!
A cup of coffee
For my sweetie
Didn't put any sugar
Coz my love is sweet enough.
Good morning!
Good Morning My Love
In this section you can find a collection of Sweet Good Morning Messages for your love, you can highlight to share it in twitter or facebook. We are sure that these messages will show you how to say Good Morning My Love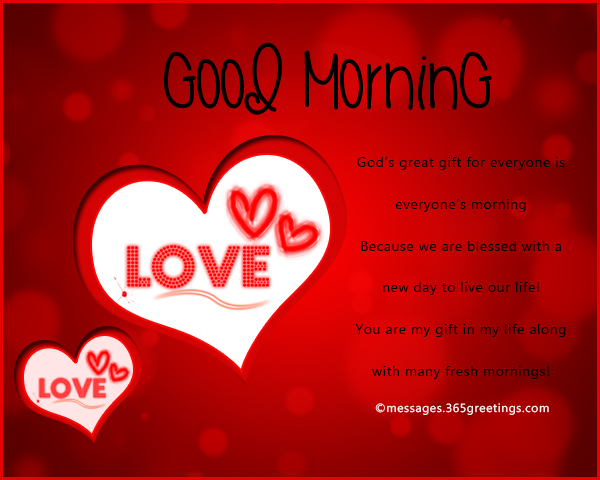 Good morning my love!
It is so great to see you again today!
I hope you have a good day.
May this day be better than yesterday.
I love you!
I received another wonderful gift this day.
It is you, silently sleeping beside me.
Wake up and let's start our morning with kisses and hugs
Good morning sweetie.
Finding the right person to be with you each morning is hard.
Just wait until God give you your match.
I am lucky I found mine here close by my side.
Good morning!
Every new day means a new chance for us to share our love and life together.
Let's celebrate each morning God has given to us.
Make it worthwhile and lots of love.
Good morning!

Mornings are more special because of you.
I would be glad to spend all of my mornings for the rest of my life.
Good morning!
I open my eyes and I see you.
I extend my arms and I touch you.
It is indeed a good morning whenever you are here by my side.
Good morning!
I do not care if it is a cloudy, rainy, or sunny day.
What is important is that we will together greet each new day with so much love.
Good morning, honey!
Romantic Good Morning Messages for Him
Want to send good morning text messages to boyfriend as soon as you wake up? Then try an sms service and start typing your romantic love text messages for him. Guys, you can also do this for your girlfriend, same with husbands and wives.Get your cellphone and start typing or cut and copy these romantic good morning messages for him.
Knowing that there's someone waking up as the same time as you,
Thinking that there's someone also thinking about you.
I am sure, It's a good way to start your day.
Good morning!
I hope you had a good sleep,
Have you dreamed of me?
Coz I've dreamed of you.
Just to let you know that I miss you
Good morning, darling!
You are the first thing to come to my mind as I wake up this morning.
I hope you're having a good day!
I wake up this morning feeling lonely,
I go on with the day thinking why I feel empty
Then I realize I haven't greeted you yet,
So here I am wishing you to have a great morning!
Enjoy your day!
good morning texts for him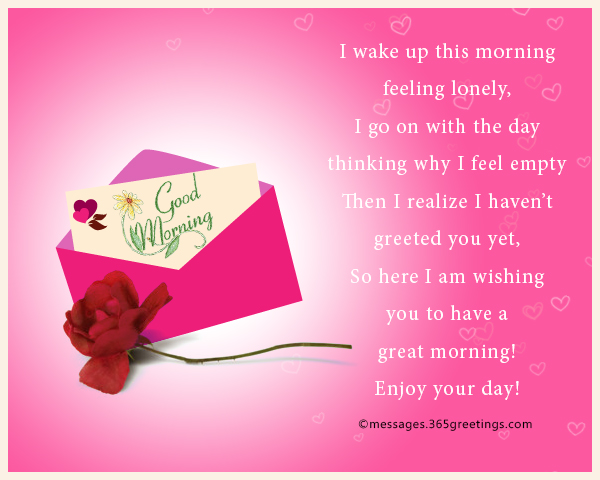 Wake up, sweetheart!
It's time to open your arms and embrace the new day
Welcome happiness and success,
Good morning!
You and I,
Welcome the new day with smile
Embrace the joy and happiness
Enjoy our day to fullest!
Have a great day!
Do you know first person I think of as soon as I open my eyes?
He's the most adorable, handsome and greatest boyfriend in the world!
And he's smiling right now.
Good morning!
Sweet Good Morning Messages for Her
So you are looking for more sweet messages for your girlfriend. Well go through this and you will be able to find some great romantic messages here.
Before I go to sleep, I miss you.
And as I wake up, I miss you.
Letting you know that I'm always thinking of you.
Good morning, sweetie.
Here comes another morning,
Happiness and joy it brings,
Another time to have a chance
To make you feel you're in my heart.
Good morning!
You are my sunshine
You are my light
You make everything feels alright
I feel so lucky to have you,
A girlfriend who's beautiful and kind, too
Good morning!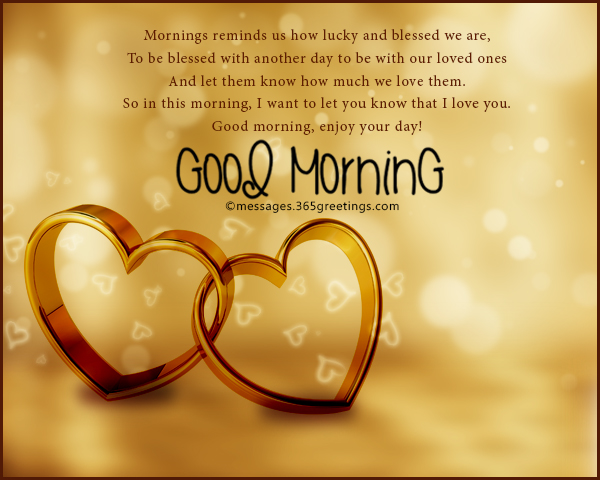 Mornings reminds us how lucky and blessed we are,
To be blessed with another day to be with our loved ones
And let them know how much we love them.
So in this morning, I want to let you know that I love you.
Good morning, enjoy your day!
As you wake up in the morning,
Start counting your blessings,
Check your phones and emails,
Read my thoughts saying Good morning!
Romantic Good Morning Quotes
Good morning love messages contain words that can surely melt your love's hearts upon receiving your wish in the morning. Can be sent as SMS, these sweet good morning messages can really be inspiring. Below you can find messages to wish good morning in a romantic way. This section also includes some good morning messages for your love. Feel free to share these samples of messages for morning to your friends as well.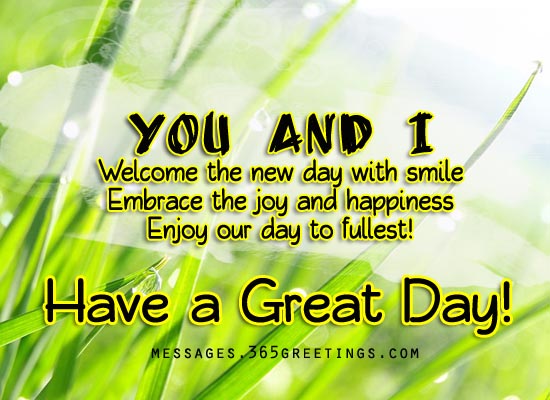 Get up from this bed little one
Another beautiful day has come
Get out and play with the morning sun
Greet the day with smile my fairest son
Rise and shine for a new day has begun
Let's go out and feel the morning sun
Embrace what this future will bring
Savor what truly is a good morning
Enough from the thoughts of yesterday
'cause a new dawn will renew the day
Share with me this cup of coffee
Feel the cool wind
Throw away the pains of the past
as the gloomy nights never last.
Be awake and greet the rising sun
New mornings will always be this fun
Fill your cup with the finest brewed coffee.
Take a sip and set yourself free
From the memories of long tiring night
This better morning brings brighter light
Romantic Good Morning Text Messages
The beauty of your eyes can never be seen
without the radiance of the morning sun.
So let us wait for the light to shine
As I will witness the future in your sparkling eyes.
Good Morning, darling!
No matter how gloomy the night is,
the best morning always bring my princess' sweetest kiss.
Sharing this cup of coffee to a maiden like you
was the dream of my dreams coming true.
Good morning, baby!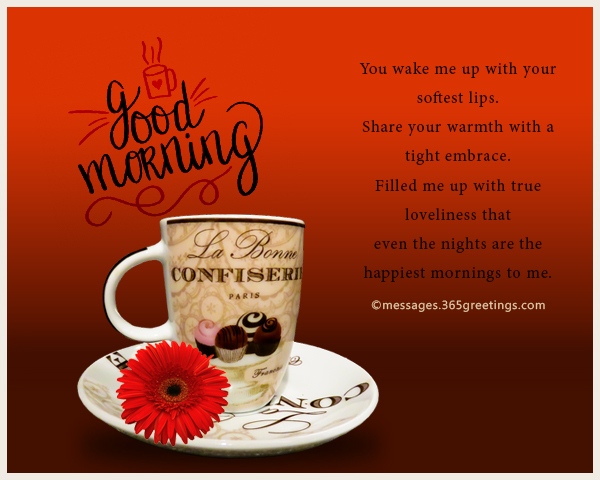 You wake me up with your softest lips.
Share your warmth with a tight embrace.
Filled me up with true loveliness that
even the nights are the happiest mornings to me.
Waking up on the wrong side of the bed was history for me.
Because an angel descended from the heavens to give me glee.
Good Morning Love Messages
I may not carry flowers,
I may not carry sweets to wish you good morning
But my wishes will make your day colorful
As flowers and a sweet day more than sweets.
A lovely morning on your way, greet this day with your beautiful smile.
I wish you to have a great day ahead.
Good morning!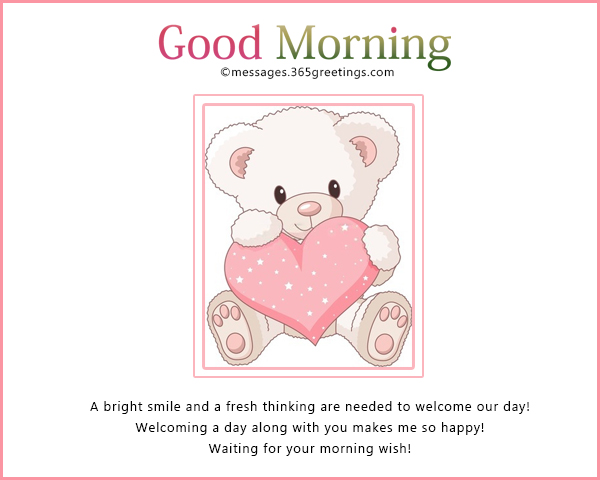 Cool breeze is touching you to wish you Good morning!
Birds are twittering to wake you up from your sleep!
Wake up my dear here is my Good morning wish to start your day!
Lucky to have you in my life!
I may not be near you to wish this morning
But my thoughts are always with you forever!
Good morning my sweetheart!
Forget about the past things happened yesterday,
This day is going to be a fresh day like your pure heart!
Good morning my darling!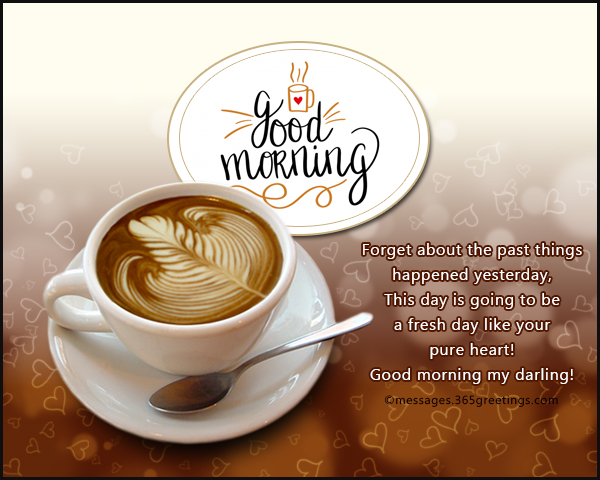 You are the beautiful song of my life!
I wish to be your music!
Have a nice day!
Happy morning my dear
Wake up along with the sunrise and start your day!
My morning wish is going to get completed with your reply message
So don't forget to wish me back my dear!
Good morning!
Love Good Morning Text Messages
The silence of night is broken by the chirping of birds
And the darkness of the night is faded away by the sun's rays!
I am here to wake you up from your sleep!
Get up and get ready for your brushing.
Good morning!
My dear wake up from the dream world,
Here is the world welcoming you to face a new fresh day in your life!
Have a great and wonderful morning!
God's great gift for everyone is everyone's morning
Because we are blessed with a new day to live our life!
You are my gift in my life along with many fresh mornings!
Many beautiful things are waiting to welcome you to this new day.
Wake up my beauty, wake up!
Let this morning see your wonderful smile and energetic activities!
Have a blessed morning
I wish to shower my love on you on this special morning,
so wake up my dear.
Let's start the day with my kiss on your sweet cheeks!
There are still more kisses to follow if you want to have it!
Good Morning Sweet Heart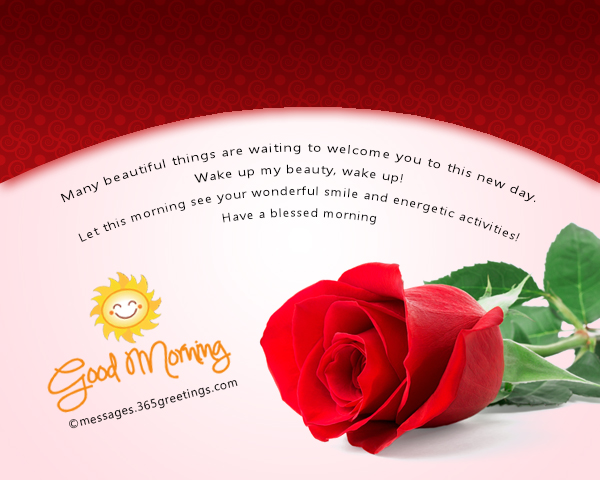 Some days I feel like I can have my Own Sunshine . .
and that Sunshine is YOU my dear !!
Good Morning Dear !
Rise Up Quickly
Start the Day Afresh
Grab Your Cup of Coffee
And remember my Name in your Heart!
Good Morning my Princess!
My day is Incomplete without –
Hearing Your Voice,
Holding Your Hand,
Seeing you smile
And
Wishing You a Warm Good Morning!
I am so lucky to have you Dear
I just wish to wake up and see your Smile
Every Morning for the Rest of My life
Good Morning !
I remember the Time I saw You For the First TIme
Like a Ray of Sunshine You made my Life Colorful and Bright
Here's Wishing that You A Warm and bright Good Morning
so That Your Day is As Colorful as Your Smile!
Gracious God Has Given Us Everything
Let us Thank him for the Beautiful World He has Given Us
And I shall thank Him For Painting You in My life
Good Morning Dear !
Good morning wishes for lover
Good morning sweetheart!
You are like dew on the flower,
So fresh and obviously your day is going to be beautiful!
Very Good morning
This is going to be yet another wonderful day in your life!
Wake up and start your works with a bright face carrying the cute smile on it.
Rock your day dear!
Good morning!
A bright smile and a fresh thinking are needed to welcome our day!
Welcoming a day along with you makes me so happy!
Waiting for your morning wish!
Good Morning Messages for your love
Below you can find a collection of Good morning messages for your love. Browse through this sweet good morning messages and make her happy by sending it through sms or email.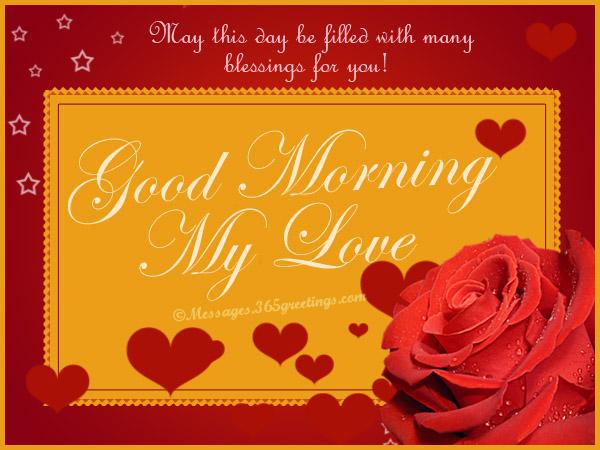 New day, new life.
A nice present with God.
I love to share each new day with you.
Good morning!
Waking up and seeing you next to me is such a blessing indeed.
Have a nice day ahead!
Good morning, love!
I love to see your smile every morning.
It is a good thing to start my day.
Good morning my love.
Good morning love quotes for her