Planning to give your parents a special wedding anniversary gifts or treat them in a fancy anniversary dinner? A nice anniversary flower arrangement and a sweet anniversary card is a good option to complete the package. Express your wedding anniversary greetings using heartwarming words. Here are some here are some samples of anniversary messages for parents that you can write to anniversary card or ecard along with your anniversary gift. This collection of messages for anniversary includes romantic love messages and inspirational love greetings for anniversary.
YOU MIGHT ALSO WANT TO READ:
Anniversary Messages for Parents
I first witnessed love when I was kid. It's from the two people I call mom and dad. Happy anniversary!
If I were to pick my favourite superheroes, I will pick my parents. Because first of all, they raised me wonderfully; second, is because they were there for each other through all the rough times.




Mom and dad, your relationship taught me how to trust, take care of the ones you love and stay all throughout. It is what they call true love. Happy anniversary![/snip]
Happy anniversary mom and dad! Thank you for raising us properly and bringing out the best in us. You are our inspiration, we love you!
Thank you for showing us that, what you need all along to surpass all the rocky roads in life is each other. Happy anniversary!





You guys are smart. You figured out that you need each other as much as your kids need you guys together. For that, happy anniversary!
It makes me proud that I have parents that raised me decently and that, They love each other endlessly. Happy anniversary!
When I grow up, I want my husband and I to be just like the both of you. Happy anniversary!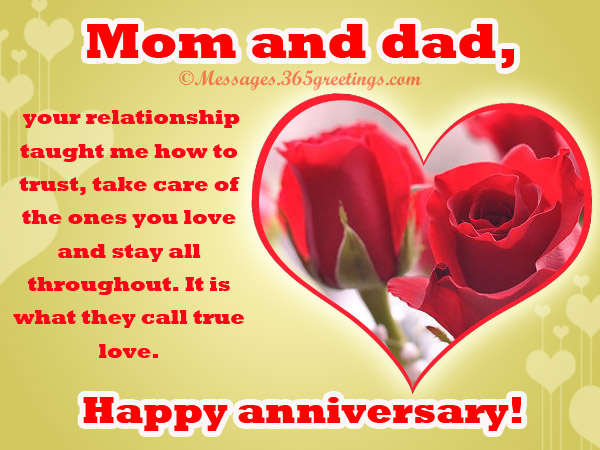 Sticking to each other for many years; Loving endlessly and cherish each other. You guys rock! We love you! Happy Anniversary.
Tips for Wedding Anniversary gift…
Personalized anniversary gift is a good option as it conveys your personal touch on it. This is also letting the recipient know that the gift has sentimental value.
Choose a gift that both of the couple can use.
Make the gift wrapping creative. Add ribbons, glitters, stickers and ornaments.
Try online shop for wedding anniversary gifts for more choices.
Anniversary Gift Ideas
Scrapbook (with photos of the couple)
Souvenirs (from places they like to go to
Couple Jewelries (couple ring, personalized bracelets)
Dinner Reservations
Vacation and Trips (Send the couple to one of their favorite place)