If you are looking for the best 18th birthday wishes and greeting for your friend, daughter, granddaughter, cousin, etc. who's celebrating her 18th birthday, you may want to refer to our examples of 18th birthday messages. Birthday is the important day in ones life, what more if it is your 18th birthday. We consider 18th birthday is one of the most memorable among other birthday and said to be the starting point of achieving career and goals. On this special day for them, giving birthday gifts and even simple addressing of 18th birthday messages and greeting can give more happiness for her during this special celebration.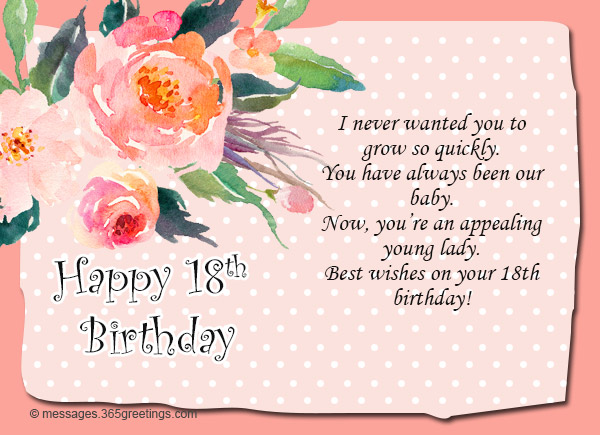 Happy 18th Birthday Wishes, 18th Birthday Greetings
Here are some heart warming 18th birthday wishes and greetings for your friends and colleagues. Please browse through other sections if you are looking some special birthday wishes
Yay! No more a kid but still a teen,
So many things still to be weaned;
But we are just by your side to guide your steps,
In tasting life's width, height and depth.
So ride on! Give it a blast!
You're 18 at last!
I never wanted you to grow so quickly.
You have always been our baby.
Now, you're an appealing young lady.
Best wishes on your 18th birthday!
Hurray! Now you're 18!
You're now entering the portal to adulthood.
Relax, chill, have fun and enjoy.
Life has still a lot to offer many days from now.
Have a sweet ride today!
Oh yes! You're 18!
Welcome to maturity!
In other words… old guy!
You're 18! It's a fact.
Feeling young is a fallacy.
So Grow up!
Happy birthday anyway.
Happy 18th birthday!
Squint all you can.
It's your turn to shine!
Birthday Greetings for 18th Birthday Celebrant
Happy 18th birthday to you!
I wish you have a great time on this special day and I officially welcome you to your maturity.
From this point on, you are now part of the mature Club.
As your age continues to add up in numbers,
May your life also add up in good memories, good friends, and good values to learn from.
Happy 18th birthday to you!
You have now reached the point,
Where you will not be treated as a child anymore,
So as you celebrate more birthdays and grow up,
Make sure that you grow up for the better.
I wish you the courage to grab all the opportunities that will come by you
And I wish you the perseverance to live your life to the fullest.
Happy 18th birthday!
As an 18-year-old, you are starting to gain your independence.
This could be an exhilarating thing to behold.
But be careful, you are still new at the whole adult thing.
Don't rush into it. Enjoy your teenage years.
Happy 18th birthday!
Sometimes it is so hard to believe that you've reached adulthood!
Time flies by so fast. One minute, you're this clueless kid,
And now, you've turned 18!
I hope you have an exciting year ahead of you,
And that you make the most out of being 18.
Happy birthday!
You are very lucky today, not just because it's your birthday,
But also because you are both an adult and a teenager!
You may have responsibilities, but then again,
You can still have fun and go crazy like a kid.
I wish you have an amazing time today.
Happy 18th birthday!
YOU MIGHT ALSO WANT TO READ:
18th Birthday Wishes for Daughter, 18th Birthday Quotes for Her
18th birthday is one of the most memorable birthdays for girls to celebrate what we called debut; this is throwing some special or maybe grandiose party for them. Addressing some birthday wishes and greetings ca helps to contribute some joy and happiness for them to that special day for her. Here are some birthday wishes for daughter: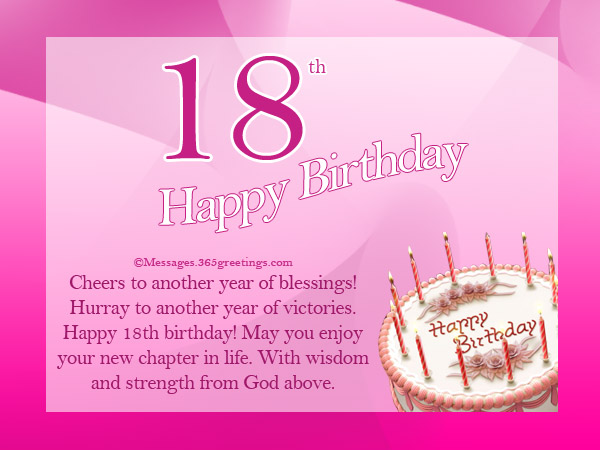 Eighteen candles to blow,
Eighteen years of blissful joy bestowed;
With a bunch of eighteen roses,
The first dance belongs to me, my princess.
Happy 18th birthday!
Your dad and I have always been proud of what you've become.
Now that you're eighteen, we pray that you will continue
to be wise and responsible in your decisions.
Happy 18th Birthday, Sweetie.
It feels like yesterday when we held you delicately in our arms.
Now, you're a full grown beautiful lady.
Time has truly passed us by.
Nevertheless, you will always be our angel until the end of time.
Happy 18th birthday!
We love you so much.
Eighteen is just a start of tasting what life has to offer.
Always remember that life is what you really make it.
I wish you all the best from this day onwards.
Happy 18th birthday Sweetie!
Being 18 entails a greater and wider perspective
with a load of privileges along the way.
Just be wise enough which stuffs to put on your cart.
Welcome to the world of adulthood.
Happy birthday!
18th Birthday Messages for Son, 18th Birthday Quotes for Him

Since everyone is celebrating their birthday every year and there is no exception, not only girls are happy and enjoy on their 18th birthday but also boys, they also celebrates it with happiness and on this special day for him. Find some heartwarming 18th birthday wishes for boys here
They say you're physique resembles mostly of my features.
It's not being boastful.
I'm just a proud dad looking at his son turning to be the man he is ought to be.
Welcome to adulthood son!
You're officially 18, son! I'm so proud of the man you've become.
All these years, you have been such a joy and blessing to all of us.
Wish you all the best.
I love you.
It's your birthday!
But I have received a gift from God that I'm so grateful of – you, my son.
I am so happy and proud that you have been so fruitful in the past 18 years.
Happy birthday!
You may be already welcomed into adulthood,
But you still have two good years to enjoy being a teenager.
Make the most of it.
Happy 18th birthday!
Happy 18th birthday!
Go out and be merry because now,
You don't have to hide that stolen bottle of sherry.
Congratulations on being legal!
Congratulations! You are now in the legal age to drink!
Enjoy, but not too much, my friend!
Have a happy and wild birthday.
Now that you're 18, more responsibilities are definitely on your shoulders,
But don't worry! Relax and take it easy.
You have the rest of your life to spend making mistakes and learning from them as well. Have a wild and happy birthday!
18th Birthday Messages for Friends, Happy 18th Birthday Greetings
Be one of those person n that can help your friends to be make their celebration memorable and be happier more. Sending some gifts or even simple birthday wishes can be much considerable. There are collections of 18th birthday wishes for friends that you can send on their birthday.
Happy 18th birthday friend! You are now a young adult.
I wish you all the wisdom in life and that you get to achieve whatever it is that you want in your life ahead.
This is a special birthday wishes for a special person to me.
For the time, advice and many things that you gave to me,
I appreciated it very much and on this special,
I want to give it back and say Thank you for all those things.
Happy birthday friend!
Happy Birthday friend!
I wish that you achieve your goals and dreams in your life,
And may God bless you all the time.
We are no more like kids who don't care about the world.
We now define our own worlds and live the best out of it.
This is the real world.
Welcome to maturity.
Happy 18th birthday.
18th Birthday Sayings and Card Verses
Happy 18th birthday!
Now, you're catching up.
Keep running the race with smile on your face.
Enjoy your day!
I may not be able to dance with you on your debut.
But I'll dance always with you in my heart though I may be miles apart.
I'll send you kisses and hugs on your birthday until the end of age.
Happy 18th birthday _____!
Being 18 is like standing on a crossroad.
Be wise in all your decision makings.
Happy birthday!
Cheers to another year of blessings!
Hurray to another year of victories.
Happy 18th birthday!
May you enjoy your new chapter in life.
With wisdom and strength from God above.
18th Birthday Card Messages, Happy 18th Birthday Messages
You can use some of the 18th birth wishes below to greet your sons and daughters on their 18th birthday celebration.




You're slowly crawling out of your teenage years.
Don't let this opportunity to make the most out of your teen years go to waste.
You are a person full of potential so maximize it while you can.
Happy 18th birthday!
A warm wishes from me and your dad, for a good and special someone for us.
I hope you will achieve your goals and dreams, I'm proud of you. Happy Birthday to you!
18 years of age is definitely a milestone in your life—it's the start of your adulthood.
But if you think that's a bummer because it is also the start of taking on serious things in life, don't. It's also the beginning of many wonderful and amazing things in life. Your life is just starting to unfold. Don't waste it. Happy 18th birthday!
Take one step at a time, enjoy every single second because this is only the beginning of a bigger phase in life. The world is officially yours to conquer, so make it brighter, Happiest 18th birthday!
Funny 18th Birthday Wishes, 18th Birthday Messages Funny
Yesterday, you're such nice boy with a young heart.
Today, you're 18! Whoa! You're gonna have a bigger and louder fart!
Happy birthday!
It's your 18th birthday!
My treat. Bottoms up.
Iced tea.
Cheers!
Best 18th Birthday Messages Wishes
"The secret to conquering the world is staying positive all through life's challenges. Remain close to the teachings we have given you over the years and remember we are still here when you need us. Happy 18th birthday my dearest!"
"Now the world will look at you as an adult and compel you to handle situations as one. But please don't forget that around your mother you can still be her little boy, turn to me when you need an answer and I'll be here for you my son. Happiest 18th birthday darling!"
"Surviving the adult world is not as easy as it may seem. But if you stay true to yourself and don't lose your ground then you will love being in charge of your own life. Enjoy your 18th birthday!"
"Happy 18th birthday darling! Embrace everything that comes with womanhood as you begin the most exciting phase about being female."
"Being 18 is exciting, but don't forget that even a 50 year old can take advice from their parents. Happiest birthday darling!"
"Toast to new beginnings! You have every reason to celebrate because you can officially make decisions about which direction you want to take in life. Happiest 18th birthday my friend!"
"Welcome to adulthood my son. Welcome to the world of responsibilities and decisions that come with either rewards or consequences. In other words, it is time to leave behind the childhood mindset and embrace adulthood with maturity and confidence. Happiest 18th birthday!"
Message for 18th Birthday Celebrant
"Turning 18 years comes with its rewards; you will from now on be given credit for the good you do. But you will also be accountable for all the failures you allow, so follow your heart and focus on overcoming the obstacles of life. Happy 18th birthday!"
"Remain positive and make all your dreams come true. There is no better time to start working on achieving your goals and turning your desires into reality. Happy 18th birthday dear!"
"Turning 18 is a significant phase in everyone's life – so take it slow and ensure you exhaust every moment of it. Learn from every mistake and always make a step forward not backwards. Happiest 18th birthday darling!"
"As you enter into the world of adulthood, remember not to lose yourself along the way. Take what is of value and reject that which is misleading. It's a cruel world so stay alert! Happy 18th birthday!"
"Congratulations! You are 18 years old. You are regarded as an adult now, though as your mother you should not expect me to take you as seriously as you may take yourself. Just have fun and enjoy! Happy 18th birthday son!"
"We are 18 years old! This means we are adults and that comes with benefits; so get ready to have a blast my friend. Happy 18th birthday!"
"As you turn 18, mine is to wish you the best that life can offer. You are entering adulthood with maturity way past your age and I'm confident that you will continue to make all of us proud. Happy 18th birthday!"