Cards are still the best way to express your best wishes and love for your loved ones. Whether be a greeting card or an e-card, sending heartfelt wishes for every occasion through cards is still the most heart touching way. So why not send and wish our near and dear ones with the best christmas greetings cards or e-cards this holiday season?
All you need to do is write your heart out on the cards and send them to your loved ones. And if you are looking for Christmas wishes for cards, then this post is surely going to delight you. In this post, you will read the most beautiful Christmas cards messages for your dear ones. You can send these Christmas greeting card messages to anyone in your personal or professional circle.
So, scroll down and discover a heartwarming and lovable world of beautiful Christmas card messages.
**********
Christmas messages for cards:
Wishing you the best of
the holiday season
and warmth of Christmas
with blissful new year.
Christmas carols and candies
for the one reading this message.
A merry Christmas and happy new year.
May your Christmas be blessed with peace and joy.
May all the jitter and glitter
of Christmas tree bring
gladness in your life!
Merry Christmas.
**********





May this Christmas bring
health, peace and prosperity along.
Merry Christmas!!
**********
Christmas time is best
spent with friends and family folks.
So, a merry Christmas to you and your family.
**********
Gift of love, peace and prosperity
be yours this Christmas.
**********
Warm wishes to you
and your family this holiday season.
May our bonds continue
to strengthen in the coming years.
**********
Christmas card wishes:
Merry Christmas card messages:
May the Christmas bells
fill your life with sweet music of happiness.
Merry Christmas.
**********
May this festive season
come bearing with it the fruits of joy,
happiness, laughter and prosperity.
**********
Christmas is more about
opening our hearts than opening presents.
**********
You are one of a kind
so here's wishing you in a unique way.
Accept this card and gift
as a token of love and merry making.
Merrrrry Christmas to you and your family.
**********





Lets rejoice the celebration
of Christmas with friends,
relatives and family folks.
Merry Christmas.
**********
Messages for Christmas cards:
Wishing you the best of life
in the coming year
and many more years after that.
May you climb the ladder of success pretty fast.
Merry Christmas and a very
happy and joyful new year.
**********
Here's a card wishing
one of the many people
who made me smile
or laugh with their being.
Thanks for being there, merry Christmas.
**********





Wishing you a wonderful day
of Christmas and beginning of a jolly new year.
**********
Good news and glad tidings
may surround you this
coming holiday season
and fill your life with joy,
pleasure and success.
Merry Christmas.
**********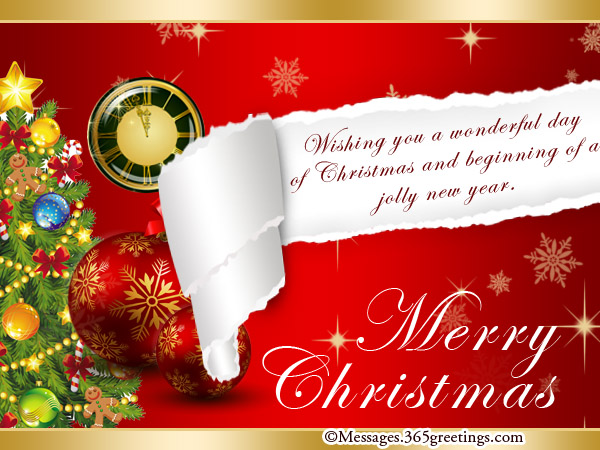 May the joys of holiday season
fill your hearts with goodwill and cheer.
**********
Hoping for an
unforgettable holiday season for you.
With best wishes,
a merry Christmas and a very joyful new year.
**********
The warmth of the holiday season
is because of all the love
that we have sent your way from us.
Enjoy the holiday season and a merry x-mas.
**********
May your home be filled
with all Christmas candies, cakes,
goodies, carols, and above all, Love.
Merry Christmas and a very happy new year.
Hope you liked all of these beautiful and nice Christmas card messages. Feel free to send these lovely ready-made merry Christmas cards messages to your near and dear ones and make their Christmas celebrations merrier. You can explore around are website for more beautiful Christmas wishes and messages for everyone in your personal and professional life. Hope you enjoy this beautiful holiday season to the fullest.
Take care and Merry Christmas!