Find the best good morning messages for friends to start with new inspiration and confidence. Sending an inspirational and motivational good morning messages to a friend will let them know that you are thinking about them at the start of the day. This will not only keep the bond in your friendship, but will also inspire them to embrace and enjoy the day ahead. Choose from our collection of good morning messages and greetings for friends below. Have a great day!
Best Good Morning Messages for Friends
"No matter how busy our lives could be,
I want you to know,
You're still remembered by me.
Good morning to the greatest person of my life, my friend!"
"Do not worry for tomorrow because your day has just begun.
Make your today productive so you can be ready for another day.
A worthy (insert day here)!"
"God's greatest blessing is God's waking you up.
That's how marvelous He is, that's how He shows his love.
Good morning to my dearest friend!"
"Did you see that?
The sun shines so bright.
So make your day right.
Have a nice (insert day here)!"
"A beautiful morning to the best and most wonderful friend in the world.
Good morning, best friend!"
Motivating Good Morning Messages for Friends
"It may be Monday morning, but don't let that stop you from enjoying your day."
"For I know the plans I have for you," says the Lord. "They are plans for good and not for disaster, to give you a future and a hope." Jeremiah 29:11. Good morning and may this give you peace of mind for the rest of the day."
"Here is a little hug and for you to have a good morning! Have a great day ahead!"
"Start every morning like you would want to. Smile and have fun. Live life accordingly. Good morning! Have a beautiful day!"
"The Best way to start my day is by wishing a good morning to you. Good morning"
"Another day is a gift.
Don't forget to share it.
Good morning, my friend!"
Good Morning Text Messages to Friends
Time to get out of bed,
and go wash your head.
Have a great day ahead!
At the end of any long day,
your bed is here, ready for you to lie on it.
True love has been found at last.
As the birds tweet,
you get on your feet.
Good morning to you!
Don't lie around
while the world abounds.
Good morning.
The sun is an early riser,
but you are a miser.
So please try and have
a good morning.
Good Morning SMS Messages for Friends
Make every minute of this day unforgettable.
Create good memory out of ordinary.
Have a Beautiful morning!
Good morning I say to you, so please pass it on.
Sending this SMS to wish and pray that you have a wonderful day! Good morning
Beautiful morning! May your day go just as well.
A simple good morning for you to start off your day. Smile and have fun!
Morning! It may be time to get up, but make it count!
Good Morning Greetings for Friends
Good morning, and may you have many little things to look forward too.
Be sweet, and others will do the same for you. Have a good morning.
Good morning. Glad to see you didn't fall off the bed! Head's up and have a great day!
Before you start your day, I just wanted to wish you a good morning and a wonderful day!
Best morning to you! Let your imagination soar for the good day you will have!
Good Morning Quotes Messages for Friends
Smile in the mirror. Do that every morning and you'll start to see a big difference in your life. – Yoko Ono
When you arise in the morning, think of what a precious privilege it is to be alive – to breathe, to think, to enjoy, to love. – Marcus Aurelius
In the sweetness of friendship let there be laughter, and sharing of pleasures. For in the dew of little things the heart finds its morning and is refreshed. – Khalil Gibran
Old friends pass away, new friends appear. It is just like the days. An old day passes, a new day arrives. The important thing is to make it meaningful: a meaningful friend – or a meaningful day. – Dalai Lama
Today I choose life. Every morning when I wake up I can choose joy, happiness, negativity, pain… To feel the freedom that comes from being able to continue to make mistakes and choices – today I choose to feel life, not to deny my humanity but embrace it. – Kevyn Aucoin
Prayer is the key of the morning and the bolt of the evening. – Mahatma Gandhi
More Good Morning Wishes for Friends
The sun has shine,
The clock has chime,
Get up and get ready,
Start the day with the smile and be jolly.
Everyday I am waking up happily,
Because I know I am starting,
My day by wishing good morning to you
Have a great good morning
I thank God for this wonderful morning, and I am praying that he will bless you even until the dawn of evening. Good morning!
As the sun shows its shining rays, I want to thank you in so many ways.
I have always been blessed of having you in my life that is why I want to express my joy.
Have a great day!
A morning without a cup of coffee is incomplete, but a life without you makes my world empty.
Good Morning Messages For A Friend
Nothing beats a morning that is inspired by sweet good morning messages from a special someone. Make every morning special and something that your dear one can look forward to with these romantic good morning love messages. You can send great good morning messages for friends or sweet good morning messages to your girlfriend.These samples of good morning greetings and have a nice day messages are free so don't hesitate to use or post to your facebook profiles or twitter accounts. Have a happy morning!
Every time I wake up,
You're the first thing that crosses my mind.
Lovely morning to my one and only!
Every night I ask God to grant me one more tomorrow to just be with you.
This routine takes place ever since I met you.
Can I say that until now, God is so loyal? I love you.
Good morning to the best man/woman in my life!
I woke up, and your face just randomly popped out in my mind.
I realized, I just miss you so much.
Good morning Sweetie!
Waking up is beautiful.
However, waking up with you makes me more thankful.
I love you.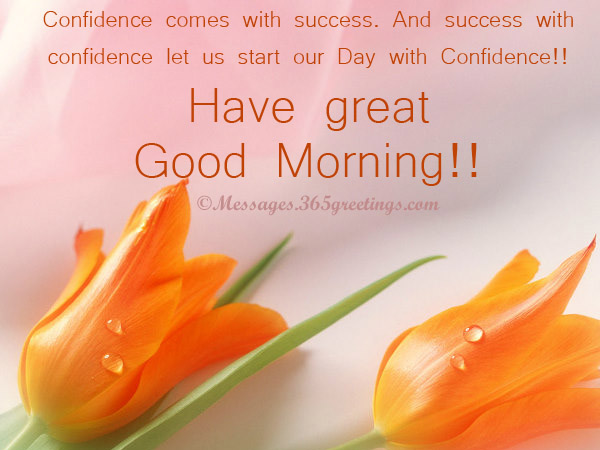 Every day of my life,
I have something to say "Thank You" to.
And that includes YOU. I love you.
Today, make yourself an inspiration for others,
because for me, YOU are. Lovely morning to my Baby! I love you.
You are my love and life,
Daily I get up to wish you
A sweet Good Morning!!
Have a Nice Day
You are my inspiration!!
You are my love
Have a great Good Morning!!





Everyday when I wake up,
You fill in my memory,
and that Inspire my day!!
Than you Dear and Have a Sweet Good Morning!!
Confidence comes with success.
And success with confidence
let us start our Day with Confidence!!
Have great Good Morning!!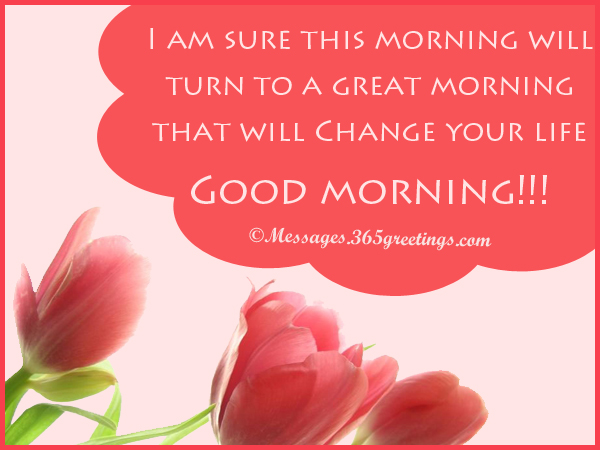 Yesterday is gone for ever,
Tomorrow will come only on tomorrow.
So today is the day for us.
Let us start with spirit and confidence.
Have a wonderful Good Morning!!
You are the light that guides me,
You are the music in my heart,
You are the inspiration of my success.
Good Morning My Dear.
Good morning text messages




Everyday passes in our life with a significant changes and success. But when you turn back we will know that there were some days which changed our life totally. Like the day you have received medical admission from waiting list due to another cancellation. That cancellation has made you a doctor!!. Or some times it may be the day you have met your wife and partner accidentally !!. I need not write anything about that day as you have experienced it already. Your future generations, your life, your wealth, your love and name it everything has changed by that meeting. And you know that some one is going to face a similar day today, may be an entrance test, or 12th year exam, or marriage. So let us send good morning text messages to them with all the good will and love you have to them.



A new day is a gift to just waste with a sad face on your face.
Smile all the way!
Good morning!
Every day is an opportunity to give.
So today I'm giving you a wonderful morning, a new chance to live.
Be happy!
Beautiful is the one who starts his/her day with smile.
Keep those "smiling" muscles moving!
Be grateful for yesterday because you learn something.
Be grateful for tomorrow because surprises are coming.
And be grateful for today for it's one more chance of living!
Have a productive day ahead!





The world is beautiful that you have given another day to witness it.
Have a great day ahead!
Spend your day with others, and you'll see the hidden meaning of God's gift of waking you today. Good morning!
You've open your eyes and you realized you're still alive.
Be thankful that you have given another day to live.
Enjoy it!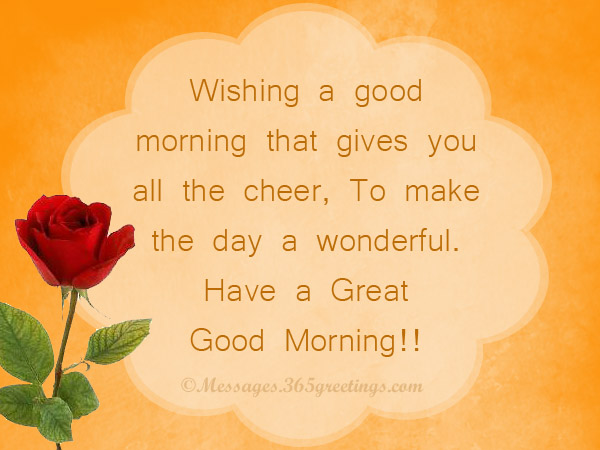 Waking up each day is one way of God's telling you that you are loved and blessed.
Have a good day all the way!
Wishing a good morning that gives you all the cheer,
To make the day a wonderful.
Have a Great Good Morning!!
It is a day that is going to be wonderful for you
So let us start the day with a great spirit and inspiration
Wishing you a Great good morning that will give you all the energy
Great Good Morning!!!