We all live very busy lives. And, often we forget to express how much we love our family and friends. A girl friend is someone who is by your side in good and bad. Who will drop everything to be there for you when you need her! So, make some time and send her a goodnight text at the end of the day to let her know you love her, you care for her, you adore her, and you cannot do without her. Such texts are simple and loving. And, do not be surprised if you are showered with hugs and kisses the next time you see her.
We are all little kids in larger bodies. We all crave for our loved ones to pamper us rotten. So, make some time and type out these beautiful heartfelt goodnight messages to your girlfriend and make her day.
1. I can't wait to be in your arms in this wonderful night. I Love you-Good night
2. Between the million days passed and million days yet to come, There's only one today and I will never want to let it pass without telling you how much I love you
Have a Good Night. Sleep well.
3. Thousands of miles I have walked with you,
There still miles to go. I will always be there with by your side my love.
Missing you my love- Good Night
4. At night when air blows my hairs, I supposed they are your kisses
I feel like melting in your arms and getting lost in your dreams.
I wish you were here with me right now.
Missing you too much my love- Good Night!!
5. There are many of stars in the sky, but I love the ones in your eyes
I wish you shin like those starts. Miss you love.
So I will think about you when go to bed-Good Night!!
6. My dream would come true one day- i wish and want to wake up in your arms
I want you to be the first thing that is see when I wake up in the morning
-till then Good Night!!Love you.
7. I want to come back at my home every night because it is in your arms- Good night. Love you.
8. The day passed like every other days, Sun rose and sets but my world has stopped.
It will move on when I will see your face tomorrow- Good Night!!
9. My pains got a light when I saw your face today and every day I want like that-
Good Night my love!!
10. I miss you love. I want to be there to hold you tightly rather than sending this loving" GOOD NIGHT"!!
11. All of my ways got their destination and all my restlessness got a peace when I saw your face today. You are the light of my life. Good Night My Sweetheart
12. You know I fall asleep by thinking of you and when I wake up I think of you and again I fall asleep. You are never out of my thoughts-Good Night!!
13. Instead of sending you messages like Good night, missing you ,love you I just want to be in front of you and give you a good night kiss you may try – Can you please smile for me once? Smile and go to the world of dreams. I will pray to God that all your dreams may come true. Good night love.
14. Never let your dream go because they are small seeds for where your beautiful tomorrow grows-Have a good dreams tonight. Love you miss you.
15. There was something missing when I went to bed tonight. So, I took my cell phone and sent you a greeting-Good Night!! I love you cutie pie – You complete me.
16. I enjoyed my today by thinking of being with you tomorrow- Good Night!!
17. You have no idea how much I feel good when I think that you are mine and I am all yours-Good Night sweetie!! Love you.
18. Moon can't shine at night just like that I can't sleep without wishing you "Good Night" my love.
19. I am sending you a pillow of happy thoughts for sweet dreams and a prayer to protect you always- Good Night my love!!
21. Stop for a moment till my heart get control, every problem coming to me, get fall away if you are with me my love- Good Night!!
22. I don't hate people as I don't have time to love the people who love me like u- GN my love!!
23. I was standing at the door thinking about whom I love the most and the one who come in my
Mind was u – Wish you a lovely Good Night my love!!
24. Whenever you get some bored, some sick or if you are a little sad-make yourself understand that you are suffering from lack of vitamin ME- Good Night my love!!
25. Just touch your heart and close your eyes and say- Good Night!!Love you.
26. Moon may not rise, stars may hide but you don't worry I am here to hold you tight- GN my love!!
27. If there it is possible, then I would make you stay in my heart every morning noon and night – Good Night my love!!
28. Words alone can't express how I feel for you just give it up and say, you are the light of my life- GN!!
29. It doesn't matter how big my heart will be but it will only be to love you. Good Night!!
30. Don't know how rich I will be but i would unable to compare you with my all wealth. Good Night!!
31. Doesn't matter how busy I will be but I will give all the attentions you so need- Good Night my love!!
32. I'll have a good night and beautiful dreams tonight because it ended with your words of love – Good Night!!
33. No one will ever care for you as I do. No one can love you as I do. GN my love!!
34. I will be there through for you no matter what. I will stand by your side when nobody else does. Good Night!! Love you.
35. I see the sign in your eyes that you r mine, I am glad to be with you. I want to be yours forever and ever. Goodnight.
36. All of my love, my care will be with you doesn't matter whether you are awake or sleep- GN my love!! I love you very much.
37. I never want to let u go and always want to be with you, in your arms- Good Night my love!!
38. I are always there in my mind, I think of you every time and gets the reasons to love you more each day- Good Night!!
39. Thank you for everything that you have done for our relationship. Thank you for every time when you make me smile. I love you. Good Night!!
40. You are there in breath of my breaths, you are in my dreams and I can breathe easily when you come in my dreams- Good Night!!
41. The best day for me is the day spends with you. Thank you for loving me so much. Good Night
My love!!
42. It is a wonder for me to have you in my life. You are centre of my life. Good Night Sweetheart.
43. My love start when I saw your face first time and it will grow until i die.GN my love!!
44. You are my entire world. You are my arms when my strength fails. Good Night my love!!
45. You were with me today thanks for making it a special one and thanks for tomorrow in advance- Good Night!!
46. I feel sad the entire day when u don't meet me and it is awesome for me when u r with me.
Good Night my love.
47. Let make this night pass beautifully because tomorrow in the morning we are going to meet again. GN my love!! Sleep well.
48. Finally the night has come and it is the time when I'm lying on the bed and missing u and just praying for you to come into my dreams. Good Night.
49. Lying on my bed when I see the stars then I think the brighten star I have in my life. And that is you.GN!!
50. I was pessimistic before I met you, you taught me how to love things. You thought me to fall in love with my life, Thank you for being in my life. Good Night.
51. I always remind my time during the day when I was with you and this gives me a great pleasure at night. Good night love.
52. My all pain gets a divine light when I just see your face. Good Night!!
53. Whenever I look at the moon I smile because seeing the moon, I think of you. Good Night Baby!
54. Sorry for not being there to hold you, Sorry for not being there to hug and kiss you but you are always in my mind and in heart.GN!! Miss you. Love you.
55. This text message is a hug to you. Good Night my love. Sleep well
56. I started flirting with you because you were the hottest girl I had ever laid my eyes on. Now I have fallen in love with you because you have the most beautiful heart I have ever felt. I love you.
57. Before I was in a relationship with you, I was suffering from commitment phobia. After being in a relationship with you, I am suffering from an addiction call love. Xo xo
58. I knew I was in love with you when I started waking up every morning dreaming about you. Good night love. Miss you.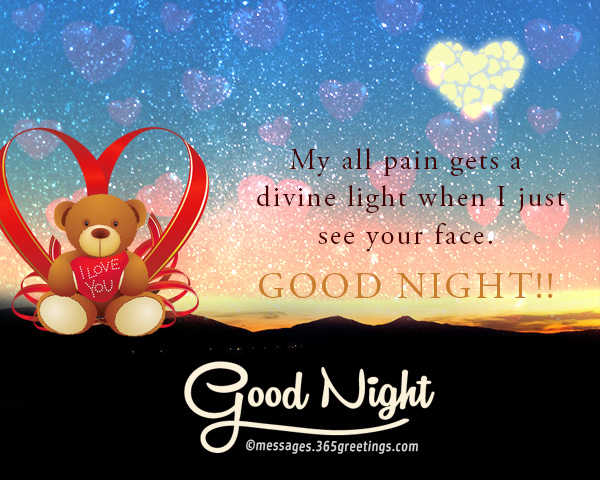 59. To survive, humans need air, food and water. I just need your hugs, smiles and kisses. I love you. Miss you very much. Good night love.
60. The only word to describe you is MINE and the only word to describe us, is FOREVER. Good night love.
61. Your love is the only weapon that I need to fight all of life's battles. Wising you a wonderful sleep my love. Good night. Sleep tight.
62. If you were my Facebook friend, I would check your updates 24/7. If you were in my twitter, I would keep tweeting I Love you constantly. If you were Instagram, I would keep uploading selfies all day long. If you were Pinterest, I would pin my heart on you. Good night love.
63. Your touch does to me what a pebble does, when dropped into the calm waters of a lake. You send ripples through my body and my soul. I love you sweetie. Have a wonderful sleep. Good night.
64. Just like how Instagram is incomplete without those millions pictures, my life is incomplete without you. I love you.
So, what are you waiting for? Touch your lover's heart today! Send them a cute good night message and let them drift into a good night's sleep, knowing that you love them.