Happy New Month everyone! This moment may come a dozen times every year, but there's no denying the flicker of excitement that awakens in our hearts when we are reminded of a new beginning and a chance to start another chapter of our year yet again.
It feels like a dozen second chances to make that change we so deeply desire, to finally keep that promise to ourselves we keep on avoiding, to quit that habit, to take that first step into the unknown, in becoming that person we so long to be.
It's a dozen chances to refresh our lives or to start again and I hope these messages inspire you to do so. Here are best collection of new month messages and wishes. Feel free to share them to your special someone, friends and relatives and cheer them for the new month.
Happy New Month Messages
New month, new beginning. Who wouldn't want to get inspired as the another start unfolds? This month, inspire someone important to you, be it your friends, colleagues, family member or even your sweetheart with these inspirational happy new month wishes and messages.
Hey you, it's a new month again, may your new month be filled with laughter and happiness extending to all the months to come.
You are a fighter and one of the strongest people I know, so March on because I know this month you're going to win all your battles. Happy new month.
As this new month begins, I hope you let go of your burdens, and begin a fresh chapter filled with peace love and everything nice.
For all you've ever dreamt of achieving, I pray this month is nothing but a stepping stone to achieve those dreams and beginning the life you've always wanted. Have a blessed month.
For every tear you cried in the past, every pain you felt and every challenge you faced. May this month bring you none of these but only goodness and goodies.
From my heart of hearts, I wish you the best this month, but more than anything I pray if you face any challenges you pull through them stronger than before. Happy new month.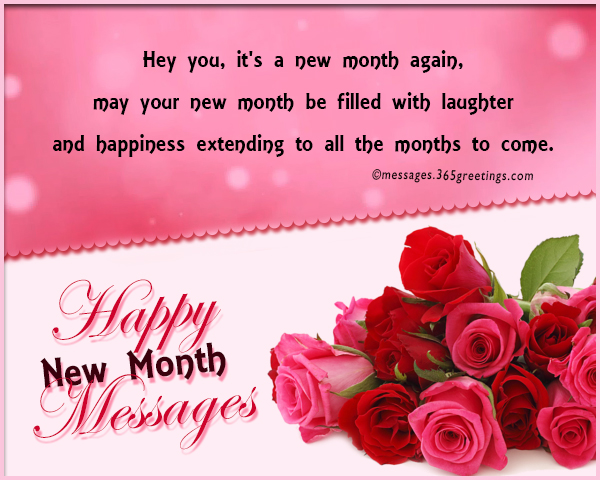 The thought that one day time with you will end scares me, and although death will be the only reason for this end, each new month reminds me to hold on to you much stronger than before because you are the most important person to me and i wish you a happy new Month!
It is never too late to do the things we've always wanted to and I wish this new month inspires you to seize each moment the best way you can. Happy new month.
May your new month the filled with no regrets or letdowns but breathtaking moments and i immeasurable happiness.
New Month Wishes and Messages
You are always in my prayers, always in my heart and the depths of my soul. Have a great month my love.
In a perfect world, I would never see you in pain or difficulty, never lacking a smile or ever in tears. I pray this new month would only mirror what I truly wish for you- happiness. Happy new month.
It's a cliché but it's true let's start over, let's make new goals and stick to them,   let's stop making excuses and do what we truly want. What do you say partner? Let's celebrate the new month together.
The best version of you still yet to come and I believe her Journey begins today! Because you are more beautiful and stronger than last month or the months before. Happy new month!
You are an inspiration to me and I thank you for the kind of heart you have. You are truly a blessing to all those around you and I wish you a month full of even more blessing than you can handle because you deserve it. Happy new month.
I pray that you find success in everything you do this new month and that you keep growing stronger everyday so that nothing pulls you down. Have a great Month.
From this month on and the rest to come may your days be fulfilling, full of passion and excitement which I know is the life you love. Happy new month my dearest.
I wish for you the things you wish for yourself. I pray wherever you go this month and everything you do will bring you joy and happiness. Wishing you a magical month.
Happy New Month Prayers
I pray this new month brings with it the peace and serenity you so truly deserve. I wish you a favorable and fun-filled month.
No one deserves a fresh start more than you my dear and I hope this month brings you the strength to let go of your past and renewed hope to start your life anew.
May your new month be as colorful, bright and fun-filled as ever. This month may you know no tears except those of joy.
It's a new month with another chance to set things right. I hope this month you beat every obstacle that comes your way and conquer every battle that may pose a threat. Happy new month!
May this month be more beautiful and more blessed than the past months and may the Sun never stop shining on your dreams as you take each step to fulfill them. happy new month my dearest!
As time passes I pray you never lose the beauty that envelopes you, body and soul. You are truly an utterly unique and I wish you a month filled with beauty and peace.
I thank God for bringing you into this new month, may your prayers be answered this month and may God's light never fade from your heart. With love I wish you a happy new month.
You are always there for me and with you in my life all things look more beautiful and brighter. I wish you a lovely new month my angel.
Next 30 days be amazing and the days after that even more awesome because you are an angel who deserves the brightest days result and his shadow of   Gloom. Here's to a month of Adventure!
Everywhere you go you bring light and everything you do Touches at least one soul. Thank you for who you are thank you for always being there, thank you for never giving up, thank you for your strength and have a wonderful new month.
Happy New Month to My Sweetheart
I pray you cry no tears except from laughter, miss nothing except the bad and may your days be ever wonderful. Happy new month to you my dear.
My darling, the thought of another month with you gives me great joy. I know I am blessed and I wish you a wonderful month.
This new month, May our love be stronger than before, deeper and more enduring because I love you even more. Happy new month my darling thank you for being part of my world.
I fall in love with you every single day and this month only reminds me how much I should cherish the time we have together. I love you so much and I wish you a happy new month.
Happy new month my love! You've brought so much light in my life and I thank God every day for giving me you. That is why I pray this month brings you everything good and beautiful.
Sometimes I wish I have the power to stop time because that's how much I long to stay with you. This new month may remind us of time passing but also it reminds me of how much I love being with you. My darling, my love may this month for you the filled with beautiful moments.
To sweetheart and queen, I wish you a new month in which you will always have reasons to smile because your smile lights up my world. Happy new month my darling.
Happy New Month to my Love
My dear, this new month, may all your endeavors be successful and may you never find a reason to cry in sorrow. I love you and wish you a wonderful new month.
You are my own Piece of Heaven, every day and every moment with you is a miracle. I pray this month your happiness knows no limits and that your sorrows last only a moment. Happy new month my love.
For the goals you've set and all the plans you've laid out. I pray you fulfill all of them this month. Happy new month my dear.
My darling husband, you are amazing and a blessing to me. I pray you see no struggles this month and that all your efforts be blessed with good results. I love you and wish you a happy new month.
From the moment you came into my life time seems more precious than ever. This new month, I hope to find more ways to love you. Happy new month my darling.
I may not say it enough but I love you a lot and I wish you a new month devoid of pain sorrows or tears. Because you are amazing!
I will hold your hand through anything good or bad but I hope this new month brings with it only the good because I can't bear to see you sad. A lovely new month to you my love.
Happy New Month for Friends
It's a new month again, marking another month of having not only my best friend but the best person I know. I wish you a splendid month ahead.
Happy new month bestie, the past months may have been tough but I had a talk with the Stars and they have promised to align in your favor. I wish you nothing but smooth sailing from here.
It's the first day of the month and I thought of you. Thanks for being in my life and may this month be as bright and wonderful as the person you are. I wish you a happy new month.
Here's to a month with no pains, tears or losses. but if you do face pain may it make you stronger, if you do cry may your tears be those of joy and if you do lose something may you find something even better. I wish you a great month!
Many things have stopped us from going through with our plans and goals. Let this month be the month we say no more and get kicking! Happy new month bestie.
Are you ready to show much how hard you can grind? I think you are! and I say you should! I wish you an unforgettable month of Awesomeness.
Happy New Month for March
Here's a chance to let go All the Troubles of yesterday and embrace today with renewed hope. Have a great March!
Purge out every negativity and begin afresh and recharged!  Wishing you your best March ever!
I may not show it often I'll say it as much as I would want but I hope you know how important you are to me and I hope you begin this month in happiness that spreads on to the rest of your days. Have a splendid month.
This month may you not lose your cheer or run out of reasons to laugh and things to be thankful for. I'm lucky to have you and I wish you a remarkable month ahead.
I pray this month opens your eyes to everything you've missed and you have to believe in everything you thought impossible to be possible. Have a magical March.
This new month no matter what happens I hope you only see the good in the world. May your life be blind to   sorrow and your life devoid of pain. Wishing you an unforgettable month.
Happy New Month for September
May your September be awesome, blessed, beautiful and filled with wonderful moments, because you deserve it. Have a great month.
I pray you make the most of this new month and seize every opportunity you get because you deserve the best. Happy new month dearest.
You are the best gift to me and I love you more than anything. I wish you an amazing you month.
Notice how time flies? it's a new month and I want to be the first to say I love you because I truly do. Have an amazing September.
It's September! I wish that the start of "Ber" months bring you more happiness in life. You deserve it. May you have a wonderful September.
Here's wishing that may September be good to you. Wishing you all the best!
It's so hard to catch up with time And even though it scares me to realize how much time is passing I am glad to know a friendship has weather all storms. This Max in new month of being stronger and I'm glad I still have you. Happy new month my dear.
I can't imagine my life without you it would be boring and less fun, less colorful and less exciting. So this new I look forward to more adventures with you. Happy new month.
Happy New Month Quotes
"Ring out the old, ring in the new, Ring, happy bells, across the snow: The year is going, let him go; Ring out the false, ring in the true." ~Alfred Lord Tennyson
"For last month's words belong to last month's language and next month's words await another voice."
T.S. Eliot
"Though no one can go back and make a brand new start, anyone can start from now and make a brand new ending." ~ Carl Bard
"Drop the last month into the silent limbo of the past. Let it go, for it was imperfect, and thank God that it can go."
~ Brooks Atkinson
"Many people look forward to the New Month for a new start on old habits."
Anonymous
"I made no resolutions for the New Month. The habit of making plans, of criticizing, sanctioning and molding my life, is too much of a daily event for me."
Anais Nin
"Life is overflowing with the new. But it is necessary to empty out the old to make room for the new to enter."~ Eileen Caddy