Shifting to a new home signifies a beginning of a new phase of life. If someone you know has shifted to a new home, then you should not miss a chance to wish them for their new journey. This will not only double their joy of their new home, but they will also feel that they are not alone in this new beginning.
Though, web is full of many new home wishes, congratulations on new home messages and sayings, but here in this post you are going to explore some of the most amazing and unique new home card messages and wishes. Have a look and freely share these messages with the ones you love and care.
New Home Card Messages:
This is the first section of this post where you are going to read the best new home card messages. If you planning to give a handmade card to your near one who has got a new home recently, then this section is going to be a delightful one for you. You can jot down the below written wonderful new home wishes and messages in your cards and gift them to your friends and family. They are surely going to love them all. So, what are you waiting for? Go ahead, read and share!!
**********
A house is made of bricks
and beams
but a home is made
by people who live in it.
Happy wishes for new home.
**********
May the new home keys,
be the key to success
for every individual of the family.
**********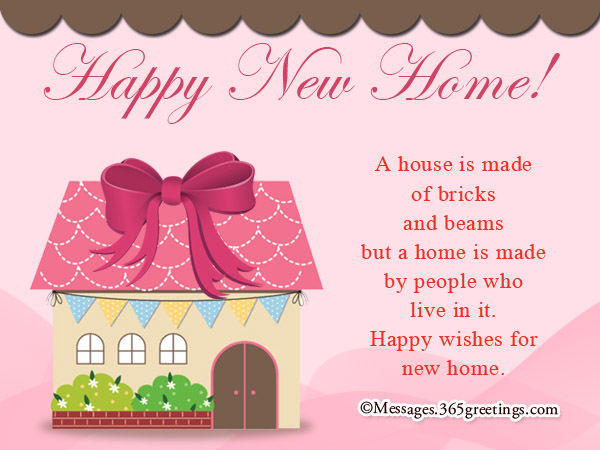 As you unpack the things
for your new home,
the same way God
unpacks the paramount happiness
and glory for the family.
Happy unpacking.
**********
As you step into your new home,
may these steps prove to be
a leap of success
and you prosper in all aspects of life.
Congratulations!
**********
Hands build a house,
but hearts build a home.
Best wishes for new home.
************
May your new home
give you warmth,
happiness
and lots of joyful moments.
**********
Hurrrrraaaayyyyyyy.
It's time to celebrate.
Party for the new house.
**********
Say yay,
as you get a new place to stay.
**********
No matter wherever you go,
there's no better place than HOME.
May your new home
prove to be the best of abode.
**********





Home is where lives happiness
Home is where there's no darkness
In your new home, you find all that you require,
And fulfill all your dreams and desires.
**********
May the new vibrant colors
of the walls of your new home
fill your life also with
equally jubilant colors
and paint your world with joy.
**********
Your new home will bring prosperity,
wealth and happiness from all directions.
Keep filling in.
Congratulations Messages for New Home:
This is our second wonderful section. Here, we have some really beautiful congratulations messages for new home. A simple congratulation message can increase anyone's joy and brighten their face with smile. So, send these wonderful congratulation messages for new home to your loved ones who have bought a new home.
**********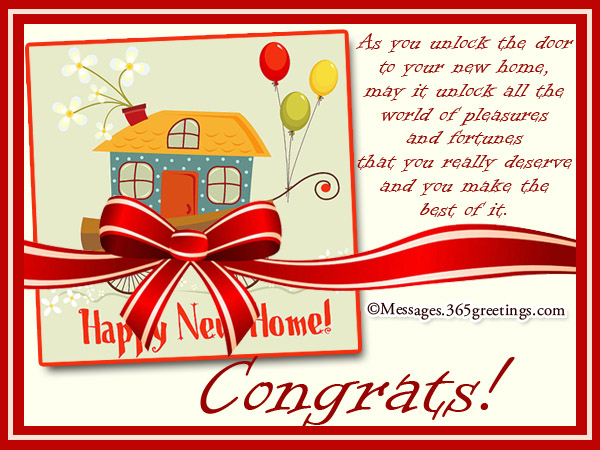 A home is a home,
no matter small or big.
It becomes a heaven-abode
once people in it start living in harmony.
Congratulations on your new home!!
**********
As you unlock the door to your new home,
may it unlock all the world of pleasures
and fortunes
that you really deserve
and you make the best of it.
Congrats!
**********
The doors would always,
show you the path to success;
The windows will prove to be,
the catalyst of adding the ingredients
like determination, hard work
and good luck from all directions;
May you tread successfully in life.
Congratulations!!
**********
The new home really
deserves you people.
Make it a heaven to live in.
Congratulations dear friend!
**********
Congrats on your new home.
I'll pay a visit soon.
***********
"Home Sweet Home"
Guess why they call it sweet.
Because of all the sweet
and happy memories
that we share under its roof.
Hope you make your home,
more sweeter than
the sweetest thing in this world!
Congratulations dear!!
**********
As you step in your new home,
you step into a world better
than outside
and it gives you all the comforts
of life and stays with you forever.
***********
Welcome to the new address of happiness.
Best wishes and Congratulations.
We really hope you liked all of these new home wishes and messages. We always try to match up with your expectations and we really hope that we have helped you a bit in providing you the exact words for your feelings. If you liked these messages and wishes, then please do share it with all.
We are in a process of creating the most heartwarming and unique messages and wishes for you. Do explore around our website, as we have some of the best collection of unique messages, wishes, quotes and sayings.