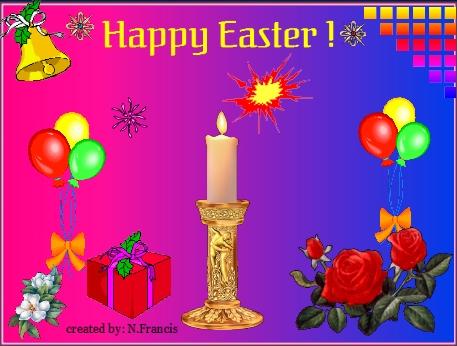 Easter is an important celebration for Christians. This is the day when Jesus Christ has resurrected. Easter Sunday is one of the most important parts of Christian faith. It promises new hope, new joy and new aspirations. Easter Sunday also marks the end of the Lent season (which starts from Ash Wednesday). During the Lent season, fasting, spiritual discipline and repentance are observed. At the end of this season, there will be a celebration as it's believed that Jesus Christ has risen.Inspire your loved ones and remind them with the promise of Easter with these inspirational Christian Easter messages.
If you do not have any idea what to write on your personalized or store-bought Easter cards, you don't have to search anymore. Here, we compile some of the best samples of religious Easter wishes. For long distance loved ones, you may send these religious Easter greetings as SMS or email.
Image: Nicholas Francis
Christian Easter Greetings and Messages
Open your heart and you will see God's gift for you.
Clear your mind and you will understand the message of this special celebration.
Choose your deed so that you will see Christ in every person.
Have a great Easter!
We may overlook some of the important things in life
When we are carried away by other things that keep us occupied.
It is good to step back and slow down
So we can recall all of the things we should be grateful for.
Easter is a good time for recollection
And being thankful for all the blessings that we have in our lives.
Happy Easter!
May the blood of Christ cleanse your soul
and protect you from all the evil things that might disturb you.
Pray and celebrate this Easter!
We are equally treated special by God.
He is the Father who is willing to sacrifice even His own Son to save us all.
Be inspired of such selfless love!
Happy Easter!
Fill your life with new hope, new goals, new aspirations this Easter.
Have a meaningful Easter celebration!
Easter reminds us how God has been good to us.
He gave His own precious son to save us from our sins.
Let's return the favor by sharing our blessings to others.
Happy Easter!
Christian Easter Wishes
This is the perfect time to strengthen our faith in Jesus Christ. Spread the joy of Easter with the following spiritual Easter messages and religious Easter greeting messages that will open our eyes to the love of God.
Praise Christ for He has defeated death and saved us all!
Happy Easter!
Glorify the Lord who sacrificed His own Son for us.
Give thanks and celebrate His life!
Blessed are the people who experience the presence of Christ in their lives.
Live to be a life to others as well. Have a blessed Easter!
May you always find peace and forgiveness in your heart.
Shine brightly and shed light to others.
Happy Easter!
I want to share this day's blessing of hope and love.
Reach out to those who need it too! Praise the Lord!
Hallelujah! To God be the glory.
He didn't fail to save us.
Happy Easter!
May your heart be filled with joy
As we receive another gift of life from Jesus Christ.
Happy Easter!
Religious Easter Messages
Image: Goodlightscraps.com
May our Savior's scar be a guide for us a live a life according to His will.
Happy Easter!
Know that Jesus Christ has died for us.
Learn to give back by doing good deeds that glorifies His name!
Have a meaningful and blessed Easter!
"Praise be to the God and Father of our Lord Jesus Christ! In his great mercy he has given us new birth into a living hope through the resurrection of Jesus Christ from the dead." – 1 Peter 1-3.
Christ's resurrection offers a promise of renewed life.
Go out and spread the good news for Christ has risen!
Happy Easter!
The true meaning of Easter.
…Love
…Hope
…Giving
Happy Easter everyone!
Jesus Christ should live in our hearts.
Let us invite Him to reign in our lives.
Have a meaningful Easter!
Religious Happy Easter Greetings And Wishes
God has given us the gift of hope when He Died and Resurrected on Easter.
Let us remind ourselves of this great gift and keep a positive outlook in life.
We will always be blessed with prosperity in all things through Him.
A Blessed Easter!
May you always be blessed with love, life and happiness.
May this Easter be the start of your new, better life.
Have a Blessed Easter Sunday!
Wishing you abundance in all things possible and contentment
for what you already have in your life.
Happy Easter Sunday.
To Him who sits on the throne and to the Lamb be praise
and honor and glory and power, forever and ever!
– Revelations 5:13
The Lord, almighty Jesus Christ has resurrected.
May this Easter fill you with joy and happiness
More blessings for you and your family.
Happy Easter!
The Lord has shared his great love for us by giving His only Son to save us.
Let us do our part as well.
Spread the love this Easter.
Short Christian Easter Wishes for Friends
Our families have always been there for us, even when we are at our worst. Our friends have always been there to pick at us and tease us mercilessly yet they are also there to pick us up when we stumble along the way. So this Easter, spread the word of love for them thru heartfelt Easter wishes.
I wish this Easter will bring your home peace, love and happiness.
I wish that your Easter will bring you joy, harmony and happiness therein.
Sending you hugs and kisses this Easter. Wishing your day will be blessed!
I wish this Easter will bring your home peace, love and happiness.
Wishing you a renewed faith in life to strive harder for your goals and ambitions on this Easter Sunday.
Easter is the time to rejoice and be thankful for the gift of life, love and joy. Have a Blessed day!
There is much to be happy about and so much love abounds in our lives. This Easter may we celebrate the gifts that we have received all year round.