Navratri wishes and navratri messages are the usual search of many Hindus during Navratri festival. But of course, sending navratri greetings is part of the celebration of this auspicious holiday known as the nine nights of Durga. If you're one of those who are looking for happy navratri wishes to send to their loved ones and friends, you've come at the right place. Below, we listed out some of the best messages and wishes for Navratri.
Collection of Happy Navratri Wishes
Celebrate this day with your beloved family and friends.
And I'm wishing you to have a great time.
Happy Navratri!
May this year's Navratri be the most special celebration.
And may this bring you endless joy, peace and abundance.
Happy Navratri to you and your family.
We may not be able to celebrate Navratri together,
But the previous memories I cherish forever,
I may be far away from you today,
But my heart and soul is sent to your way.
I miss you, Happy Navratri!
Good life,
Happy family,
Good fortune,
Successful Career,
May you get all these on Navratri!
Ding! Dong!
You've got an SMS:
For the most wonderful person in the world –
That's YOU!
From the most beautiful/handsome –
That's ME!
Happy Navratri!
May this day of Maa Durga be the start of your good life and good fortune.
And I hope that Navratri festival fill your heart with love and mirth.
Happy Navratri!
May the Goddess of Power shower you with lots of blessings that you can share to others.
Have a prosperous and meaningful Navratri!
May Goddess Durga bless you with good friends, happy family, good life and good health.
Happy Navratri!
You've been a wonderful person,
And a wonderful friend to me.
I'm wishing you all the best this Navratri.
Happy Navratri!
You shared your blessings to other.
You inspire, you encourage…
For that, I wish that Maa Durga shower you with more blessings.
Have a prosperous Navratri!
Solemn prayers,
Festive atmospehere,
Sweets and treats,
It's indeed Navratri!
Let's celebrate and have fun.
Navratri Messages
Navratri greetings and Navratri messages are quite popular during Navratri festival. Many people tend to wish their loved ones and relatives to have a happy Navratri. Share the spirit of Navratri by greetings your friends and family using these heartfelt happy navratri messages and Navratri wishes. You can also send these navratri messages as sms or Email to your friends and relatives.
Best Navratri Messages
It is Navratri festival
Festival for Goddess Durga
Let us dance and Celebrte
This Auspicious Day
Happy NavRatri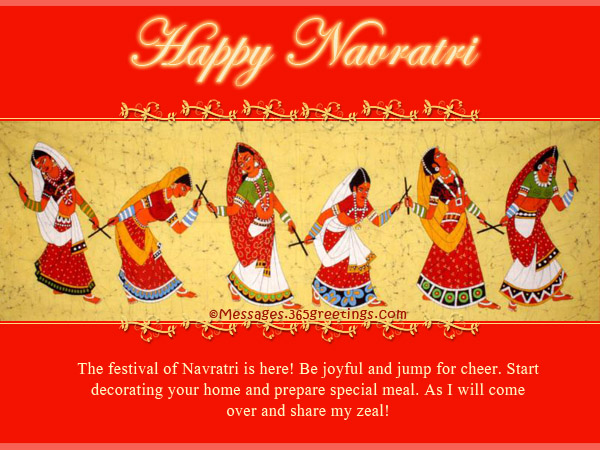 Goddess of Earth Ma Durga
Celebrate her Auspecius day
with Garba Dance and Puja
May her Blessings shower
upon you with luck
happiness and prosperity
Happy Navratri
When you Dance and Celebrate
Forget not those Unfortunate
Who is the real children for Ma Durga
Make the smile and Dance
Maa Durga's Blessings will
Shower upon you for sure
As the wind and rain singing
the song for Maa Durga
Let us join the nature to
praise the Maa Durga
with nine divine nights of
Dance and Song with devotion
Happy Navratri
Happy Navratri Messages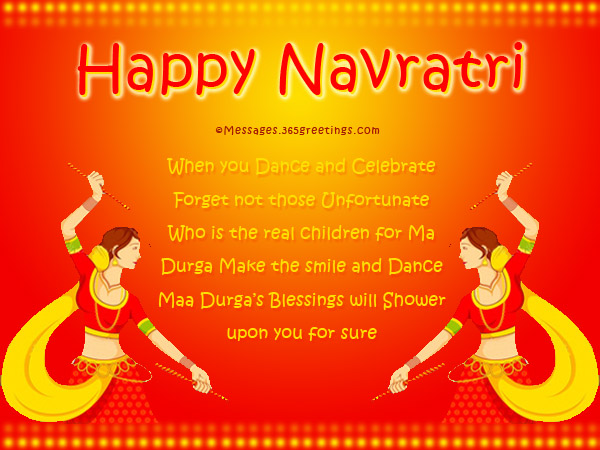 For those who are planning to send Navratri gifts or cards abroad, you can pick some of the messages below and use them as your Navratri card messages. You can get lot navratri gift ideas on internet.  But don't forget to include your own personal greetings!
Say happy Navratri with these greetings and messages for this holy festival. You can partner your own messages with these samples of Navratri wishes.
May the Lord Durga bless you a year full of wealth, success and prosperity.
Have a Happy Navratri!
May this Navratri be the most special celebration of your family.
Have a great time and be blessed!
Good fortune,
Good health,
Happy life,
All these are my wishes for you this Navratri!
Have a great one!
May this Navratri be the start of your successful and happy life.
Have a wonderful Navratri!
Celebrate this Navratri with complete joy and zeal.
As the light of our home prepare special meal.
Just don't forget to pray and be thankful,
As Lord Durga make our life bountiful!
The festival of Navratri is here!
Be joyful and jump for cheer.
Start decorating your home and prepare special meal.
As I will come over and share my zeal!
Wishing you a happy and prosperous Navratri,
May this festival bring you happiness and success.
Navratri Messages in Hindi
Hindi navratri messages are also good to send this coming Navratri festival. Many hindu will appreciate recieving a greeting for this auspicious holiday written on their mother language. Here are same hand-picked Hindi messages for Navratri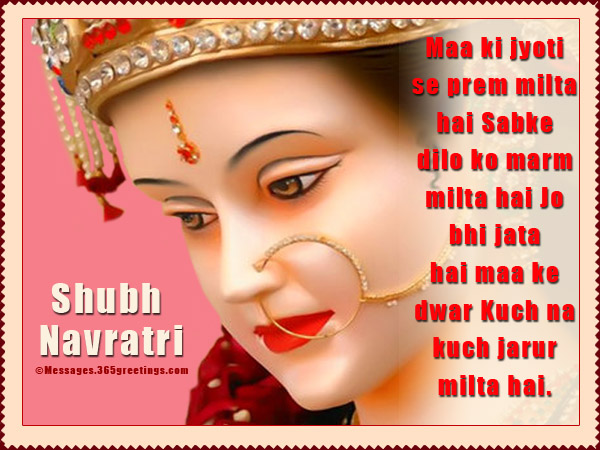 Pyar ka tarana uphar ho
Khushiyo ka nazrana beshumar ho
Na rahe koi gam ka ehsas
Aisa navratra utsav is saal ho!
Happy Navratra!
Maa ki jyoti se prem milta hai
Sabke dilo ko marm milta hai
Jo bhi jata hai maa ke dwar
Kuch na kuch jarur milta hai.
Shubh Navratri
Lakshmi ka hath ho
Saraswati ka sath ho
Ganesh ka niwas ho
Aur maa durga ke aashirwad se
Aapke jeevan mai prakash hi prakash ho!
Happy Navratri
Maa durga apko apni 9 bhujao se:
1. bal
2. buddhi
3. aishwarya
4. sukh
5. swasthya
6. daulat
7. abhijeet
8. nirbhikta
9. sampannta pradan kare
JAI MATA DI
kya hai paapi kya hai ghamandi,
maa k dar par sabhi shees jhukate,
milta hai chain tere dar pe maiya,
jholi bharke sabhi hai jaate.
HAPPY NAVRATRI
deepak me jyoti me prakash,
pulkit hai dharti,
jagmagaye akash,
maa ka aashirbaad sab per rahe,
viraje khushiyan apar.
Wish you Happy Navratra.
More Navratri Messages
Please find some selected Navratri messages for you. These Navratri messages can be pasted directly to facebook or twitter.
Happy Navratri to you
May Goddess durga shower
Her choicest blessings on
You and You Family
Goddess Durga Maa Mother of all,
Goddess Durga Maa Protecter of us
Let us dance for Her
Let us sing for her
Happy Navratri Celebration
It is the time to get dressed
As we all dance Garba for Mother
Sit not ideal in your home
Come out and Dance for
May Maa Durga shower
blessing on you
As the Navratri is comming
let us dance and rejoice
with the songs and praise
about goddess mother maa Durga
Happy Navaratri
 Navratri Sms
Sending navratri wishes can also be done through your cellphone. With Navratri SMS and Navratri wishes quotes, you can easily greet your friends and loved ones a happy Navratri. Here are some samples of Navratri SMS wishes and greetings to use.
Navratri is coming,
Time for praising and dancing,
Worshiping Goddess Durga
And wish for her blessing
Wish you happy Navratri
May Maa Durga Bless you on this Navratri
Have a peaceful life throughout the year
Happy Navratri
It is Navratri.
Let us Dance for Maa Durga
And celebrate the holy nights of Navratra
You've received an SMS
Packed with blessings of Maa Durga
Brining you peace, joy and happiness.
Happy Navratri!
I'm wishing you the best and most prosperous Navratri festival ever,
Enjoy the moments of being together with your family and friends
Happy Navratri!
Navratri Quotes and Navratri Sayings Messages
One of the most popular forms of Navratri messages is quotes and sayings. These are group of words that include deeper meaning. Below are some samples of meaningful Navratri quotes and sayings that can also be used as your greetings.
Navratri is an auspicious holiday
Enjoy this day, as Maa Durga will shower us with blessings
May the divine power of Goddess bring you happiness in life
Happy Navratri!
Mother of Universe – Maa Durga
Let us praise and worship
Let us offer our cheerful Garba dance
Let us fast and remember the true meaning of Navratri
As we celebrate the festival
Happy Navratri!
Upon observing the Navratri fasting
Seek the blessing of our Divine Goddess of Power
May Maa Durga – the supreme Deity, bring you peace and happiness in life,
This Navratri, tomorrow and throughout the year.
Subh Navratri!
Fortunate is the one
Who has learned to admire,
But not to envy.
Good wishes for a joyous Navratri,
With a plenty of peace and prosperity.
Navrathri SMS, and Wishes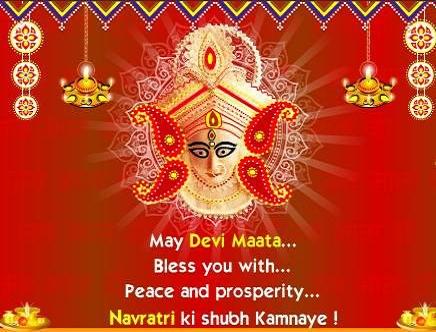 Searching for Navratri SMS and Navratri text messages to send your friends, classmates, relatives and colleagues this coming Navratri festival? Then you've chose the right website. As we're here to offer you a huge collection of Navratri messages, Navratri wishes and happy navratri greetings that you can use to wish your recipients a Happy Navratri! Feel free to grab Navratri SMs messages below and send using your cellphone.
Collection of Happy Navratri SMS
This Navratri,
You're the first person I want to wish and greet to have prosperous Navratri,
For you have been a very good friend to me.
Happy Navratri!
Navratri is an important holiday for us.
That's why I'm early sending you my warmest greetings,
Spread the word and forward to your friends.
Happy Navratri!
I know someone who deserve to be blessed this Navratri,
Someone who has been so good, so sharing and so special.
That someone is YOU!
Happy Navratri!
I pray to Maa Durga for your happy and successful life.
May you fulfill all of your heart's desire
Happy and prosperous Navratri to you!
Separate yourself from hatred and disgust,
Happy Navratri!
Bright light,
Yummy treats,
Festive atmosphere,
Saying that Navratri is here!
Feel the spirit and have fun,
As your family celebrate as one.
Happy Navratri to you!
I'm wishing that Maa Durga bless you,
Guide you, and give all your heart desire.
Happy Navratri to you!
Happy Navratri SMS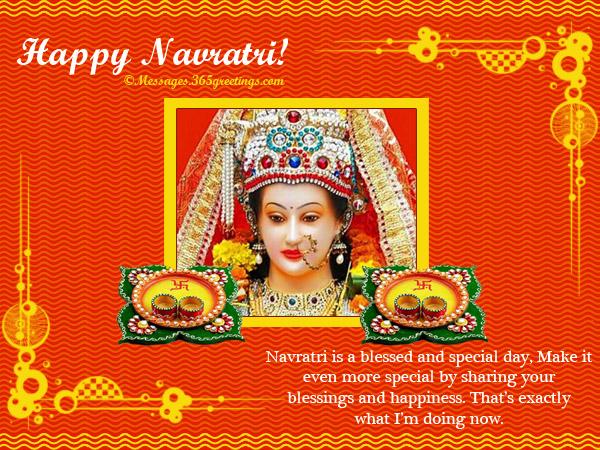 Navratri, the nine nights of Durga, is another holiday for our Hindu brothers and sisters. Prayers, festive activities and exchanging Navratri wishes are the usual custom during this festival. And one of the fastest ways to convey your wishes for Navratri is through Navratri SMS and Happy Navratri SMS messages. Thanks to technology and advanced gadgets, expressing your greetings is just an SMS away. Pick from Navratri messages listed below and get ready to send your message to your friends and dear ones out there.
Collection of Navratri SMS Wishes
Navratri is a blessed and special day,
Make it even more special by sharing your blessings and happiness.
That's exactly what I'm doing now.
Happy Navratri!
Be a blessing to others this Navratri.
In return, Maa Durga will bless you with endless happiness and prosperity.
Have a meaningful Navratri!
Jolly music
Festive atmosphere,
Solemnity in the air,
Yummy recipes and treats.
Navratri is really here!
Let's celebrate with lots of cheer!
I may not be there to celebrate the Navratri with you,
But I'm sending my heartiest greetings for you,
And to tell you I'm missing you so.
Happy Navratri!
More Navratri SMS
Exchanging Navratri greetings is quite a custom during the festival known as "nine nights of Durga". Many people are sending their family and relatives some navratri messages and navratri SMS messages expressing their heartiest Navratri wishes. This Navratri, greet your dear ones as well with these samples of messages for Navratri. We include some Navratri quotes, Navratri poems and Navratri text messages that you can use and share to your social media profiles like twitter, facebook and google plus.
Collection of Happy Navratri SMS
Navratri is such a good holiday.
So here I am spreading the spirit of it.
Happy Navratri to you and your family!
This Navratri, I'm wishing you fulfillment to your dreams, successfulness to your career and contentment life. Have a wonderful Navratri!
May this Navratri pave your way towards happy and successful life.
Happy Navratri to you and your family.
Be joyful and happy,
As lord Durga blesses us this Navratri.
The festival will sure be filled with cheer and fun.
A lovely day for everyone.
Happy Navratri!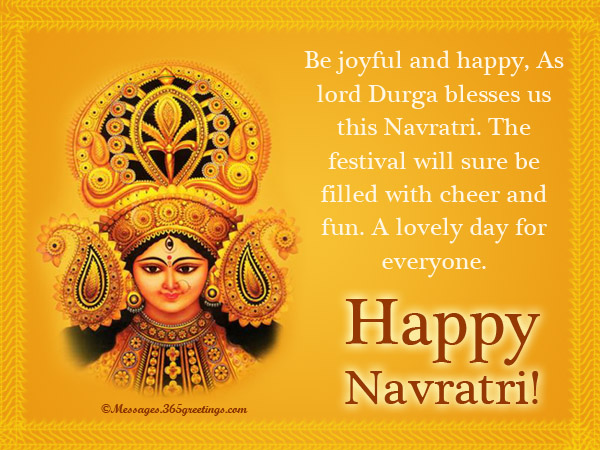 Happiness,
Peace,
Wealth
Prosperity
Good life.
I wish you all these on Navratri!
Across the miles,
I'm sending my warmest greetings to you.
I hope that you're having a good time with family.
Treasure that moment and cherish it forever.
Happy Navratri!
Festival of nine nights of Durga is here!
Let's celebrate and fill this day with much cheer!
All of you have lots of fun.
Celebrate the day and enjoy it next to none.
Related Navratri Sources