Onam is the most popular festival in Kerala and is considered as state festival of Kerala. Onam legend is connected to a colorful chapter of Hindu mythology of Dasavatar.Lord Vishnu has taken Vamana avatar to bless his devotee Mahabali. Even though Mahabali was a damon king he was extreme devotee of lord Vishnu and Ruled his kingdom with the principle of honesty and truth. The above Karma earned lot of blessings from the fate and he attained the the same quality of King of heaven. The king of heaven begged to maha Vishnu to protect him and heaven from falling it to the demons. So lord Vishnu taken the avatar as vamana and pushed him into pathalam. He blessed Mahabali and promised him the Indra position after the current Indra. He also allowed him to visit his kingdom once in a year on thiruvonam star of chingam. So every year people of Kerala celebrate thiruvonam star of chingam as Onam festival. You can wish your friends and relatives with the below selected Onam Wishes in English and Quote.
The famous onam songs starts itself like



"Maveli nadu vanidum kalam
manusharellarum onnupole
amodathode vassikkum kalam
apathangarkkumottilla thanum"
"When King Mavel was ruling the land
all People were equal and same
there was no theft and betrayal
Not even little bit lying"
The above song itself shows that if there is an able ruler then the land will prosper and people will remember him for generation. It is the great message to present rulers.
Some samples of Onam wishes in English are collected here for you to use in greeting your dear ones this coming Onam festival. Exchanging warm Onam greetings is one of the most common practices upon the celebration of Onam. Feel free to use these English Onam wishes as card messages or Onam SMS.
Heartwarming Onam Greetings for Onam Cards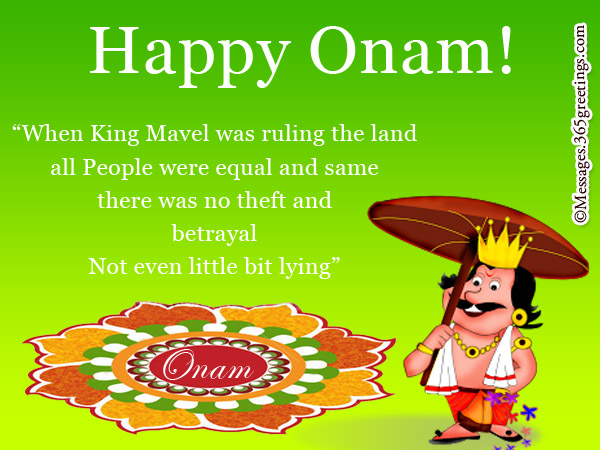 I'm wishing you to have the best and most successful Onam festival this year.
Have a happy Onam with your family and friends!
To my wonderful friends,
I'm hoping that this Onam festival be the start of your good and prosperous life.
Have fun with your family!
Love lots!
Wishing you a colorful, bright, prosperous, joyous, merry and successful Onam!
Keep the spirit of Onam in your hearts.
May your home be filled with joy, love and peace.
Happy Onam!
This Onam, I wish you to have…
… Good life…
… Successful career…
… Happy family…
Have a wonderful Onam!





Life filled with…Joy, Peace, Prosperity, Happiness and Contentment.
That's the life I wish for you this Onam festival.
Have a Happy Onam!]
Onam is more fun to celebrate with family and friends.
Feasts and colorful home decors…
But don't forget the real essence of Onam.
Keep the spirit of Onam in your hearts.
Have a blessed Onam!
Onam Greetings Quotes
Happy Onam
May God bless you and your family
and fill your home with
the lights and colours of Onam happiness and joy.
HAVE A HAPPY ONAM.
orayiram Onashamsakal
May this onam brings you happiness, prosperity and peace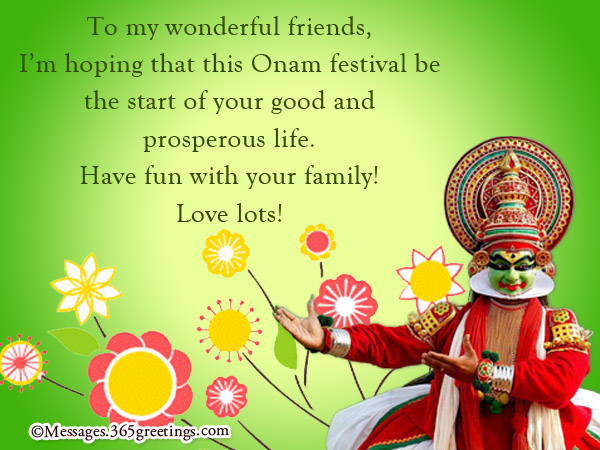 I'm wishing you a life as colorful as pookalam, as festive as this Onam festival and as prosperous as bountiful harvest. Happy Onam to you!
Being such a wonderful person, I'm wishing you nothing but the best. May all of your dreams come true. Happy Onam!
From the bottom of my heart, I'm sending my warmest greetings to you. May you and your family have a wonderful Onam celebration.
May you have a happy and joyous Onam celebration that you can cherish for the rest of your life.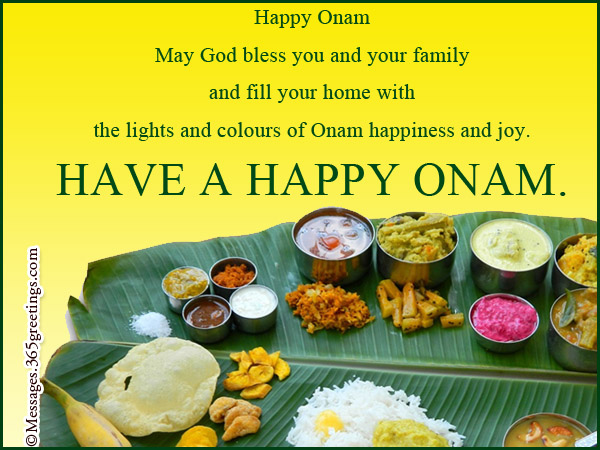 Celebrate this day with a heart filled with peace, love and hope. I'm wishing that you're family do well and may you find your happiness in life. Happy Onam!
May the spirit of Onam guide you in your life. Let it live inside your heart. Fulfill what you desire and hope for the best. Happy Onam to you and your family!
As Onam festival fills the atmosphere with spirit of love and delight, here's wishing that this occasion brings happiness and more blessings to your way, Best Wishes to you on Onam.
To all Malayalees, Best wishes and Happy Onam!





From miles away, I and the rest of the family are wishing for the best and most fulfilling Onam celebration for you. We miss you so much and we're hoping that we will be able to celebrate next Onam with you.
Accept our warmest greetings on Onam festival. May you have an enjoyable and fun-filled Onam celebration there, as we join the fun by heart. We may not be there but we will celebrate the occasion with you by soul. Happy Onam!