Inspire a person with warmest and encouraging good luck messages and wishes to keep on moving against all odds. Remind him to be strong and wish him all the best. The support and encouraging good luck wishes from people makes our confidence takes its toll. As a friend, you can show your care and support to someone you truly give importance by giving them some words of good luck. Although it may not be enough to completely ease their uneasiness in their current matters, it will at least trim down the nervousness they may have been feeling.
Now, if you're looking for some good messages that wishing good luck for your friends and family, you have just come in the right place. We are here to provide you some collections of good luck quotes and wishes that will hopefully give you some ideas on where to start in wishing them the best of luck. Feel free to attach these messages in a good luck card or share them in their social media profiles. Good luck!
Good Luck Messages
You can have it a try.
If you'll succeed, good.
If not, better.
Because everything happens for a reason..
There will come something better.
Good luck!
The road is tough.
But the driver is tougher.
Good luck!
Your faith will lead you to your success.
Good luck!
Remember the days when you have failed?
You've never give up and still stand up.
Good luck!
This is not the time to entertain those butterflies in your stomach.
I know you can do it.
Good luck to you my friend!
If it's for you, it will be.
If not, there's always a reserved plan A,B,C..
Good luck!
Never mind the people who discourage you.
They are there to test how determined you are to get your dreams done.
Just be thankful because they remind you to go on.
Good Luck Messages for Exam
As you burn you midnight candle
I pray that you will remember everything you have studied.
Good luck and do well in your exam!
I heard you have an upcoming exam.
Do your best and I hope you pass it
Best luck on it!
Remember to be calm when taking the exam.
May God grant you wisdom for it.
Nevertheless, I have so much faith in you
That you'll pass it with flying colors.
Good luck!
Study well and be prepared your exam.
Give your best shot on it
I am pretty confident that you can make it
My best wishes are with you
Good luck too!
Good luck on your exam!
Focus not on the difficulty
But rather face it with optimism
I know you can nail it!
If you really want this,
The universe will conspire to achieve it,
So you can do it.
Good luck!
I believe in you so much.
I hope you do too.
Good luck!
I really hoped you browsed the topics
we had discussed lately instead of counting sheep last night.
Wishing you luck.
I know we'll made it through and reach our dreams.
Just believe in yourself.
Good luck in our upcoming exam!
I'll ask God to provide you enough wisdom and sharp memory to remember all the things you have reviewed. Good luck and God bless!
Good Luck Wishes for New Job
Finding a job that you like and right for you
Is like finding a needle in a haystack
But it takes a lot of self-confidence and effort to achieve it
Good luck and best wishes on your job hunting.
You've walked through valleys high and mountains low
To get to that spot where you are standing now
And I'm so proud of you.
With this new phase in your career
I wish you the best of luck.
When a job is perfectly yours
Nothing and no one can replace you in that spot
May you find the job that you desire in your heart.
Best of luck!
Really amazed to know that you have a new job.
My heartfelt Congratulations for that.
Enjoy the new job and grow.
Good luck!
What a great news.
Wishing you all the best for a rewarding Career.
Good luck!
Working with you was bliss.
I'm hoping that you find success with your new job.
Good luck!
May you find satisfaction, success and contentment with your new job.
Good luck, friend!
You've done great in your previous work.
So I know you will surely do better in this new job.
Good luck!
Now that you go to the greener pastures, enjoy it and make the best out of it!
Good luck!
Good Luck Messages for New Job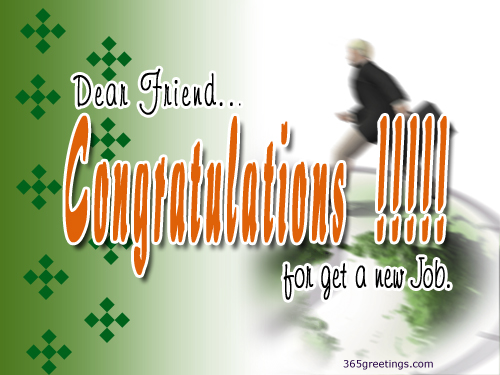 Wish your friend or family member a good luck for a new job with these good luck messages and wishes. These messages of good luck will surely help them boost their confidence and inspire them to get through the day of the new job. You can combine good luck wishes and some words of wisdom or inspirational messages to make it even more motivating.
Wishing you all the best in life.
May you achieve your goals and good luck to your new job!
Keep your heads up!
I know you can do it.
Just focus and never lose hope.
You will surely achieve your goals.
Good luck, pal!
Talented, determined, strong-minded.
Qualities of successful people.
And you have it as well so I know you can be successful too.
Good luck!
Happy to know that You have got a New Job.
Really great news  .
Good luck!
And now…
You're hired!
You did amazing and paint the town red!
Good luck in your new job!
Best luck on your promotion!
May you taste that sweet success the soonest
Do your best and the rest will follow.
Good luck! I know you can make it!
You've come so far to give up.
Not now! Good luck!
Be inspired and perspire your way towards your plans!
You will be rewarded for your hard works.
Good Luck Wishes for Sports
Everyone's getting thrilled
To see you fighting hard in that field
Do your best my friend!
May you win this game in the end!
Good luck!
I wish you the best for today
The game begins soon any way
Fight hard and win big
Best luck on it!
Your game will start sooner
Bring home the bacon!
Soar high!
Good luck!
May good luck be on your side today
Win this game with flying colors!
Good luck in your game!
I know yours will be the winning team.
I am pretty sure about it.
There are many temptations around
that will hinder you from getting your dreams.
Never mind those,
keep focused and be determined to reach for it!
Pray that God will bless your journey.
People who put God first are sure
To be blessed with the fulfillment of their desires.
Good Luck Inspirational Quotes
If you lose your concentration, close your eyes and follow your breathing.
You will find peace and a focused mind if you do.
Be specific when asking for a blessing.
This way, God will know what to give you.
Smile and be thankful that God allowed us to dream.
He only requires us to work hard for it.
When He sees our sincere efforts, His power will make its way for us.
Giving up must be not on your list.
Remove it from your vocabulary
So that you will have no choice but to keep on moving.
If at times you will feel down and hopeless
and you can't seem to find a way to keep on moving,
Just sit down, close your eyes and feel how God works.
Be positive and everything will follow.
Even when things are bad, take time to smile.
You can still find a way to reach to the top!
Go on, and never stop.
Lead the way and you will get your way done!
Good luck to you.
Keep on praying and let God lead your way.
Follow your dreams, listen to your heart.
Go and have a strong will.
God will make a way for you.
You just have to be aware of it.
Good Luck Messages for Job Interview
No matter how good or bad the outcome could get, I hope you will accept it wholeheartedly and just move on. As of now, good luck!
Finding a job is a life battle. So be prepared and choose the right weapon to use. May God bless you in your interview.
The secret behind every confidence is the belief to oneself and to God above. May God bless you more than your expectations.
Treat every interview as a basketball game. You always have to give your best shot. Good Luck!
You really don't need the luck. You only need to believe in yourself and to God above to get this job. God bless you!
If you really want to get this job, persuasion is a must. I know you're good at that. Good luck, man.
All you need are encouragement and confidence. I can only give you words of encouragement but the confidence will come from you. Good Luck! May you get this job.
Do you believe when I say you can get this job? If yes, prove it. Get the job for me.
I don't want to wish you luck, rather, I wish God will bless you on your job interview.
Treat this interview as an entrance to success. Give it a bang and get the job. Wish you all the luck and confidence.
Good Luck Messages for New Job
Congratulations! You got the job. But you owe me treat. Either way, good luck in tackling your new job.
I told you so, that job is perfect for you. Great Job! Wish you all the best on you new job.
Wow! Your charm never fails you. But then again, jobs don't need charms only but also the quality of work. Good Luck! May you give your best in this job.
Getting the job is the proof that you have the potential and being a success in the job is the proof that you are the best for the title. So prove them all your greatness. I believe in you, bro.
Employment is like politics, full of promises. I hope each promise you made to each other be fulfilled. Good luck on you new job.
Good Luck SMS
With these inspirational good luck SMS, Boost your friend's confidence. Inspire your loved ones to do their best. Encourage and assure them that they can surely make it. You can do this even you're away by sending your warmest goodluck sms messages. You can express your encouraging goodluck wishes thru goodluck text messages. Here are some samples of good luck messages that you can use.
Good Luck SMS Messages for Friends
Just be yourself and the rest will follow.
Good luck!
If you will make it, we'll go out.
My treat. So be the best you can be!
Good luck!
The best people make the best effort to unleash the best things out of their life. Good luck!
My prayers to you all the way from (insert place here). Good luck!
Dreams are meant not to be just imagined,
it is imagined to be created.
Good luck!
Don't worry if you'll fail.
God won't. Good luck!
Good Luck Wishes SMS
Take a breath.
Relax.
Be yourself.
Believe in yourself.
Good luck!
Win or lose,
success or fail,
I will still love you.
Good luck!
I will call all Saints,
All Angels and even all the good vibes to deliver my prayers
And let you make this event.
Good luck!
Whatever happens,
We'll party later.
Sounds good?
Do your thing first.
Good luck!
But remember, a simple good luck won't do. You should yourself believe in YOU.
Quotes about Good Luck
I've found that luck is quite predictable.
If you want more luck, take more chances.
Be more active. Show up more often.
~ Brian Tracy
If you think you can, you can.
And if you think you can't, you're right.
~ Henry Ford
All of us have bad luck and good luck.
The man who persists through the bad luck – who keeps right ongoing
– is the man who is there when the good luck comes
– and is ready to receive it.
~ Robert Collier
When life appears to be working against you
And When your luck is down,
When the supposedly wrong people show up,
Or when you slip up and return to old, self-defeating habits,
Recognize the signs that you're out of harmony with intention.
~ Aldous Huxley
I dreamed impossible dreams.
And the dreams turned out beyond anything I could possibly imagine.
You know, from my point of view, I'm the luckiest cat on the planet.
~ Hugh Hefner
This morning may you be infected
By the virus of positivity, success and good luck.
Here is wishing you a very happy and memorable day.
~ Unknown
For each petal on the shamrock this brings a wish your way.
Good health, good luck, and happiness for today and every day.
~ Irish Proverbs
Good Luck Messages, Wishes and Words of Encouragement
By sending good luck messages with wishes of luck and words of encouragement, you might be able to drive his/her fears away and put them at peace. The good luck wishes may boost the confidence of the person to believe in his/her skills and capacities to get the goal. Your simple message of good luck might bring a lot of difference in the personality of a person and might motivate him/her to think positively. Hope that these good luck messages will be of any help to you and to your friends. Cheers!