21st Birthday Party



Birthdays are an important event that comes to one every year. Each birthday signifies significant meaning and life standing. For example, 1st birthday is important as it is the first year living in the world hence parents and family celebrates it with complete pleasure and fun. Same as a person turns 21. It means that the celebrant is now in a legal – a complete adult. Hence, it is celebrated with cheer and fun with family and friends.
Throw a party and invite your friends and family to celebrate with you. Invite them to your 21st birthday bash with these 21st birthday invitation wording samples. These wording for 21st birthday party invitation can also be used for electronic birthday invitations. Feel free to share these birthday invitation wording ideas to your friends on facebook, google plus and twitter. Our section also have some 18th birthday invitation wording that you may want to visit.
21st Birthday Invitation Wording Ideas
Invitation wording for 21st birthday, 21st birthday invitation wording samples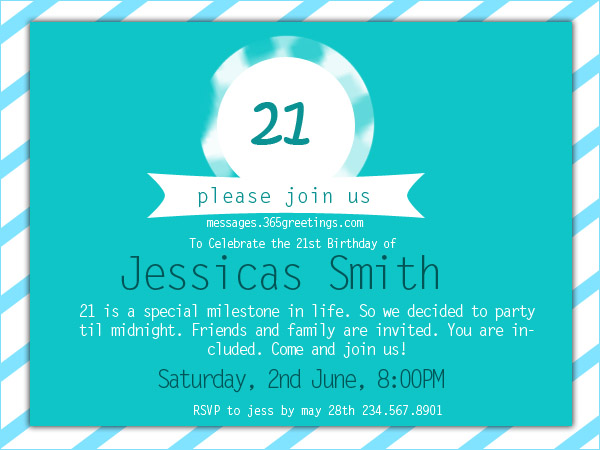 An invitation can be enticing if you have an interesting wording for it. Although the invitation serves as formality that a certain person is invited to a certain event, you still need to put an effort to make it look and appear appropriate. For 21st birthday invitations, a nice wording must be chosen and written. Here are some samples:
Times flies, I can't believe that my boy is now a man!
He will soon celebrate his 21st birthday!
You're Invited.
Come and join us.
* * * * * * * * * * * *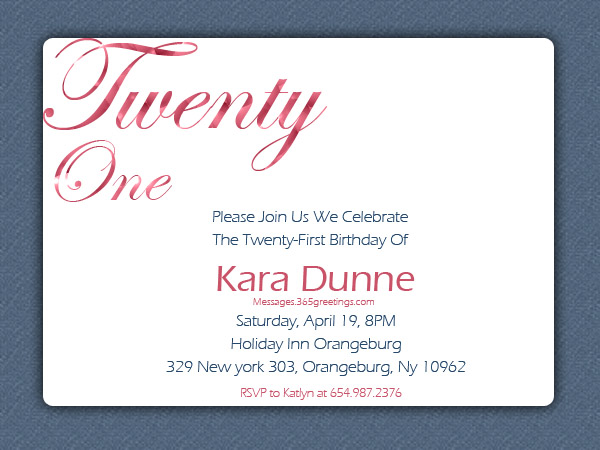 He's turning 21,
Come and join the fun.
We will have a party.
Prepare for the bash and hurry!
* * * * * * * * * * * *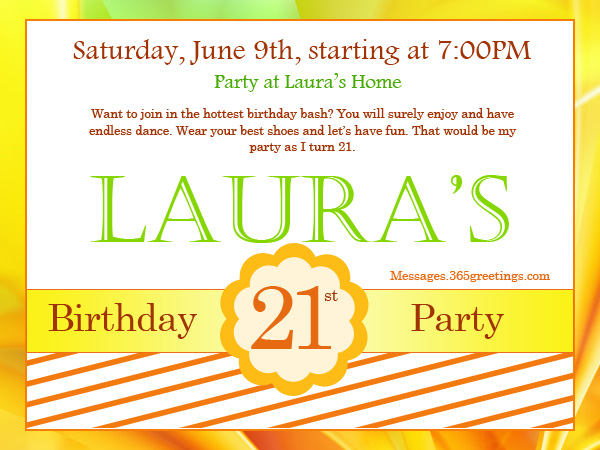 We will have a disco party.
As the boy here turns 21.
Come and join the party.
* * * * * * * * * * * *





I'm turning 21.
I can legally drink.
Come and join me!
Celebrating my birthday will be fun
If you will come to my bash as I turn 21.
* * * * * * * * * * * *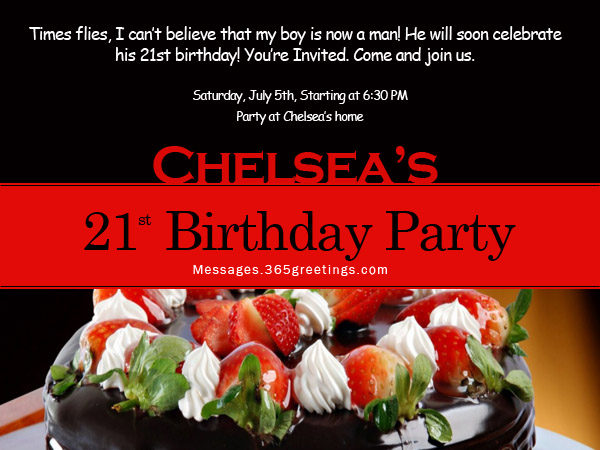 As I enter legal age,
I'd like to celebrate it with my friends,
Ready to get bold,
Ready to get wild.
Let's party all night!
* * * * * * * * * * * *





Let's surprise (birthday celebrant)
As she/he turns 21.
Get ready to the party.
Bring gifts of any.
* * * * * * * * * * * *





Let's have some pizza and drinks,
Disco all night, bash until midnight.
Come and let's rock my birthday!
* * * * * * * * * * * *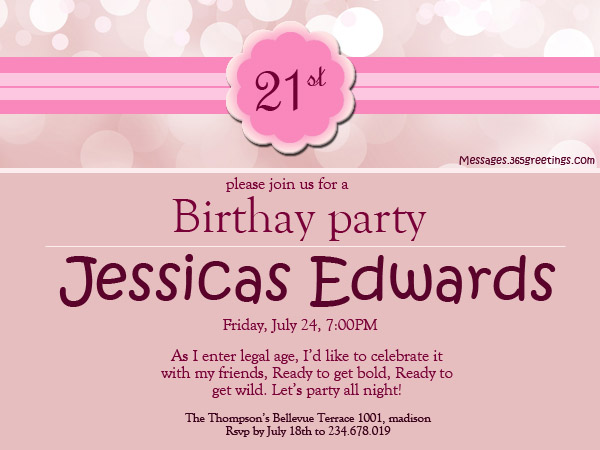 (Celebrant) is now ready to enter the stage of adulthood,
Join him by coming to his birthday bash!
* * * * * * * * * * * *





Free Beer and Dance all night,
You can have all these if you come tonight.
I'll have a party for my birthday.
Join as I turn 21.
* * * * * * * * * * * *





Friends and family are nice to have.
Celebration becomes happy and fun.
So please come and make my birthday party merry!
My baby is now 21,
Sharing the joy and fun.
Having a birthday bash,
Your attendance is a must.
Funny 21st Birthday Invitation Wording
Funny Birthday Party Invitation Wording, funny wording for birthday invitation




Twenty-one, not too old, not too young,
But legal enough to get drunk.
Come and party with me!
* * * * * * * * * * * *





I'll be having a party,
As I am out of 20.
Age will be added by one.
And I would like to share the fun!
* * * * * * * * * * * *





Now that I'm 21,
I can have a driver's license,
I can legally drink beer
You must be jealous, so I want to share the cheer.
Come to my party!
* * * * * * * * * * * *
Know what's hot in the block?
(Celebrant) is turning 21.
Have some fun and come.
Join the party and rock til 1.
* * * * * * * * * * * *





21 is a special milestone in life.
So we decided to party til midnight.
Friends and family are invited.
You are included.
Come and join us!
* * * * * * * * * * * *
Want to join in the hottest birthday bash?
You will surely enjoy and have endless dance.
Wear your best shoes and let's have fun.
That would be my party as I turn 21.
More 21st Birthday Party Invitation Wording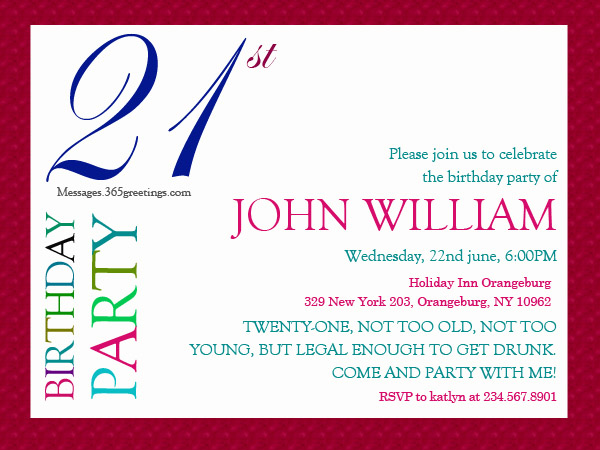 I need help to get drunk on my 21st birthday? Are you interested? Then come and have party us!
Will you come to my birthday party
if I promise we won't end up in jail like last year?
We all go a little bit mad sometimes.
We usually go all out crazy on my birthday party.
Care to join us?





I fancy a large glass of wine…. …And a slice of scrumptious chocolate cake for my birthday/
After all, it only happens once a year.
Come and join me, I have more than enough for you too!
It always feels so much better to celebrate a birthday surrounded by friends and family.
Will you come to join my birthday party?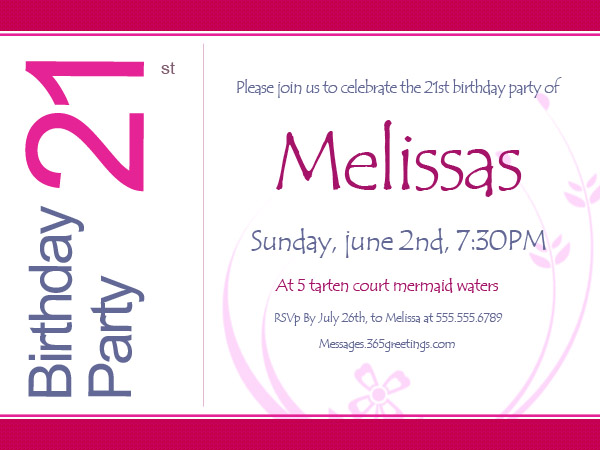 Hope you can join me for yet another birthday party.
Another year come and gone, another birthday on the way.
Come and join everyone For my very special day.
As one of my special friend,
I would never celebrate my 21st birthday without you.
So come and let's celebrate.





Gloomy and blue, that's my birthday without you.
Make it cheerful and happy by coming to my party.