Send romantic goodnight messages to your someone special to let them know that you remember them before you sleep. Sweet goodnight text messages or notes will surely give them a treat and hopefully give them a sweet dream. Here we have the romantic messages to bid your girlfriend or boyfriend a good night in the sweetest way. So, what are you waiting for? Scroll below and choose the one the you think will melt the heart of your significant other.
Romantic Goodnight Messages for Lovers
After a long day of work or hectic schedule, wouldn't it be so great to read refreshing and sweet messages from the one you love? Tonight, bid your girlfriend, boyfriend, husband or wife a sweet goodnight with these romantic goodnight messages.
Let me wrap our love with a warm hug as we look at the sky.
Let us fly and pray that our love will never die.
Goodnight, my honey pie.
You are my special someone, someone that I can't live without.
Through the distance, I want to you to hear me as I shout.
I love you, today, tomorrow and beyond.
Goodnight and sweet dreams.
Lay your head in my shoulder,
Worry not as we are together.
We will face tomorrow with a smile,
Tonight, let me kiss you and bid goodnight.
I love you and sweet dreams.
As I look at the moon above
I'm thinking about our moments together.
The first time you gave me your first kiss,
That, I will always remember.
Goodnight, my love, my sweet angel.
Many think that I am lonely, but believe me.
Every time I see you, it makes me so happy!
Tonight, we might be apart,
I can't wait for tomorrow, coz we can be together heart by heart.
I miss you darling. Goodnight!
Goodnight my love, have a sweet dream.
May tomorrow be bright and sunny
As the fate bring you closer to me.
Sweet Goodnight Messages and Wordings
I am the luckiest girl in the world, not because I have you,
but because I am in love with you.
Goodnight!
I never believe in fantasy, but when I met you I realized that happily ever after do happen.
Now, I don't have to sleep just to have my sweetest dreams.
As my dream came true, when I met you!
Goodnight, my sweetheart.
I am sending you my heart to give you strength.
As the sky gets dark and stars sparkle above.
May you have a sound sleep,
And a dream so sweet.
Goodnight, sweety!
Like the rain, it all pours down to our feet,
Like the sun, it all shines out above the underneath.
With your love and mine, I am ready to survive all the test of time.
I was always told addiction was bad.
But how could being addicted to you be so wrong?
I wish that we could always be together.
See you tomorrow darling!
Time comes and goes as it pleases,
but for you and me, it brings us closer.
Goodnight, my love!
Romantic Goodnight Love Messages for Someone Special
Earn extra points from your crush or special someone by sending goodnight wishes. These sweet goodnight love messages will surely melt their heart and make their evening more pleasurable. Put a smile on their face as they embrace the darkness of the night.
You are my sky and I am the cloud,
You are my star and I am the twinkle in it,
You are my moon and I am the light from it.
I am nothing without you my sweetheart!
Sleep well and rest well! Goodnight and sweet dreams!
The cool breeze touching you brings my wishes for you to have a wonderful night with sweet dreams!
Let your body and mind rest well and enter the world of dreams!
My gentle and warm hugs be your companion
to make your night a romantic night!
Let's think about our romantic moments and go to sleep.
Let's my thoughts sing a song to you in your dreams!
Have a great and sweet night!
I don't need to worry about my next day because I have you in my all days.
You are my day and night.
Let's cherish ourselves in our love life and welcome the upcoming days!
This day ends here with this sweet night.
Sweet Romantic Goodnight Messages for Boyfriend
I will end this day by saying I Love you
And let you know that I'm thinking of you.
Look at the brightest star at the sky
That will be our guide tonight.
Good night and have a sweet dreams.
If you want to know how much I love and cherish you,
Count the stars in the sky.
You'll see my love is infinite.
I love you very much.
Each day I wish that my dreams will come true.
Then I remember that I am now with you.
I Love You!
Wherever you go, whatever you do,
I will always thinking about you.
Moments that we're together
Will always be remembered.
I miss you and I love you.
Have a goodnight, darling!
I once wished for the man of my dreams.
Then you came along.
See you in my dreams, darling.
I miss you and I love you.
Romantic Goodnight Messages for Girlfriend
Thinking of the sweet things happened during the day is a beautiful memory!
Let those memories bring you nice dreams! Goodnight!
I would like to be your pillow to hold your head on me!
Let me comfort you and make you sleep nicely!
Goodnight my love!
Let my goodnight wish bring smile on your face!
Kissing your eyes and bidding you goodnight!
My little angel let you sleep like a baby and dream like a princess!
Goodnight my cutie!
Even though the whole world is sleeping my thoughts would be around you!
Even my dreams carry you my dear! Love you so much.
Goodnight and sweet dreams!
I wish I could be near you to make you sleep.
Hugging you and kissing your cheeks, the sweet smile on your face will remain in my eyes.
Let's sleep together and make our day a fresh day!
Cute Goodnight Text Messages, Romantic Goodnight SMS Messages
Sending goodnight text messages is one of the sweetest ways to let your better half know that you thought of them before you lay your head on your pillow. This is perfect for those who are in long-distance relationship. Send them your sweetest regards with these romantic and cute messages and to wish them a wonderful evening.
My message would carry a note for you to say
that I love you to my heart and want to be in your life forever!
Goodnight!
You are my kid and I am here to help you fall asleep with sweetest dreams!
My wishes will be always there for you to bid goodnight!
I have sent the breeze on your way to blow very gently
and let you close your eyes where you can welcome me on your dreams!
Have a dreamy night!
You will be there with me till my last breath!
I care you so much and care you forever!
We met as strangers and got together as friends,
now we are one soul in two bodies.
This night is yet another moment for us to welcome a new day in our life!
Goodnight my sweet!
My dreams were filled with my undying love for you.
I'm excited to sleep tonight, wishing you will be in my dreams again.
Goodnight.
Something Sweet To Say Goodnight
Want to uplift someone's spirit tonight but don't know how to say it? Keep your greetings sweet and romantic. Here are some samples of sweet messages that you can use to say goodnight to your loved ones.
As the night breeze blows your hair tonight,
Imagine that they are my kisses and hugs so tight.
I miss you so, it's hard. But what can we do?
Let me just kiss you goodnight and say I love you.
The stars in the sky sparkle so bright,
But they cannot be compared to your eyes.
I'm thinking about you as I lay down my head,
And wishing you were here.
Good night, my love!
Hello beautiful, I just drop by to say hi.
And see your smile, as bright as the sky.
I hope that you had a great day. Goodnight!
My love, my darling, and all the other names I could call you.
I love you and good night.
Yes I am sappy,
but you make me happy.
I love you,
You never make me blue.
Goodnight, handsome!
Distance doesn't matter. You will always be in my thoughts.
Whenever you are, you will always be in my heart.
Goodnight, sweetheart.
Romantic Goodnight Quotes and Sayings
There are so many goodnight quotes and sayings that you can use. Here, we have picked some of the best goodnight love quotes for him and her. Don't forget to write your own greetings to make the quotes more personalized.
"Although I love the stars that dot the night sky, I love the stars in your eyes even more. While I sleep, I will think about my favorite stars and wait to be with you again."
"All I wish is that the nights when we are together would never end. When we are apart, I cannot bear it. Good night, my love."
"There is something that is big, warm and fuzzy. Before you get too many ideas, you should know that it is a good night hug sent from me to you!"
"Tonight, I would walk a thousand miles just to be with you. Missing you, my love."
"They say that God sprinkles his blessings upon the earth every day and I think I have caught one—it's you! Wishing you a good night and I love you."
"Love is one of the simplest feelings. All I dream about is capturing your heart each night. You already have my heart."
"Here is to hoping that angels will guard you while you dream and the gentle breezes of the night will keep you cool. If it is too cold, may your blankets be warm as you drift on to a gentle rest."
"If only I never had to kiss you good-bye and only needed to kiss you good night."
It's been a long day, but there's no moment that I have not thought about you.
It was hard not to see you for whole day, it will be even harder not to say goodnight.
Sweet dreams, sleep tight, and wishing you goodnight.
The night is long and lonely without you.
I miss the moments that I'm with you.
Wish you were here tonight,
You will be a pretty sight.
I miss your lovely smile
Oh my love, how I miss you tonight.
Goodnight, my love.
Now day is going to end.
It was good because of my love.
Making my everyday seems so great.
Thank you my love lastly. Good Night and Sweet Dreams
Beautiful Goodnight Messages for Her
I pray to God above, to take care of the person who is reading this message.
Goodnight and may you have a wonderful sleep.
I wish night to be longer to be with you in my dreams longer.
But I also wish the night to be shorter so that I can be with you already.
Simply put, I just want to be with you always.
The sun has set for the day
Sky is filled with sparkling stars
So beautiful and bright
I drew your name on it and wish
That tomorrow, you and I will finally be together.
Goodnight, my love.
Loving you is the best part of my life.
Tonight, let me show you my love
As infinite as the sky above,
my love for you will never stop.
Goodnight!
The day is gonna end again. It feels so wonderful to have someone who makes my everyday brighter and great. Thank you darling. May the Angels guard and guide you tonight. Sweet dreams!
May you dance with the stars, skip with the angels and may all the wonderful things you dream of come true for you. Sleep well and have a good night.
Sweet Goodnight Messages
May your dreams be filled with rainbows and pretty flowers. Have a good night.
May birds sing for you, may you hear children's laughter, the strums of beautiful music and may the gentle ocean waves fill your dreams and make you rest well. Good night.
Early to bed gives you more time to visit dreamland and have a fantastic time there. Have a wonderful night.
May you ever enjoy your sleep and may you always look forward to dreaming good dreams. Good night.
Your beauty is enhanced when you sleep, for this wonderful gift removes all the weariness from your features. Good night.
May your hours of sleep edify you and cause you to excel when you are awake. Good night, and have pleasant dreams.
May sleep bring radiance to your eyes, clarity to your mind and vigour to your body. Have a good night and wonderful dreams.
The day is gone, tomorrow is still a distance away. However tonight is yours to enjoy with the blessing and grace of sleep. Have a good night.
Good Night Sweet Heart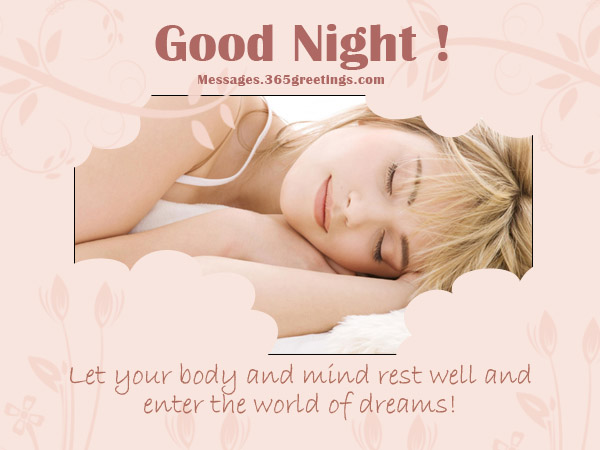 The night is a wonder and a great gift because this is the time when we turn our backs on the toils and labours and hardships of the day and just seek peace and rest. After a long and hard day at work, school or wherever else people spend their waking hours, everyone looks forward to the night time because then the body is rested and the mind rejuvenated as we enjoy our sleep. It is pleasant when we wish friends and family good night as they take their rest. They will go to bed knowing that we are thinking about them and wishing them well, so take the time to send messages that will make the last thoughts of friends and family before they sleep, pleasant ones. Send someone to bed with a smile and good feeling within them of knowing that they are special to you and cherished. Send a good night message today.