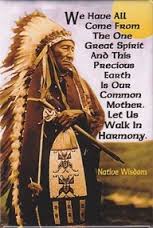 Native americans are indigenous people of North America. The natives are composed of different ethnic groups and living across the continental United states, Hawaii and Alaska.
If you are interested to learn more about inuit or the American indians, the following Native American quotes on life, love and death can help you get to know the brave warriors called indians.
Native American Wisdom Quotes
"There is no death. Only a change of worlds."- Chief Seattle, Suquamish Chief
"A very great vision is needed and the man who has it must follow it as the eagle seeks the deepest blue of the sky." – Crazy Horse, Sioux Chief
"We are going by you without fighting if you will let us, but we are going by you anyhow!"- Chief Joseph's, Nez Perce
"Everything on the earth has a purpose, every disease an herb to cure it, and every person a mission. This is the Indian theory of existence." – Mourning Dove (1888-1936) Salish
"If you talk to the animals they will talk with you and you will know each other. If you do not talk to them you will not know them and what you do not know, you will fear. What one fears, one destroys." – Chief Dan George
"We learned to be patient observers like the owl. We learned cleverness from the crow, and courage from the jay, who will attack an owl ten times its size to drive it off its territory. But above all of them ranked the chickadee because of its indomitable spirit." – Tom Brown, Jr., The Tracker
"I have seen that in any great undertaking it is not enough for a man to depend simply upon himself."- Lone Man, Teton Sioux
"We, the great mass of the people think only of the love we have for our land, we do love the land where we were brought up. We will never let our hold to this land go, to let it go it will be like throwing away (our) mother that gave (us) birth.". –  Principal Chief of the Cherokee.
"When it comes time to die, be not like those whose hearts are filled with the fear of death, so when their time comes they weep and pray for a little more time to live their lives over again in a different way. Sing your death song, and die like a hero going home." – Chief Aupumut, Mohican.
"The land is sacred. These words are at the core of your being. The land is our mother, the rivers our blood. Take our land away and we die. That is, the Indian in us dies."- Mary Brave Bird, Lakota
Native Americans Quotes
"When a white army battles Indians and wins, it is called a great victory, but if they lose it is called a massacre." – Chiksika, Shawnee
This war did not spring up on our land, this war was brought upon us by the children of the Great Father who came to take our land without a price, and who, in our land, do a great many evil things… This war has come from robbery – from the stealing of our land." – Spotted Tail
"The Great Spirit is in all things. He is in the air we breathe. The Great Spirit is our Father, but the Earth is our Mother. She nourishes us…..That which we put into the ground she returns to us." – Big Thunder Wabanaki Algonquin
"It's our stuff. We made it and we know best how to use it and care for it. And now we're going to get it back."- John Pretty on Top, Crow
"I love this land and the buffalo and will not part with it. I want you to understand well what I say. Write it on paper…I hear a great deal of good talk from the gentlemen the Great Father sends us, but they never do what they say. I don't want any of the medicine lodges (schools and churches) within the country. I want the children raised as I was. – Satanta, Kiowa Chief
"I was warmed by the sun, rocked by the winds and sheltered by the trees as other Indian babes. I can go everywhere with a good feeling." – Geronimo, Chiracahua Apache
"These were the words given to my great-grandfather by the Master of Life: "At some time there shall come among you a stranger, speaking a language you do not understand. He will try to buy the land from you, but do not sell it; keep it for an inheritance to your children." — Aseenewub, Red Lake Ojibwa
"My son, you are now flesh of our flesh and bone of our bone. By the ceremony performed this day, every drop of white blood was washed from your veins; you were taken into the Shawnee Nation…" – Black Fish, Shawnee
"Brother, you say there is but one way to worship and serve the Great Spirit. If there is but one religion, why do you white people differ so much about it? Why not all agreed, as you can all read the Book?" – Sogoyewapha, Seneca
"Our land is everything to us… I will tell you one of the things we remember on our land. We remember that our grandfathers paid for it – with their lives." – John Wooden Leg, Cheyenne
"Whenever the white man treats the Indian as they treat each other, then we will have no more wars. We shall all be alike–brothers of one father and one another, with one sky above us and one country around us, and one government for all." – Chief Joseph, Nez Perce
"I have heard you intend to settle us on a reservation near the mountains. I don't want to settle. I love to roam over the prairies. There I feel free and happy, but when we settle down we grow pale and die." – Satanta, Kiowa Chief
"Everything on the earth has a purpose, every disease an herb to cure it, and every person a mission. This is the Indian theory of existence." – Mourning Dove (1888-1936) Salish
"Everything on the earth has a purpose, every disease an herb to cure it, and every person a mission. This is the Indian theory of existence."- Mourning Dove (1888-1936) Salish
"The American Indian is of the soil, whether it be the region of forests, plains, pueblos, or mesas. He fits into the landscape, for the hand that fashioned the continent also fashioned the man for his surroundings. He once grew as naturally as the wild sunflowers, he belongs just as the buffalo belonged…." – Luther Standing Bear, Oglala Sioux Chief