Saying the words "Thank You", even in a form of thank you quotes, is more than showing gratitude and expressing your heartfelt thanks. It's like sharing some parts of you and expressing the love and appreciation you have for the recipient. In this life, we have a lot of people to say thank you for. That's why I've listed some of the best thanks quotes for specific recipient.
I've included Thank You quotes for God, for friends, for teachers, for parents, etc. Take a look at these quotes about thank you and share them to the people you want to give thanks to. It's not that hard, it will just take a few seconds to express and send you heartfelt appreciation and gratitude. You can do it now.
Thank You God Quotes
Thank you lord quotes, Thank you Jesus quotes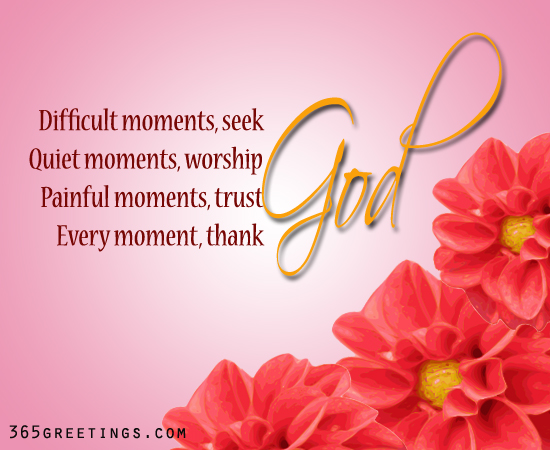 When was the last time you thank God? It's important part of the day to give thanks to the one who gave us life and is letting us live for the moment. Include giving thanks to the almighty lord to your daily routine. Below are some of wonderful Thank you lord quotes that may help you express your appreciation to God.
Happy moments, praise God,
Difficult moments, seek God,
Quiet moments, worship God,
Painful moments, trust God,
Every moment, thank God.
~ Anonymous
I thank you God for this most amazing day: for the leaping greenly spirits of trees, and a blue true dream of sky; and for everything which is natural, which is infinite, which is yes.
~ E.E. Cummings
If we thanked God for the good things, there wouldn't be time to weep over the bad.
~ Yiddish Proverb
Thank you, dear God, for this good life, and forgive us if we do not love it enough.
~ Garrison Keillor
Let the giving of thanks be your sacrifice to God.
~ The Bible, Psalm 50:14
I prayed, thanking God, for making it all possible for me,
because I knew where I came from.
~ Thomas Hearns
Most people repent their sins by thanking God
they ain't so wicked as their neighbors.
~ Josh Billings
Thank you God for blessing me much more than I deserve.
~ Anonymous
O Lord, who lends me life, lend me a heart replete with thankfulness.
~ William Shakespeare
God gave you a gift of 86,400 seconds today. Have you used one to say 'thank you'?
~ Dr. William Arthur Ward
Thou hast given so much to me,
Give one thing more, – a grateful heart;
Not thankful when it pleaseth me,
As if Thy blessings had spare days,
But such a heart whose pulse may be Thy praise.
George Herbert
Best Thank You Quotes



Every time we remember to say "thank you",
we experience nothing less than heaven on earth.
~ Anonymous
One can pay back the loan of gold,
but one dies forever in debt to those who are kind.
~ Anonymous
Thank you much more, Than a greeting can say,
Because you were thoughtful, In such a nice way!
~ Anonymous
Let us be grateful to people who make us happy;
They are the charming gardeners who make our souls blossom.
~ Anonymous
I thank everyone that has caused me to suffer,
without you I would have no reason to express myself.
~ Anonymous
Saying thank you is more than good manners.
It is good spirituality.
~ Alfred Painter
In ordinary life we hardly realize that we receive a great deal more than we give,
And that it is only with gratitude that life becomes rich.
~ Dietrich Bonhoeffer
Something that has always puzzled me all my life is why,
when I am in special need of help,
the good deed is usually done by somebody on whom I have no claim.
~ William Feather
For your thoughtfulness and generosity,
from you I have learned much of life's philosophy
– Thank you sincerely.
~ Anonymous
Thank You Quotes for Teachers



Don't know how to express your gratitude to your teacher? How about using some inspirational and heartfelt thank you teacher quotes? There are so many quotes about teacher that you can use as your introduction for your message. Teachers are wonderful person, they deserve some words of thanks. Here are some samples of appreciation quotes for teachers.
There's no one quite like a special teacher,
and no teacher quite as special as you.
~ Anonymous
No one is more cherished in this world than someone
who lightens the burden of another.
Thank you.
~ Anonymous
I would thank you from the bottom of my heart,
but for you my heart has no bottom.
~ Anonymous
I thank you,
For helping me reach my goals
And molding me to be a better person.
~ 365greetings
I am who I am right now with the help of wonderful people,
They are my parents, friends and of course, my Teacher.
Thank You!
~ 365greetings
The mediocre teacher tells.
The good teacher explains.
The superior teacher demonstrates.
The great teacher inspires.
~ William A. Ward
The dream begins, most of the time, with a teacher who believes in you, who tugs and pushes, and leads you onto the next plateau, sometimes poking you with a sharp stick called truth."
~ Dan Rather
What is a teacher?
I'll tell you: it isn't someone who teaches something,
but someone who inspires the student to give of her best
in order to discover what she already knows.
~ Paulo Coelho
The teacher who is indeed wise does not bid you to enter the house of his wisdom but rather leads you to the threshold of your mind.
~ Khalil Gibran
The best teachers teach from the heart, not from the book.
~ Anonymous
He who opens a school door, closes a prison.
~ Victor Hugo
A truly special teacher is very wise, and sees tomorrow in every child's eyes.
~ Anonymous
To Teach is
To Touch lives
For Ever
~ Anonymous
Thank You Quotes for Friends
Are you looking for some quotes about friendship and thank you quotes for friends to express your appreciation to the person who makes your life and world more meaningful and fun-filled? Then here are some thank you friend quotes that you can use and include to your messages for your friends.
We can only be said to be alive in those moments when our hearts are conscious of our treasures."
~ Thornton Wilder
It's nice to be important, but it's more important to be nice.
~ Anonymous
Thank you for being there when I needed you the most.
Thank you for helping me through all those tough times in life.
Thank you for being such a good friend no matter what I did,
but most of all, thank you for being you.
~ Anonymous
Life is a hard journey to walk into,
But you made it wonderful and worth living.
Thank you my friend
~ 365greetings
Thank you for the good times,
The days you filled with pleasure.
Thank you for fond memories,
And for feelings I'll always treasure.
~ Karl Fuchs
I can no other answer make, but, thanks, and thanks.
~ William Shakespeare
If the only prayer you ever say in your entire life is 'thank you', it will be enough.
~ Meister Eckhart
For catching me when I fall,
For being there through thick and thin,
For believing in me,
For making me stand my ground,
For listening to me,
For hearing my thoughts,
For knowing me inside out,
For never putting me down,
For forever trying to lift my spirits,
For defending me so often,
For being my living hero,
Thank you and I LOVE YOU
~ Anonymous
I'd like to say thank you,
For your helpful giving ways,
For your generous heart and unselfish displays.
I won't forget your kindness or what it means to me.
~ Anonymous
Thank you so much for all you do;
You're truly a delight;
When my life overwhelms and does me in,
You make everything all right.
~ Karl and Joanna Fuchs
Funny Thank You Quotes
Thank you quotes don't have to be serious every time. You can actually add humor on it. Here are some of the funny thank you sayings and quotes that you can share to your friends. You share the humor, at the same time, express your gratitude and appreciation.
I feel a very unusual sensation – if it is not indigestion, I think it must be gratitude.
~ Benjamin Disraeli
It doesn't matter how often a married man changes his job,
He still ends up with the same boss.
~ Anonymous
Silent gratitude isn't much use to anyone.
~ G.B. Stern
You are getting old when you enjoy remembering things more than doing them.
~ Anonymous
When we were children we were grateful to those who filled our stockings at Christmas time.
Why are we not grateful to God for filling our stockings with legs?
~ G.K. Chesterton
If you can't be content with what you have received,
be thankful for what you have escaped.
~ Anonymous
We hope that, when the insects take over the world,
They will remember with gratitude how we took them along on all our picnics.
~ William Vaughn
Don't overload Gratitude; if you do, she'll kick.
~ American proverb
I want to say thank you to all the people who walked into my life and made it outstanding, and all the people who walked out of my life and made it fantastic.
~ Anonymous
Let us be thankful for the fools.
But for them the rest of us could not succeed.
~ Mark Twain
Some people are always grumbling because roses have thorns;
I am thankful that thorns have roses.
~ Alphonse Karr
There's always something to be thankful for.
If you can't pay your bills, you can be thankful you're not one of your creditors.
~ Anonymous
Thank You Quotes for Boss
For the Guidance
For the Support
For the Appreciation
For the Opportunity
Thank you sincerely
~ 365greetings
I would maintain that thanks are the highest form of thought,
and that gratitude is happiness doubled by wonder.
~ G.K. Chesterton
Thankfulness is the beginning of gratitude.
Gratitude is the completion of thankfulness.
Thankfulness may consist merely of words.
Gratitude is shown in acts.
~ David O. McKay
One can pay back the loan of gold,
but one dies forever in debt to those who are kind.
~ Malayan Proverb
Unselfish and noble actions are the most radiant pages in the biography of souls.
~ David Thomas
I thank you for your kindness,
I will not soon forget;
You're one of the nicest people
I have ever met.
~ Joanna Fuchs
Thank you boss for bringing out the best of my talent and skills.
I am thanking God that I met someone like you.
~ 365greetings
I was a nobody, until I worked with you, now I am a somebody.
Thank you boss for giving me confidence.
~ 365greetings
You're one of the greatest Boss I've ever known,
Thank you for giving me the opportunity to work with you.
~ 365greetings
Thank you Quotes for Parents
I Thank You,
For Letting me grow
For Loving me unconditionally
For Supporting me all the way.
I will always be grateful
~ 365greetings
Every day I pray and say Thanks to God
For He gave me wonderful parents
Who are there to love and guide me.
~ 365greetings
Parents are wonderful people God gave us.
I'd like to express my biggest thanks to my wonderful Mom and Dad.
You're the best!
~ 365greetings
I am what I am right now because of you,
Because of your selfless love, unconditional support and exceptional guidance.
From the bottom of my heart, thank you and I love you.
~ Anne Walker
There are three degrees of filial piety.
The highest is being a credit to our parents,
The second is not disgracing them;
The lowest is being able simply to support them.
~ Confucius
To understand your parents' love you must raise children yourself.
~ Chinese proverb
The most important thing that parents can teach their children is how to get along without them.
~ Frank A. Clark
Don't be discouraged if your children reject your advice.
Years later they will offer it to their own offspring.
~ Anonymous