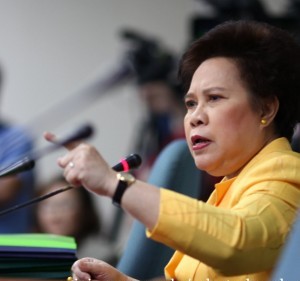 Miriam Defensor Santiago is known as a smart and feisty senator in the Philippines. She was remarkable on her field, as a lawyer and a mentor of constitutional and international law. This lady senator was very serious, firm yet very outspoken on every issue on senate hearings. Just recently, she became a Judge-elect of the International Criminal Court because her personality perfectly suits the position.
Though outnumbered by male co-senators, senator Miriam never feared anybody in her 18 years senate life. With how she look and talk, she would always make a remarkable moment of her own. Her speeches are considered to be awaited scenes for the public. Intentional or unintentional, who would ever think that she can crack something that will make her audiences laugh?
Pick Up Lines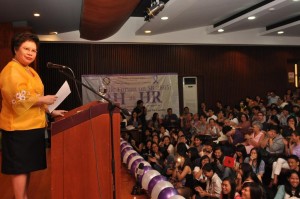 Pick up lines were famous especially among the teens and young adults. Senator Miriam had always been among the favorite public personalities invited to deliver graduation speeches, inspirational and public speaking on university forums. She surprised everyone when at one event, she delivered these funny pick up lines on her serious trademark look to entertain the crowd. This is how she have become more popular to the young ones. She still have her normal-funny-young heart despite her high position. Some may sound harsh but that's how she is-striking!
Here are some of the best Miriam Defensor Santiago pick up lines you would surely enjoy. With these funny tagalog pick up lines of Miriam Defensor Santiago, you would surely have a good laugh.
Tagalog Pick Up Lines
The lady senator has a very serious look but she has the character of being on the go, hip and hop and just someone who can adjust with the crowd. Though she's not that young anymore, currently 68 years old but she can actually get the youth's attention to listen to her. She may look very strict but it was a surprise at first, that she was not really that way stiff. Her sessions with the audience was always fun and full of lessons. No doubt why she's one of the most invited public personality to speak on said events. To entertain the audience seemed to be natural with her, a humorous yet very smart person.
So to begin with, here are some funny pick up lines. Of course, some are love-related while some are witty pick up lines about love rejection (busted) or some to annoy detractors. Expect that love would not always be mutual. Imagine how a high official would deliver these pick up lines? Geee just so exciting!
Miriam Defensor Santiago  Funny Pick Up lines
Sana birthday candle ka na lang..
Para pag pinapatay kita, pumapalakpak sila!
Bulaklak ka ba?
Paa mo kasi maugat.
Tuwing makikita ko ang mukha mo, parang gusto kong sumigaw ng 'Objection!
"Kung ang iyong mukha ang iyong kayamanan , ibaon muna sa lupa "
 Boy: Nasa DUGO namin ang pagging GWAPO..
Girl : gaNun? bkit nasa DUGO lang… wala sa MUKHA???
"Hindi lahat ng sweet ay loyal.
Sweet nga ang candy, pero nakabalot naman sa plastic!."
"An earthworm has five hearts and an octopus has two hearts.
Ngayon, kapag may kilala kang nagmamahal ng dalawa o higit pang tao,
tanungin mo kung anong klaseng hayop siya."
"Kapag ikaw ay magmahal pero sasaktan mo rin naman,
dapat maghamon ka na lang ng suntukan."
As a politician, it can't be avoided that Senator Miriam would have some detractors or other public officials that would never be on the same side as her. That's why, when she starts to deliver witty pick up lines that are said to be intended for her detractors, instead of being annoyed with the "word-war", people are entertained and are even waiting for the next lines. hahaha. (take note, it's not WORLD war but WORD war instead)
Ang love, parang bayad sa jeep.
Minsan, hindi nasusuklian.
Ang sabi nila, 'An apple a day keeps the doctor away.'
Kung guwapo o maganda ang doctor, ayoko na ng apple.
Kapag namatay ako, huwag na huwag kang pupunta sa libingan ko.
Baka kasi tumibok ulit ang puso ko.
Hindi ko sinasabing maganda ako,
ang sinasabi ko lang pangit ka!
When someone told me "ang ganda mo" …
I answered "sana ikaw rin"
Kapag may magsabi sa iyo, hoy, bakit ang sama mo makatingin?
Ang isagot mo, e bakit ikaw ang sama mo tingnan?
Ano ang tawag sa magsyota na pangit ang lalaki at maganda ang babae?
Ang tawag diyan ay diskarte.
Ano ang tawag naman kapag ang babae naman ang pangit, pero gwapo ang lalaki?
Ang tawag dyan ay swerte.
Pag may magtanong sa iyo, kumusta ang love life mo?
Just answer back 'katulad mo, pangit.
Ang pagtingin mo sa kaaway mo parang panonood ng malabong TV,
-ang sarap patayin.
Kapag naalala ko ang mga nagkagusto sa akin noon,
para akong nasa roller coaster, nakakasuka.
Ngayong graduate na ako, para sa akin- isa kang bachelor's degree.
Tapos na 'ko sa iyo!
Ang pag ibig ay parang ketchup,
matamis pero maraming nakikisawsaw.
Straw ka ba?
Kasi sipsip ka na, plastic ka pa.
Alarm clock ka ba?
Kasi paggising ko, ikaw ang una kong gustong patayin.



If you are to ask me how rightful Madam Miriam Defensor Santiago is to share these pick up lines, especially the sweet pick up lines, well then she is 100% rightful. Proven enough that her love life is by far a successful one on their 42th wedding anniversary this year. This photo was taken last June 2011 during their 40th wedding. The Santiago couple decided to renew their wedding vows at Manila Cathedral followed by the reception at Manila Hotel. Her husband, Sir Narciso "Jun" Santiago was the former Interior Undersecretary. The bride wore a ruby gown, symbolizing the 40th year anniversary. Thus, she was indeed not just a love expert by words but in real life as well.
How influential can Senator Miriam Defensor Santiago be, that every time she shares these pick up lines to her audiences, it becomes a news headline on Philippine news?
Well, she's famous because she and husband are both public officials. She's one of the smartest remarkable lady senators in the country. This photo is another shot taker during their 40th wedding anniversary. The entourage was composed of prominent personalities both in the politics, business and entertainment world. Her maid of honor was famous actress Heart Evangelista and the groom's best man was actually the President of the Philippines Benigno  Aquino III. Yep, that's how grand the said wedding was. The lady senator was not just an ordinary woman, that's how her pick up lines got famous among the youngsters. Though some pick up lines are not her original, it was how she delivered it that made the people enjoyed it. She was undeniably glad to entertain the audience even more. So every time she's got new invites for speeches, she prepares a bit of pick up lines in case she's asked to give so. She just nailed it!
Miriam Defensor Santiago Sweet Pick Up Lines
Sana exam mo na lang ako,
para sagutin mo rin ako.
Ang feeling ng in love ay parang grades.
Minsan pasado, minsan bagsak, minsan naman incomplete.
Suicide, homicide, insecticide, lahat pamatay.
Pero kung gusto mong pampabuhay, i-try mo ang 'by my side.
Malabo na talaga ang mata ko.
Pwede ba akong humingi sa iyo ng kahit konting pagtingin?
Tindera ka ba ng yosi?
Kasi you give me hope and more.
Para kang cactus,handa akong masaktan..
mayakap ka lang.
Nakalimutan ko ang pangalan mo eh,
pwede bang tawagin na lang kitang akin?
Kung magkakaroon ako ng sariling planeta, gusto ko ikaw ang axis nito,
para sayo lang iikot ang mundo ko.
Pagwala ka, buhay ko'y parang lapis na di pa natatasahan, pointless.
Masasabi mo bang bobo ako,
kung ikaw lang naman ang laman ng utak ko.
Sana magkasama tayo sa pila para pag may sumigaw ng "next" at hindi mo narinig tatanungin mo na agad ako kung "Tayo na ba?"
Ako na ang magbabayad ng tuition fee mo,
pag aralan mo lang na mahalin ako.
"Ang taong nagmamahal ng tunay ay parang matalinong estudyante na kumukuha ng exam.
Hindi siya tumitingin sa iba kahit nahihirapan na."
Gusto kitang kasuhan ng trespassing.
Kasi basta-basta ka lang pumapasok sa puso ko.
Empleyado ka ba?
Empleyado rin ako. Pwede tayong magkaroon ng union.
Pwede bang magpa-blood test?
Para malaman mo na type kita.
When the lady Senator was asked if she would still want to renew the vow and have a golden wedding on their 50th year anniversary, she said it depends if she is still physically fit and it would be strange to see old couple both riding on wheelchairs on the aisle during their wedding day. She said that a part of their marriage success was their kindness to each other as husband and wife. She trusted her husband so much that she never cared about her husband's night life because she believed he's going to be loyal to their wedding vows.
Another tip for marriage, Senator Miriam said they both had given space for each other. That at times, they are surprised to meet each other on their house corridors and realize they were actually married people. Not sticking too much to her husband as "not breathing on each other's neck" as how she described it. She was also able to go to school abroad and be with friends both male and female, and yes she remained faithful to her husband.
Here's more of Miriam Defensor Santiago Cheesy Pick Up Lines
Pangalan mo palang kinikilig na ako,
paano pa kaya kung magka apelyido na tayo?
Sana FB status ka na lang,
para pwede kitang i-like.
Ibenta mo na bahay mo, total nandidito ka na, nakatira sa puso ko.
Sana naka-off ang ilaw,
para tayo na lang mag-on.
Noodles ka ba, kasi Lucky Me?
Parang see-saw,
pag wala ka, down ako.
Para kang hold-upper
lahat ibibigay ko sayo, wag mo lang akong saktan.
Galing mo din, ano?
Di mo pa ko binabato tinamaan mo na ako.
Maglaro tayo ng kahit ano, wag lang taguan,
kasi a guy like you is hard to find.
Bastos ka rin, ano?
Di ka man lang nagpapaalam tuloy-tuloy kang pumasok sa puso ko.
Google ka ba?
Lahat kasi ng hinahanap ko, sa'yo ko natagpuan.
"Sana ikaw ang cardiologist ko, para ikaw ang mag-aalaga sa puso ko."
"Tatakbo ka ba sa eleksyon? Boto kasi sayo magulang ko."
"Sana scientist ako, para ikaw naman ang lab ko."
Valentines Day Pick Up Lines
It was Valentines Day this year 2013, when Senator Miriam Defensor Santiago delivered these Valentines pick up lines on one event. It was really funny and I heard lots of people around me using these lines. That it even became viral on social networking sites especially on Facebook. She actually gave advice, that if in case a couple plans to have a baby that would be born on Valentines Day or February 14, probably intercourse should be done last week of May to 1st week of April. Isn't it awesome? A valentine baby! haha
kung nasa school man o sa work simple lang
umuwi ng maaga.
para isipin ng ibang tao na "wow may ka date sya!"
Girl: Saan tayo magde-date sa Valentine's?
Boy: Sa sementeryo!
Girl: Bakit doon?
Boy: Para mapatunayan kong patay na patay ako sa'yo.
Pedicab ka ba? Pedicabang i-date sa Valentine's Day?
"Malapit na ang Valentine's Day. Buti pa ang kalendaryo, may date.
Kayo ba mayroon?"
 "Para sa mga malungkot na single, ang tawag dito (Valentine's Day) ay Singles' Awareness Day.
Para sa mga masasayang single, ang tawag dito ay Singles' Independence Day.
Pero sa mga walang pakialam, ang tawag dito ay Thursday."
Malapit na ang Valentine's Day ah.
Pero bakit ikaw mukha ka pa ring Halloween?
Senator Miriam was once asked why she's always seen without a handbag or clutch bag and she said, bags would just occupy her hands. She always want her hand empty so she can immediately slap someone in case it is needed. Haha such a funny madam.
That's how prank and brave she is. Take note, there's just two of them who are really icons of these pick up lines. If it's not from Senator Miriam, then it's from Boy Pick up. Just by watching her and even if she doesn't make faces, well she can really be soooo funny! Everyone around watching her would just giggle or would laugh out loud! (LOL) So what are you waiting for? Be sure to browse these pick up lines delivered and made popular by one and only Senator Miriam Defensor Santiago. Feel free to share it on your social networking sites like Facebook and Twitter. If we've missed some Miriam Defensor Santiago latest pick up lines, then we would be very glad to read your additional pick up lines in the comment section. Cheers!