16th birthday is said to be a stage from diverse cultures. This is stage where the person is in the middle of adolescence and teenage life. As our traditionally or habitual way to show our care and love to someone important to us during their birthdays is to give them some birthday present, birthday cards or even a simple birthday wishes and greetings.
In choosing the best wishes for them, you can consider some factors such as based on their age, reputation, value of your relationship, likes and so on. There are also numerous forms of birthday wishes wording that you can send or address through SMS, birthday cards, personally such as funny wordings, inspirational, sweet, cute wishes and many more. There are some 16th birthday wishes and greetings beneath that you can address to your friend, sister or any person you like to greet on their 16th birthday celebration.
Recommended For you
Happy 16th Birthday Wishes, 16th Birthday Quotes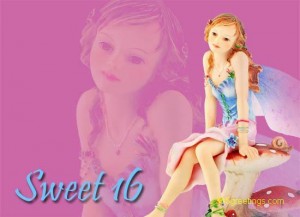 Wish a friend or a family a happy 16th Birthday with these samples of messages and quotes. I've listed down some inspirational and sweet birthday wishes for 16th birthday. I've also included some nice 16t birthday quotes that you can write in a birthday card.
Forget the problems,
Forget to be depressed.
Today is your day
And we will celebrate all day.
Happy 16th Birthday!
May your 16th year in this world brings more hope and wisdom.
May all the wishes and prayers come true
And I'm just here for you.
I can still remember you were still an infant,
Now you're all grown up.
Happy 16th Birthday and may this day make you happy!
I wish you more fun and happiness together with trusted and good friends.
May your 16th birthday filled with love.
I can't believe you're 16 now.
Because you'll always be the baby girl I adore.
No matter how old you get,
You're still the little infant I will love forever.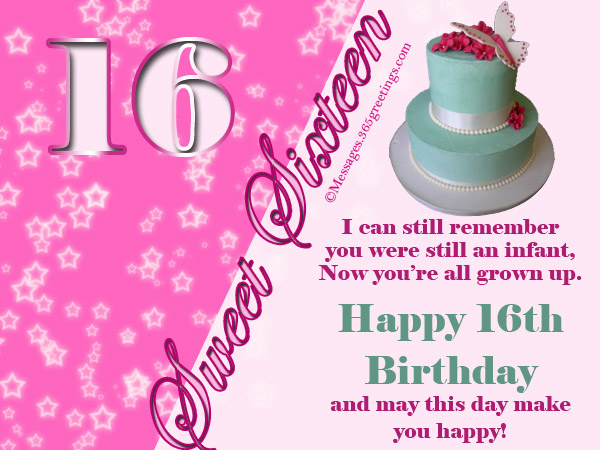 You're only 16 but you have gained so many achievements already
And I couldn't be prouder of you, honey.
Happy Birthday.
You're the most precious girl ever.
Always a leader and a total thinker!
You're the most amazing 16-year-old girl with a smile to offer!
Happy Birthday!
Wishing you the sweetest day a 16-year-old girl could ever ask for.
Happy Birthday!
16th Birthday Wishes for Girls, 16th Birthday Quotes for Friends
Surprise and make your sister happy on their special 16th birthday. Show your love and care to them by giving some gifts and especially those birthday wishes that can add more fun on their celebration. You can use some of these birthday wishes quotes.
Happy 16th birthday Sis!
You're now in that age where you're not quite a kid,
But not quite an adult yet.
You've a long way to go.
Best Wishes to you. Happy Birthday!
Good luck in your future endeavors in life,
And I hope that you grow up to be a wise person.
Happy 16th Birthday!
As I see it, you are yearly growing up into a very fabulous person.
Stay as amazing as you are and
Keep making the world a better place to live in for all of us.
I wish you a life with full of fun and enjoyment
together with your trusted and beloved friends.
May God bless you all the time.
Happy sweet 16 sis!
Before this day, you were just another teenager.
Now that you have turned 16,
I can't believe how more mature person you are now.
Happy Birthday!
I am sending you all the best one can ever wish for a person,
Because a special person like you deserves
All the best on their very special day.
Happy 16th birthday!
Funny 16th Birthday Wishes, 16th Birthday Wishes Funny



How about adding humor to your birthday greetings? Here are some slightly funny 16th birthday messages that you can include you your birthday wishes.
Bid farewell to being childish and say hello to the first level of maturity.
Bid farewell to your old school bus and say hello to driving your own car.
Being 16 is the most wonderful age you'll experience so far.
Happy Birthday!
Celebrating being 16 is a great deal,
Two more years and you'll be 18, girl!
Legal age to call for a party, happy birthday!
Sixteen is a truly amusing age
I hope you have a wonderful celebration this year.
Happy 16th Birthday!




Time to roll down the car windows—
You're old enough to drive!
I wish you a lot of fun road trips ahead of you
Happy 16th Birthday!
The little girl is now a lady.
May your 16th birthday be happy.
Happy Birthday.
Sweet 16th Birthday Wishes, 16th Birthday Messages for Friends
There are a lot of good things
That I could say regarding to you,
From the maturity
You've shown to the things that you do.
Happy sweet 16!
You're totally a big package of gift that God sent to me.
Wishing you a Happy and wonderful 16th birthday!
Wishing you the great and wonderful birthday.
Take care always and Happy 16th birthday!
Thanks to the entire thing you've one to me
I can't imagine life without you.
I hope that you will enjoy this special day to you.
Happy 16th Birthday!
Although I may be far away by the time
you celebrate your special day,
I want you to know I am sending out all my love
And birthday wishes on this special day to you.
Happy birthday!
I wish you the most amazing and memorable time on your day
Happy 16th Birthday!
I'm wishing you a lot of memorable experiences
With the ones you love.
Have a special 16th Birthday!
Happy 16th Birthday Messages and 16th Birthday Card Messages
Many say that a birthday is a very special day.
But for someone like you, this is an EXTRA special day
You're 16, sweet as ever.
Happy Birthday!
From now on, you are now sixteen years exist in this world.
May you get all the greatest things in life.
Happy sweet 16th birthday!
You are really growing and become mature enough
To become an efficient and responsible person.
Get the sweetest of being 16.
Happy Birthday!
Happy 16th birthday!
I hope you have a wonderful and exciting celebration today.
Take the bull by its horns and challenge yourself in every endeavor you take.
Happy 16th birthday!
I wish you get everything you want because you deserve to be happy!
I hope you stay as sweet as the age you have now become.
Enjoy your special day!
On this very special day of yours,
I wish you all the fun you can get
And all the good friends to have wild and memorable days with.
Happy sweet 16!