Birthday wishes, Christmas greetings, holiday wishes, Anniversary wishes, party invitation wordings, quotes, poems, greeting card wordings.
. br>
21st Birthday Wishes
---
Planing to send 21 birthday card to your friend or relatives. Please find these 21st birthday wishes that will help you to write a wonderful birthday messages on your Card. Birthday is an important event to an individual. Especially a birthday milestones such 21st birthday and many more are the birthdays that catches more attention and time for celebration.21st birthday is very important event in a mans life. most of them complete their education by that time and will be working and achieved financial Independence.   So find some great 21st birthday wishes below
Happy 21st Birthday Wishes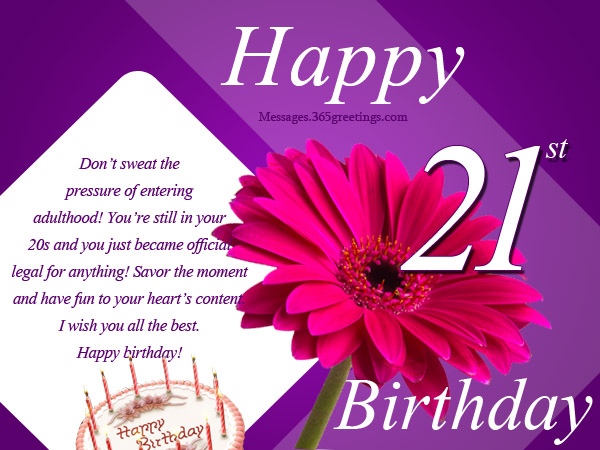 Choose and send them those 21st birthday wishes together with your birthday gift coated with love. I'm sure this is the best present that you can give to someone on this special day for them. These are some of 21st birthday wishes that you can send to them.
Happy 21st birthday!
Today is considered as a special day for you,
But actually, every day for the past 21 years has been special, because you exist in this world.
Enjoy your day as much as everyone enjoys life with you in it.
You are now one step into your 20s.
This is the time for you to figure out what you want to do in life,
But at the same time, it's the time for you to make mistakes to learn from.
Don't waste this decade.
Be young, be wild, and be free, but learn how to be responsible as well.
Happy 21st birthday!
The most important year in your life comes now.
Enjoy your life by doing those things that gives you happiness.
Remember, we are here for you always.
Happy 21st birthday to you!
21st Birthday Wishes for Son

Greet your son on his 21st birthday celebration with some birthday wishes. In that way you can express your love and care for them and at the same time it can help to strengthen your relationship with each other. Here are some birthday wishes that are suitable for a 21st birthday celebrant.
Happy 21st birthday son!
Now you are officially legal enough to do the things you've been trying to hide from me and your mother since you were younger.
Just kidding! Enjoy your day and may you have more wild adventures to come in life.
Don't sweat the pressure of entering adulthood!
You're still in your 20s and you just became official legal for anything!
Savor the moment and have fun to your heart's content.
I wish you all the best. Happy birthday!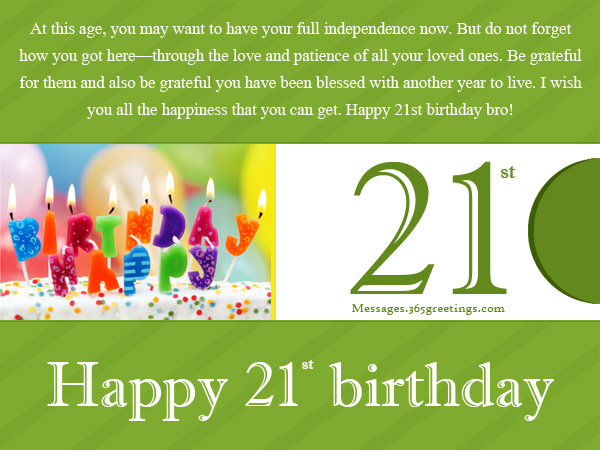 Wasn't it just yesterday that you were at least a year younger?
Time does fly fast! It seems like yesterday you were just a clueless kid,
And now you've entered adulthood.
I hope you find the right path in life and may this year top the last.
Happy 21st birthday son!

21st Birthday Card Messages 21st birthday Messages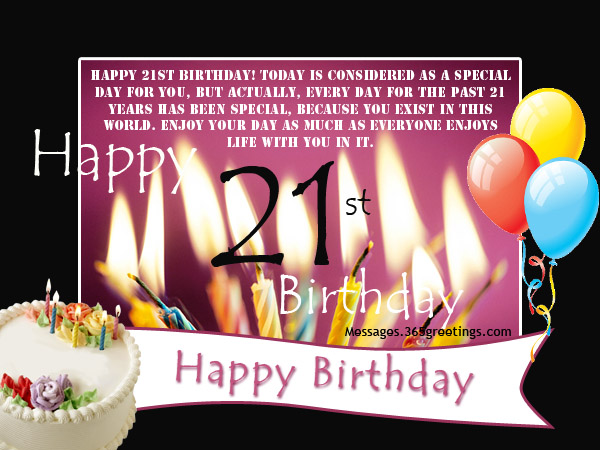 Explore some of 21st birthday wishes underneath that you can send to someone important to you on their special day, especially on another birthday milestone on their life – 21st birthday.
I can hear the slot machine bells ringing!
Congratulations on being legal enough to gamble!
Happy 21st birthday!
You're now definitely a teenager no longer,
But that doesn't mean you have to stop having fun.
Enjoy your 21st birthday and have the time of your life! Happy birthday!
Say goodbye to your childish ways and hello to adulthood.
This is the start of the rest of your life.
I hope that you find your life's purpose and that you live your life with immense fervor.
Happy 21st birthday!

21st Birthday Wishes messages

Your brother finally reaches his legal age, congratulate and wish him good luck on his next chapter of his life with these 21st birthday wishes. There are sort of 21st birthday wishes underneath that you can send to him.
You will never have your 21st birthday again,
So have fun while it lasts and make the most out of this year.
I hope you are continuously an awesome brother for me.
Happy 21st birthday!
At this age, you may want to have your full independence now.
But do not forget how you got here—through the love and patience of all your loved ones.
Be grateful for them and also be grateful you have been blessed with another year to live.
I wish you all the happiness that you can get. Happy 21st birthday bro!
Even if you're 21 now, I bet you'll still be carded at bars and casinos.
You look too young to be joining the adult party!
Happy 21st birthday and I wish you all the best in the world!

21st Birthday Wishes for a friend

Strengthen your bond with your best friend. On the most important chapter of his life, give him a word of congratulation, thanks and encouragement as he enters the new field – adulthood. Here's a collection of best friend birthday wishes for his 21st birthday.
You definitely have more than 21 reasons to be thankful for that you are celebrating another year in your life.
But all I'm thankful for is just 1—you!
Thanks to all the crazy memories we had together.
May we have more fun times.
We are still young; let's live it up!
Happy 21st birthday my one and only best friend!
You are now 21—the age where a lot of responsibilities are placed on your shoulders.
Don't knit your eyebrows over the pending adulthood.
Lie back, relax, and for now, let life run its course.
You still have the rest of your 20s to make mistakes that you can learn from.
Happy 21st birthday friend!
New era in your existence in earth is now begin from now on,
I hope God will always be with you, same with me that are always be with you.
Happy 21st Birthday!
Funny 21st Birthday Wishes

Keep your 21st birthday wishes short and brief, while containing your most heartwarming messages for your recipient. Here are some samples of short birthday messages for 2st birthday.
The world better watch out for you because this is your year!
Make the most out of everyday! Happy 21st birthday![/snip]
Ignore the number of years pass,
Instead count all the blessings and granted wishes that you receive
Happy 21st Birthday!
I wish that you are well prepared in entering legitimacy stage in you life.
Happy 21st birthday!
21st thing to remember for your 21st birthday,
You are now officially permitted to do all what you want.
Happy Birthday!
21st Birthday Wishes, 21st Birthday Quotes

This is another important birthday celebration especially for the boys, so go and greet them by some birthday wishes. These are some of the birthday wishes for a 21st birthday celebrant.
You've been blessed with another year in your life.
Take this chance to make it the start of something amazing.
You're just 21 and you have so much in store for you,
So I wish you the enthusiasm to welcome each challenge that you may face.
Happy 21st birthday!
Happy 21st birthday!
I wish you more birthdays to come and that with each celebration,
You push yourself to become a better version of yourself.
Enjoy your day!
By annewalker
+
| | |
| --- | --- |
| Related Articles about BIRTHDAY | |