30th birthday is one of the most important milestone in life. Aside from birthday gifts for the celebrant, a special happy 30th birthday wishes could be enough to make the celebration complete. No need to send ultra inspirational and dramatic birthday messages to your loved ones or friends. Today, birthday wishes with humor are becoming more and more popular. Just make sure that you know the celebrant enough to be able to give her/him the best humor on her/his birthday.
Now, if you are those who are more on inspirational and slight serious birthday greetings, don't worry. I also include some nice 30th birthday greetings that your recipient would love. And please note that these sample birthday messages are just example. Feel free to include your own greetings and merge it them with these examples. So what are you waiting for, grab your pen and start writing your 30th birthday card messages.
Happy 30th Birthday Wishes
30th Birthday greetings, Happy 30th birthday quotes
Happy birthday!
This is greet you with glee
And pray for more exciting days
Have fun, chill out and be joyful always!
I pray that this special day will bring you tons of lovely surprises!
And wish that God will provide all that your heart desires!
Happy 30th birthday!
Happy 30th birthday!
I wish for bigger scoops of sweet treats from this life.
You still have more decades left to enjoy!
Stay sweet!
This is the 3rd decade anniversary celebration for yourself!
Happy 30th birthday!
May you have more self-anniversaries in the coming years.
On this memorable day of yours,
I am sending my kisses and wishes your way.
I wish the 3rd decade of your life be as amazing as your first ones.
Happy 30th birthday!
I wish you continue searching for the best version of you
And that you don't give up on the obstacles you may face.
Wishing you a very happy birthday!
30 candles are but a crowd in your cake!
But these symbolize 30 fruitful years of your existence!
I pray for more blessings to be outpoured in our life!
Happy birthday!
We lift a toast today
Coz it's simply your birthday
May this be one of your happiest days
And for the next years to come your way
30th Birthday Messages
30th birthday card messages, 30th birthday greetings messages
30 blissful years abounding in joy
I pray it'll double each year
Stay happy and be merry.
Happy birthday!
If you look back, you have reached so far.
If you look ahead, brighter days await you.
Best wishes on your 30th birthday!
I send you a bouquet of flowers today
With warm hugs to greet your way
You deserve to be honored on your dearest birthday
And truckloads of blessings for you I pray.
Happy 30th birthday, ______!
I wish that all your wishes will come true.
Many returns of the day pal!
In your 30 years of existence,
I hope you have learned to count your blessings
Instead of going back to things you regret.
Happy 30th Birthday!
May you have more years to experience life
And that you live it with enthusiasm and love.
Happy 30th birthday!
You are now officially an adult.
The doubts of the 20s are slowly fading away,
And now, you're getting a grip of who you're supposed to be.
Happy Birthday! May all your dreams come true!
Funny 30th Birthday Wishes
Funny 30th birthday quotes, 30th birthday funny quotes
Snuff all you can with just a single blow!
Have fun!
Happy birthday!
Worry not because I won't tell them your age.
Happy 30th birthday to you!
It's better to count our birthdays annually.
If we do it monthly, it won't be fun anymore.
Have a blast with your cake!
I didn't buy you a cake at all.
It will just be totally covered by candles.
Even so, I wish you a happy birthday!
Are you really thir-ty or thir-teen?
You still look like a young version of yourself, but wiser now!
I wish you have more wisdom as you grow and that you enjoy your day today.
Happy birthday 30th!
This cake is sweet but definitely not sweeter than you.
And for the record, you're already 30!
Classic!
Enjoy more sweet treats from this life!
Happy birthday!
Are you excited?
Your next birthday will be your sweet 16th!
Happy 15th birthday for the second time around!
Maybe you dread the big 3-0 because
It's getting nearer your 40s.
Think of it the other way around.
Think of your 30s as something still near to your 20s.
Happy 30th birthday!
Don't worry about mid-life crisis.
You're too fabulous to deal with it.
Age is just a number so just enjoy your 30th
And be excited for the next birthdays to come.
30th Birthday Quotes
happy 30th birthday quotes, 30th birthday wishes for a friend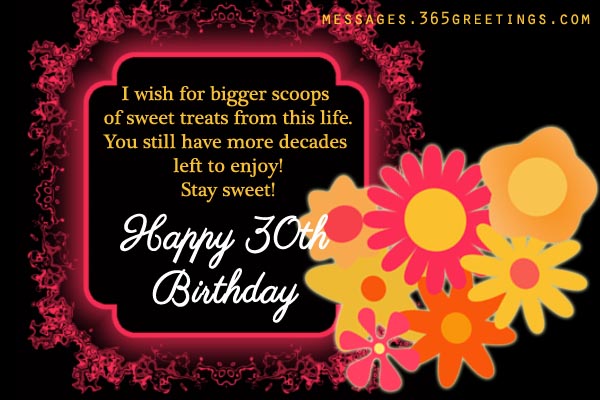 I wish you all the luck in figuring out what's right for you,
And may you have the energy to make your dreams come true.
May you have a blast on your birthday!
Don't worry if you've officially left your 20s.
Think of the 30s as the 20s of the 40s!
Happy 30th birthday!
May you achieve all your dreams in life
And also the courage to take them on.
Never want a life that you will regret.
While you're still not as old as you think you are,
Start living the life you dreamed of always having.
Don't waste time. I wish that you will be able to succeed in all your endeavors.
Happy 30th birthday!
Stop grieving for the death of your 20s era.
You are starting a new chapter in your life,
This is your opportunity to make something more amazing
Than the things you've already done.
I hope you grab this chance and make the best of it.
Have a great 30th birthday!
This is a completely new decade to take on.
The 20s might have been wild and free,
But the 30s is the time for you to balance fun and seriousness in your life.
May you have the strength to not stray from the right path,
But at the same time, enjoy the life you're living.
Happy 30th birthday!
The big 3-0 can be depressing,
You aren't in your fresh 20s anymore,
You are now far from your teenage years,
But that doesn't mean you have to be sad.
You've still have a lot of punches to give and take!
Happy 30th birthday!
Today is another stopover in your amazing journey called life.
Don't forget to stop and breathe
For life is not a race to be won by speed,
But by strength and patience.
I wish you all the best.
Happy 30th birthday!
Thank you for being in my life for a long time now.
I wish I could've been there to witness you through all your 30 years on earth.
But from the looks of it, you're doing just fine.
Happy Birthday!
Related Posts