Birthday Wishes For A Friend : Friends are simply precious to most of us. Without them, our life might seem empty, incomplete. They put smile on our face when we are sad and gloomy. They are there to support you and to stand by you. Hence, they deserve to receive something special from you even a simple birthday card with these birthday message for a friend.
Birthday Wishes for a Friend
Want to send a birthday Card with birthday message for friend on his birthday.Some times we may buy birthday cards and we may stumbled on while writing birthday wishes for him then you this post may help you. Here are some best Birthday Wishes For A Friend that should help your writers block.
These birthday wishes are specially created for special friend. you can use these messages for your best friends birthday. As I have pointed out before best friends are our biggest asset. They will influence our corrector, our community and our social life. If you have fallen in company of bad friends then your life can ruin
You are my best friend and I am blessed
To have a Good Friend like you
Happy birthday Dear
Birthday are a routine function
But Best Friends birthday is only once
That is your birthday.
Happy Birthday to you
I must be lucky to have a Friend like you.
I must be really lucky to have you as best friend
Happy birthday to you my dear Friend
Friends are our asset, and if asset is not good
They are ruined. I am lucky to have a friend like you
As you the best asset I have
Happy birthday Special Friend
This birthday message is written by an humble person
Who was lucky to have not only your friendship,
But also considered as best friend
Happy birthday to my dearest friend
Birthdays like crowded market
We have to attend so many every year
But Best friends birthday is only once
I am glad for me that is your birthday
Happy birthday to you
You are my best friend
and when I wish you a birthday wish
I am get exited as it my best friends birthday
Happy birthday to you
Your birthday are always amusing to me
Because it is my best Friends Birthday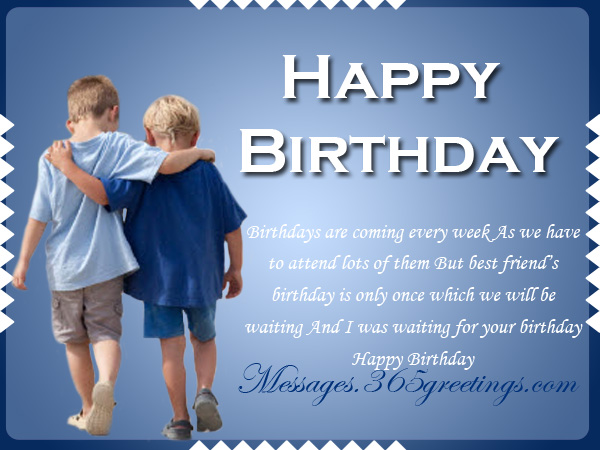 When you celebrate birthday
I am happy more than my birthday
Because Best friend's birthdays are
always special than our own
Happy birthday to you
Birthdays are coming every week
As we have to attend lots of them
But best friend's birthday is only once
which we will be waiting
And I was waiting for your birthday
Happy Birthday
YOU MIGHT ALSO WANT TO READ:
Birthday Gift ideas for a Friend:Buy him jeans and T-shirt or formal wears for his office would be a great idea for an ideal gift for your friend. You can also buy some gift cards from top supermarkets or auto shop so that they can use it as birthday gift.
Best Birthday Messages for Friend
It is a comforting feeling to know that I have a friend like you. I feel blessed and pray that the heavens may look down on you with all good tidings. Happy birthday!
May your dreams come to pass and may success follow your life for eternity to come. Happy birthday!
Thank you for never leaving my side …..When you got us into trouble! Happiest birthday to my best friend
Thanks for never changing who you are and for being everything I ever dreamt for in a friend. Happy birthday!
Thank you for complimenting my craziness and making my life so fun! Happiest birthday to the greatest friend ever!
Wishing you sun shine in the rain, laughter in the storms and strength in times of weakness. May everyday of your life be worth celebrating. Happy birthday!
True friends like you are like wine. They only get better with age and as we celebrate your birthday this year, I want to celebrate a great friend who has brought happiness to my life. Happiest birthday!
May today mark the beginning of a chapter full of wisdom, love, prosperity and good health. Happy birthday dear friend.
Birthday Wishes For Friend For Facebook
Acknowledging your friends on their birthday using those happy birthday wishes can be a thing to do to strengthen your relationship as a friend. Below are samples of happy birthday wishes that you can send to your friends on their special day.
This is best time for me to tell how much I thankful to have a friend like you,
Wishing you the best birthday that is deserve for you.
Happy birthday!
Happy birthday friend!
I hope that you will enjoy this day,
I wish a good health for you and your family.
Searching for a truth and loyal friends is one of the hardest things to do,
That's why I am feeling so lucky to have you,
Happy birthday my dear friend!
Allow me to wish a wonderful and full of happiness day for you,
As my token of appreciation for all the things you've done to me my friend.
Happy Birthday!
There are no sufficient words that I can say how thankful I am that you have been part of my life.
So on this special day of yours,
I would like to say thank you and very happy birthday to you my friend!
Happy birthday my friend,
More birthdays to come,
And I hope that you will stay as you are right now.
I hope you are surrounded by the laughter of loved ones, and happiness to take you through the rest of your life. Have a blast! Happy birthday!
Hope that you find favor in the eyes of the Almighty today and forever. Happiest birthday!
Birthday Wordings for a Friend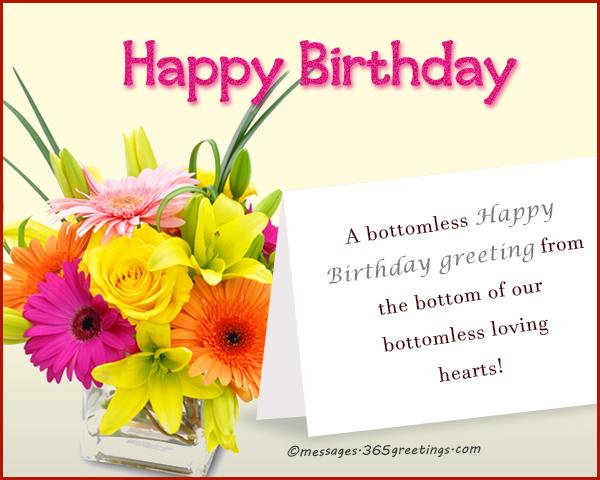 Find more Birthday Messages and wishes below which can be used to send a birthday cards for friend
Thank you for being a great friend. Happy birthday!
I am so lucky to have a friend like you in my life!
I don't know what I would do without you.
I hope your birthday is the best ever!
For your special day, I wanted to let you know
how much I appreciate you so much.
You are always there for me when I need you,
and I can't thank you enough for it!
Only a true friend would remember
to wish you a happy birthday,
but forget to mention your age.
I love being able to celebrate
your birthday with you and
can't wait to celebrate many more.
Hope all your birthday wishes
come true. I love you my friend.
Happy Birthday"




I will always be grateful for your
friendship. Have the most
wonderful birthday.
Thanks for giving me great
memories that will last a lifetime.
Happy birthday friend.
Thank you for selflessly
listening to all my problems
and helping me find a solution.
Hope you have a great birthday!
I just want to know how special
you are to me and that I was
thinking about you on your special day!
Happy Birthday my Friend




Want to express your heartiest birthday greetings to your friend on his/her birthday? Then feel free to use these happy birthday wishes and birthday card messages for a friend. These nice birthday messages are perfect to be sent together with your special gift. Good luck!
Best wishes to you on your birthday,
my best friend! No words can express
my appreciation having you with me life.
Thank you."
You make my life so much easier
to get through with your positive
attitude and your wicked sense of humor.
I hope that you are as happy on
your birthday as you make me.
I love celebrating your birthday with you
and not having to spend a lot on the present.
Your present is really the shirt that
I borrowed from you years ago! Enjoy!




I love celebrating your birthday
with you and not having to spend a lot on the present.
Your present is really the shirt that
I borrowed from you years ago! Enjoy!
Every year you have a birthday
is another year I get to celebrate
the fact that you are a wonderful friend.
As much as you have had to put up with me
and my craziness this year,
you deserve the best birthday ever.
Here is to hoping that your birthday
is as awesome as you are a friend.
Funny Birthday Wishes for a Friend
I'm actually grasping for words to make this message stand out, but I did not do so for I know you're appreciative personality absorbs even the simplest thing on earth. Happy Birthday dearest friend!
You have 24 hours to celebrate.
But let me steal a minute of your time to greet you.
Happy Wonderful Birthday!
Warm greetings to the one who's reading this.
Happy Birthday to the one I truly miss!
I can tolerate your negativities.
But I can't tolerate a day without greeting you today.
Happy Birthday!
I may be dead next year so let's go out and celebrate today.
I thank big time to my strong memory for remembering the exact date of your birthday.
Kidding! I know you'll have Alzheimer's first.
Thumbs up for another year of a big bang!
Birthdays are supposed to knock you down at the end of the day.
So I hope you were able to talk with your boss on your expected absence tomorrow.
Happy birthday!
Share your God's grace today for a change.
Happy Birthday!
The wines and beers miss you already.
Why keep us waiting?
Birthday wishes for a Good Friend
It's your best friend's birthday! Since they are dear to us, we have to make sure that our birthday messages and birthday wishes for them are also extra special. Here are some happy birthday messages for friend that you can use for your birthday greeting cards and birthday ecards. You can also post these friend birthday wishes to their facebook and twitter account by just hitting the right buttons. You can use this Happy Birthday Messages for Friend to a write it in greeting card and can be send along with a great birthday gift. Enjoy!
I wish that you'll find real friends in the future,
Just as real as me.
Happy Birthday!
Wishing you a good career first before a good "family"!
Remember, "There's always a time for everything
And season for every activity in Heaven."
Happy Birthday!
Now that we're apart,
I hope that you'll find someone nearer to you whom you can laugh and cry with,
Because I am not there to be with you.
Take a lot of care.
Happy Birthday, still!
Remember those days when we're happy?
I hope you feel the same way today.
Enjoy your day my dearest friend.
Happy birthday!




A friend like you is hard to find,
I hope God will give you a friend by your side.
Even though I'm miles away,
I am wishing you Happy Birthday.
Happy Birthday to the most supporting,
most giving, most passionate and
most beautiful/handsome friend in the whole universe.
Enjoy your day BFF!
We promise to stay together forever..
and I say even until hangover.
I love you best friend
Happy Birthday!