Birthday is an important even in one's life. Most people look forward to celebrate the day they were born. Birthday greetings, gifts and parties are the usual feature of one's birthday celebration. Giving an inspirational birthday messages to someone will not make their birthday complete. At the same time, it will give them the encouragement and inspiration to move forward to their life with a lighter heart and a smile in their face.
Thinking of how to inspire a friend or a loved one on his/her birthday? Well. I have listed here a few examples of inspirational birthday messages and sweet birthday wishes to brighten up his day. Use these inspirational birthday wishes to make a great inspirational birthday Card to your friend or relative. You can also send these greetings to their social media profiles online to convey your warm thoughts.
inspirational birthday wishes for a friend, Inspirational Birthday Messages for a Friend



A friend is so dear to us. They serve as our brothers and sisters. We consider them as family. They are there to inspire, encourage, support and love us. We do the same in return. So, on their birthday, make them feel special with warm birthday wishes and messages that will melt their heart. Here are some samples of friend's birthday greetings and wishes that can also be used as birthday card messages.
It is your Birthday and Celebrate it with fun
Move forward with fresh confidence and courage
You are special person who can win the world
Happy Birthday To You
Birthdays are for a new start for a fresh beginning
Start new endeavours with new goals
You can do it as you are a special person
Happy Birthday To You
For the best person ever, I wish nothing but the best!
May you have an amazing today and
That you have more birthdays to come!
– – – – – – – – – – – –
My life was fine without you.
But then I met you, and my life became the best it can ever be.
Happy birthday, my dear best friend!
I wish nothing short of the best in life for you on this day.
– – – – – – – – – – – –





To one of my favorite people in the world,
I wish you more gifts to open, more cakes to eat,
More candles to blow, and of course,
More birthdays to come.
Have a good one! Happy birthday!
– – – – – – – – – – – –
Each morning, when I wake up, I feel so thankful for life.
But this day, I woke up feeling particularly more blessed
Because I know that my best friend is given another birthday
To celebrate and another year to grow our friendship more.
Happy birthday!
– – – – – – – – – – – –
I'm so thankful for that one screaming baby
who was born on this day some years ago
because that baby grew up to be
one of the best and most awesome people on this earth!
Happy birthday and have an awesome time on your special day.
– – – – – – – – – – – –





I can't imagine my life without the person celebrating his/her birthday today.
So you better keep on celebrating your birthday every year!
Have a happy birthday and definitely wish you more birthdays to come.
– – – – – – – – – – – –
Happy birthday!
I wish you all the happiness in the world,
Because believe me, out of all the people on earth,
You deserve it.
– – – – – – – – – – – –
Related Resources
Birthday Cards From 365greetings.com
Birthday Party Game Ideas from squidoo.com
Inspirational birthday wishes, inspirational birthday messages



You've thought of the best birthday gift ideas for your best friend but you don't have the best birthday message to go along with it? Here are some ideas about birthday wishes for a best friend for you.
Roses are red. Violets are blue.
Your birthday without my greeting would be taboo.
So here I am, with a poem so lame–just for my best friend,
who's with me 'til the end.
Happy birthday!
– – – – – – – – – – – –
We've been best friends since forever and
I'm running out of birthday greetings for you.
So what more can I say but just a simple Happy birthday?
I wish you a wonderful day today and of course, the coming days as well.
– – – – – – – – – – – –
Another year older but never really wiser.
Here's to more wild days and crazy adventures, my best friend.
Happy birthday!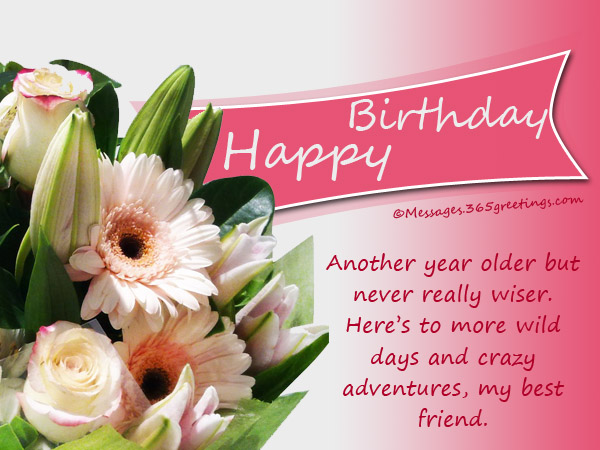 – – – – – – – – – – – –
Usually, a birthday is the day for the celebrant to recount all the things that they are grateful for and I know you have a lot of reasons to be grateful for in life. Me? I actually just have one—YOU. Happy birthday, my dearest best friend! Here's to more birthdays ahead.
– – – – – – – – – – – –
You know what, this day is always marked in my calendar—not because it's your birthday—but because I am so thankful that on this day of every year, a very important person in my life is blessed with another year to live. Happy birthday!
– – – – – – – – – – – –
You survived another year and you're now celebrating your birthday.
We've been through so much, even if not everything is good times all the time.
But know that I'd do everything all over again as long as it's with you.
Thank you for being in my life.
You may get a lot of gifts today, but know that you are a gift to me as well.
Happy birthday, my best friend!
I definitely wish you more birthdays to come!
– – – – – – – – – – – –





To my best friend: I know you wish the best for me,
but will you stop celebrating your birthday?
It makes me feel old! Just kidding.
Have a happy birthday today and
I wish you more birthdays to celebrate in the coming days of your life.
– – – – – – – – – – – –
Words are not enough to express how glad I am that you are celebrating another year of your life. I wish that you are happy on this day because you make me happy just by being my friend. Don't you ever change—unless it's for the better! Happy, happy birthday! More to come!
Inspirational Birthday Greetings
Birthday inspirational greetings, birthday wishes messages
Every morning is a gift that is why it is called "present". May this day bring you more blessings. Have a happy birthday!
A nice person like you deserves only the best. I wish that you continue to enjoy everything that makes you happy.
Thank you for treating me as a friend. May your kind heart be gifted with whatever it is that you wish for on your birthday! Happy Birthday!
God is good to people who gives meaning to other people's lives. He will be the One to reward you with your good deeds. Happy birthday to the most wonderful person I've known.
Life may seem so down lately but remember that there is always a reason to celebrate this day. You are blessed with a life that is worth living!
Today, I wish that all of your dreams may come true. Pray, and God will direct your path towards success. Happy Birthday!
Count your blessings day by day and you will realize that it is more than the years of your life. So, celebrate your day!
On your birthday, you are blessed with another year to be thankful for. Pause and you will realize how many friends you have, how many tears you've overcome, and how many ways God has worked wonderfully in your life.
Happy birthday to the person who has been a blessing to his friends and family. May you be showered more with love, peace, and happiness.
birthday inspirational messages birthday wishes inspirational
inspirational happy birthday wishes inspirational happy birthday messages
You have worked so hard to become the person that you are now. On your birthday I wish that you will be rewarded with good health and success.
God is good because He gave you to us. You are a blessing to all of us. Happy birthday!
Be happy! Today is the day that you are sent to this world and be a blessing to the people around you! Continue to be our inspiration.





You are a wonderful person. May you be given more years to fulfill all of your dreams. Have a wonderful birthday!
Life may not always be smooth but remember that we are all here to give you the support that you need. Besides, you have given your life to us that is why we will not regret sharing our own to you. Happy birthday!
May you be rewarded with all the joys that life has to offer. A kindhearted person deserves to be happy always! Celebrate! Have a great birthday!